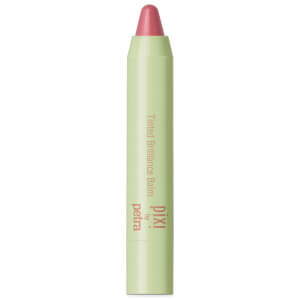 Pixi
Tinted Brilliance Balm
KEY INGREDIENTS
ceramide np

butyrospermum parkii butter

c12-15 alkyl benzoate

caprylic/capric triglyceride

diisostearyl malate

ethylhexyl methoxycinnamate

ethylhexyl palmitate

+4 more

Where to buy?
Formula review
See a mistake?
Promise
What does the product description say?
"Infused with a host of nourishing ingredients, the twist-up balm delivers a protective veil that hydrates and safeguards whilst tinting lips with a hint of color; depending on your lips' pH, the color and intensity will differ."
WIMJ
summary
This product can help soften the skin and reduce its moisture loss with emollients and occlusives: ceramide np, c12-15 alkyl benzoate.
Keep in mind that this product does not contain effective ingredients to attract water to the upper layer of the skin. This is why an additional product with humectants like glycerin or hyaluronic acid can be helpful (apply it before this product for the best results).
The following ingredients in this product are especially good for supporting the skin barrier and helping with the hydration level: ceramide np
| Ingredient | Effectiveness | Concentration | Irritancy |
| --- | --- | --- | --- |
| | | | |
| | | | |
| | | | |
Potential irritants

Ingredients by volume
Ingredient
Estimated concentration

An emollient that helps to soften the skin and create a pleasant product texture and stabilize the formulation

22% - 34%

5.4% - 8.1%

The ingredient is not recognized

TBC

Used to improve the product consistency

5.7% - 8.5%

Used to stabilize product formulations and thicken product consistency

4.2% - 6.4%

3.2% - 4.8%

A type of lipid similar to ceramides naturally present in skin. Helps to soften the upper layer of the skin and supports the skin barrier function to keep it hydrated. Can help to prevent inflammation in skin

2.4% - 3.6%

An emollient that helps soften the skin and create a nice product texture

1.8% - 2.7%

Helps to soften the upper layer of the skin

1.5% - 2.2%

1.4% - 2.2%

Enhances the product texture and makes it more spreadable. Helps reduce water loss from the outer layer of skin. Extands the shelf life by preventing bacteria growth

1% - 1.5%

Forms a protective film on the surface of the skin to prevent moisture loss. Gives a velvety feel to products while reducing tackiness

0.85% - 1.25%

A preservative. It helps prevent bacterial growth in cosmetic products

0.5% - 1%

Octinoxate. When used in higher concentrations, works as a sunscreen protecting the skin from UVB rays. When used in lower concentration, helps to preserve the product formulation. Is shown to be harmful to coral reefs - consider avoiding bathing in coral reef areas when wearing a product with this ingredient. It can be irritating

0.85% - 1.3%

An aromatic blend of unspecified and possibly irritating ingredients

0.45% - 1.05%

A fragrance. Can be irritating

0.4% - 0.9%

A common frangrance that can easily irritate skin, especially if exposed to air, light or heat

0.35% - 0.75%

A more stable but less bio-available form of vitamin E compared to Tocopherol. Might help moisturize and protect the skin from free radicals, but mostly used in low concentrations to stabilize other ingredients.

0.3% - 0.7%

A great moisturising ingredient that softens the skin and reduces water loss from its upper layer. It also can be helpful in protecting skin from free radicals

0.4% - 0.9%

Used to stabilize the product formulation

0.15% - 0.6%

A good mix of fatty acids that forms a protective layer on the skin. Improves the shelf life of products. Derived from coconut and glycerin

0.2% - 0.8%

A red colorant

0.1% - 0.45%

A yellow dye

0.1% - 0.4%

Show more