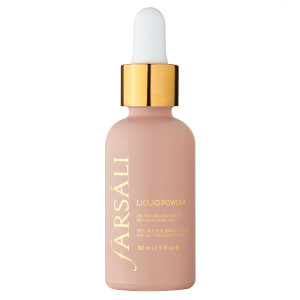 Farsali
Liquid Powder Oil Balancing Serum
WORKS FOR
Evens skin tone
Anti-blemish
KEY INGREDIENTS
potassium azeloyl diglycinate

caprylic/capric triglyceride

kaolin

silica

+1 more

Where to buy?
Formula review
See a mistake?
WIMJ
summary
This product might be able to help reduce blemishes and clogged pores because it contains potassium azeloyl diglycinate.
| Ingredient | Effectiveness | Concentration | Irritancy |
| --- | --- | --- | --- |
| | | | |
| | | | |
See a mistake?
Promise
What does the product description say?
"An added Witch Hazel Tonic has a toning effect, minimising the appearance of enlarged pores for a smoother, airbrushed effect while Potassium Azeloyl Diglycinate brightens and evens skin tone."
WIMJ
summary
This product can help reduce hypepigmentation and even out the skin tone because it contains the following effective ingredients: potassium azeloyl diglycinate
Keep in mind that you would need to apply any topical skincare targetted at hypigmentation consistently for a couple of months to get a result. No topical skincare product can help get rid of hyperpigmentation (including post-acne marks and age spots) instantly.
| Ingredient | Effectiveness | Concentration | Irritancy |
| --- | --- | --- | --- |
| | | | |
Potential irritants

Ingredients by volume
Ingredient
Estimated concentration

Plain old water

40% - 60%

A plant extract that can help calm down inflammation in skin. Can, however, itself be irritating

5% - 7.6%

Used to absorb oil and can temporarily mattify skin

3.8% - 5.6%

Helps dissolve other ingredients in a formulation

2.7% - 4.1%

Helps to improve the product consistency

1.9% - 2.9%

A preservative

1.5% - 2.3%

A derivative of azelaic acid. It is obtained by reacting the chloride of azelaic acid with two molecules of glycine (an amino acid) and potassium hydroxide. It is less studied than azelaic acid, but the available research suggests that it also can be effective in reducing skin redness, hyperpigmentation and blemishes. There are claims that it is more bio-available and more effective than azelaic acid, but no comparison study is available. Potassium azeloyl diglycinate is better soluble in water compared with azelaic acid. Because of this property, products with potassium azeloyl digclycinate can have a nicer texture

1.3% - 2%

1.2% - 1.8%

1.1% - 1.7%

A clay mineral. Can absorb oil from the surface of the skin

0.85% - 1.3%

A type of clay that consists mainly of aluminum silicate. Helps absorb oil and creates a thicker product consistency. Can be used to add a white color

0.9% - 1.35%

A plant extract used as a fragrance. Can be irritating

0.4% - 0.95%

A preservative. It helps prevent bacterial growth in cosmetic products

0.3% - 0.7%

Helps preserve products and creates a nice product texture

0.35% - 0.8%

A good mix of fatty acids that forms a protective layer on the skin. Improves the shelf life of products. Derived from coconut and glycerin

0.3% - 0.7%

Helps create a more spreadable product texture

0.1% - 0.45%

A preservative

0.1% - 0.35%

Used as a fragrance and can be irritating

0.05% - 0.2%

Used as a fragrance and can be irritating

0.05% - 0.15%

0.05% - 0.15%

Show more