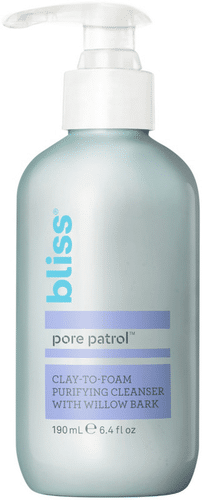 Bliss
Pore Patrol Clay-to-Foam Purifying Cleanser
KEY INGREDIENTS
camellia sinensis leaf extract

copper gluconate

glycerin

kaolin

magnesium aspartate

titanium dioxide

zinc gluconate

+4 more

Where to buy?
Formula review
See a mistake?
Promise
What does the product description say?
"Pore Patrol Clay-to-Foam Purifying Cleanser"
WIMJ
summary
This product works by removing dirt and oil from the surface of the skin. It uses a combination of mild cleansing agents (caprylyl/capryl glucoside, cocamidopropyl hydroxysultaine, datem, hexylene glycol, lauryl glucoside, shea butteramidopropyl betaine, sodium cocoyl apple amino acids, sodium lauroyl sarcosinate, xanthan gum) and should be able to cleanse the skin gently. Still keep in mind that any cleansing can disrupt the skin barrier, and most people do not need to cleanse their skin more than once per day.
| Ingredient | Effectiveness | Concentration | Irritancy |
| --- | --- | --- | --- |
| | | | |
| | | | |
| | | | |
Potential irritants

Ingredients by volume
Ingredient
Estimated concentration

Plain old water

45% - 55%

Helps stabilize the product formulation

6.8% - 8.4%

One of the best moisturizing ingredients. Naturally present in skin. It attracts water to the upper layer of the skin working as a humectant

4.1% - 5%

Helps oil and water mix together and works as a cleansing agent

3.6% - 4.4%

Might be helpful in restoring skin barrier function and, when combined with zinc carbonate and malonic acid, reducing fine lines and wrinkles by stimulating elastin production. Also helps stabilize the product formulation

2.2% - 2.7%

A type of clay that consists mainly of aluminum silicate. Helps absorb oil and creates a thicker product consistency. Can be used to add a white color

2% - 2.4%

Helps oil and water mix together

1.6% - 2%

Used as a cleansing agent. Helps water and oil mix together

1.6% - 1.9%

A plant extract that might contain salicylic acid

1% - 1.3%

Can contain potent anti-oxidant compounds (abbreviated ECG, GCG, EGC, and EGCG) that might help protect the skin from free radicals. Can help calm down inflammation and has some anti-bacterial properties. Unfortunately, these antioxidants are unstable and lose their effectiveness very quickly in products. The concentration of the antioxidant compounds in the extract also tends to be low to be effective in topical formulation

0.8% - 1.15%

0.55% - 0.85%

An essential oil that can be irritating. Has some anti-bacterial properties

0.5% - 0.75%

A plant oil with high content of volatile compounds that, especially when exposed to air, can cause allergic reactions and irritate the skin

0.45% - 0.65%

0.35% - 0.65%

0.3% - 0.6%

0.45% - 0.7%

Helps mask the small of other ingredients and improve the product texture

0.35% - 0.65%

Used to create a thicker product consistency

0.3% - 0.55%

Typically used to stabilize the product formulations. It is a salt of a polyhydroxy acid (PHA) and in larger concentrations, can help shed the dead cells from the skin surface revealing smoother skin. It can help attract water to the upper layer of the skin. Might to be helpful against acne and clogged pores. Could be helpful in neutralizing free radicals, but solid research is missing. Due to the zinc content, might help calm down inflammation in skin

0.25% - 0.45%

Typically used to stabilize the product formulations. It is a salt of polyhydroxy acid (PHA) and in larger concentrations, can help shed the dead cells from the skin surface revealing smoother skin. It can help attract water to the upper layer of the skin. Might to be helpful against acne and clogged pores. Could be helpful in neutralizing free radicals, but solid research is missing

0.25% - 0.45%

Might be helpful in restoring skin barrier function and calm down inflammation in skin

0.25% - 0.4%

Helps oil and water mix together. Can be used as a cleansing agent

0.3% - 0.6%

Acts as a solvent for other ingredients. Speeds up the absorption of other ingredients into the skin

0.25% - 0.45%

Helps create a more spreadable product texture

0.2% - 0.4%

Helps stabilize the product formulation

0.2% - 0.4%

A preservative. It helps prevent bacterial growth in cosmetic products

0.25% - 0.4%

A preservative

0.25% - 0.4%

A preservative

0.25% - 0.45%

Helps to control the skin's pH level. Maintains the skin's natural film of amino-lactic acids and oils. Helps to preserve products

0.2% - 0.4%

Can work as an exfoliant but is typically used to adjust the product pH

0.2% - 0.4%

A common frangrance that can easily irritate skin, especially if exposed to air, light or heat

0.15% - 0.3%

Works as a UV filter when used in high concentrations. It is photostable and is effective mostly against the UVB light, with some protection in the UVA range. In small concentrations, used for its ability to improve the color of cosmetic products. Is usually well tolerated by the skin

0.3% - 0.55%

A colorant (dye)

0.15% - 0.3%

An essential oil with a lemon-like smell that is extracted from a fruit grown in Asia. Used as a fragrance

0.1% - 0.2%

The ingredient is not recognized

TBC

0.15% - 0.3%

Show more