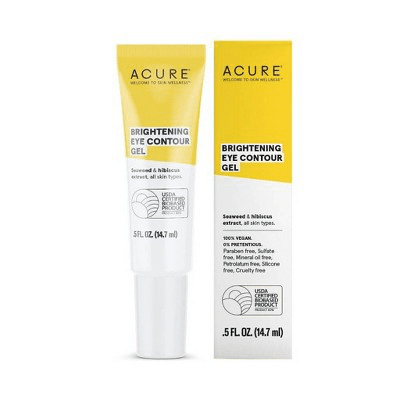 ACURE
Brightening Eye Contour Gel
KEY INGREDIENTS
retinyl palmitate

panthenol

allantoin

argania spinosa kernel oil

ascophyllum nodosum extract

asparagopsis armata extract

beta-glucan

bisabolol

glycerin

helianthus annuus seed oil

sodium hyaluronate

tocopherol

vitis vinifera seed oil

+10 more

Where to buy?
Formula review
See a mistake?
Promise
What does the product description say?
"Benefits Lightweight gel for a brighter appearance Cooling gel texture soothes and energizes Minimizes appearance of dark circles and puffiness Key Ingredients Grapeseed and argan oils replenish moisture and minimize dehydration Argan extract rejuvenates Seaweed and hibiscus brighten Formulated Without Parabens Sulfates Petroleum Mineral Oil Formaldehyde Animal Products"
WIMJ
summary
This product can help improve hydration of the skin with the two types of ingredients.
The first type is called "humectants":
these ingredients help attract water. When humectants are on the surface of the skin, they "pull in" the moisture from the outside environment, or from within deeper layers of the skin. The following ingredients in this product do the job: allantoin, glycerin.
This product also contains ingredients called "occlusives". They help reduce the speed with which our skin loses moisture to the outside environment. These ingredients also help soften the upper layer of the skin, so it feels less tight and nicer to the touch. The following ingredients in this product do the job: helianthus annuus seed oil, vitis vinifera seed oil.
The following ingredients in this product are especially good for supporting the skin barrier and helping with the hydration level: panthenol
| Ingredient | Effectiveness | Concentration | Irritancy |
| --- | --- | --- | --- |
| | | | |
| | | | |
| | | | |
Potential irritants

Ingredients by volume
Ingredient
Estimated concentration

Plain old water

40% - 60%

Traditionally used to treat sunburns, dermatitis and inflammation, but evidence for its effectiveness is lacking. The extract can contain humectants that help attract water into the skin

6.4% - 9.6%

One of the best moisturizing ingredients. Naturally present in skin. It attracts water to the upper layer of the skin working as a humectant

3.6% - 5.4%

Used to create a thicker product consistency

1.9% - 2.9%

A preservative

1.8% - 2.7%

One of the best moisturizing ingredients. Attracts water into the upper layer of the skin

1.4% - 2.2%

Helps attract water to the upper layer of the skin, calm down inflammation and irritation, restore the barrier function and support wound healing. It can be helpful in reducing fine lines and wrinkles

1.2% - 1.8%

Pure form of vitamin E. Can help moisturise and protect the skin from free radicals. Often used to help stabilise other ingredients or the formula itself

0.9% - 1.4%

Helps stabilize emulsions and create a nice product texture

0.55% - 1.35%

Three steps removed from the active form of vitamin A - retinoic acid. To have an effect in the skin, it first needs to be converted twice to become the retinoic acid. This means it is less potent than retinol, but could also be less irritating. Once converted to the retinoic acid in the skin, it helps against all signs of aging, improves skin cell turnover and helps fight blemishes and clogged pores. However, in many cosmetic formulations, it is used in a concentration that is too low to have the full effect

0.4% - 0.95%

Helps attract water to the upper layer of the skin and can help improve skin barrier function

0.4% - 0.9%

Brown seaweed extract. Can help attract water to the upper layer of the skin and might have some antioxidant effect

0.3% - 0.7%

Red seaweed extract. Can help attract water to the upper layer of the skin and might have some antioxidant effect

0.2% - 0.75%

0.15% - 0.7%

A great emollient due to its high linoleic acid content. One of the most effective plant oils in helping skin hydration and repairing skin barrier function

0.15% - 0.65%

An emollient that helps soften the upper layer of the skin. Might have some weak anti-oxidant properties

0.15% - 0.65%

0.15% - 0.6%

0.2% - 0.7%

A great emollient that can also have anti-oxidant properties

0.15% - 0.55%

A plant extract that can help calm down inflammation in skin. Can, however, itself be irritating

0.1% - 0.4%

Used to stabilize product formulations

0.1% - 0.45%

Used to stabilize the product formulation and can help absorb oil

0.1% - 0.4%

The ingredient is not recognized

TBC

0.1% - 0.45%

Helps to control the skin's pH level. Maintains the skin's natural film of amino-lactic acids and oils. Helps to preserve products

0.1% - 0.4%

Helps calm down inflammation in skin and can help reduce itching. Helps to repair the skin barrier and keep skin hydrated

0.1% - 0.3%

An active component of chamomile plant that historically has been used to calm down irritated skin. A recent study shows that bisabolol indeed can have some anti-inflammatory effect on skin, even though conclusive data is lacking. Bisabolol has a sweet floral scent and can be added to products for its aromatic properties

0.1% - 0.3%

0.1% - 0.4%

Helps dissolve other ingredients

0.1% - 0.4%

Helps attract water to the upper layer of the skin and improves the product texture

0.1% - 0.45%

A fragrance. Can be irritating

0.1% - 0.45%

A preservative

0.1% - 0.4%

A preservative

0.1% - 0.4%

Used to thicken product formulations and create gel-like textures

0.1% - 0.35%

Can work as an exfoliant but is typically used to adjust the product pH

0.1% - 0.3%

Can be drying and contribute to skin irritation. Used in formulars to dissolve other ingredients, create a thinner product consistency or for its antibacterial properties

0.05% - 0.25%

A preservative

0.05% - 0.2%

Helps preserve products and creates a nice product texture

0.05% - 0.2%

A preservative

0.05% - 0.2%

Show more