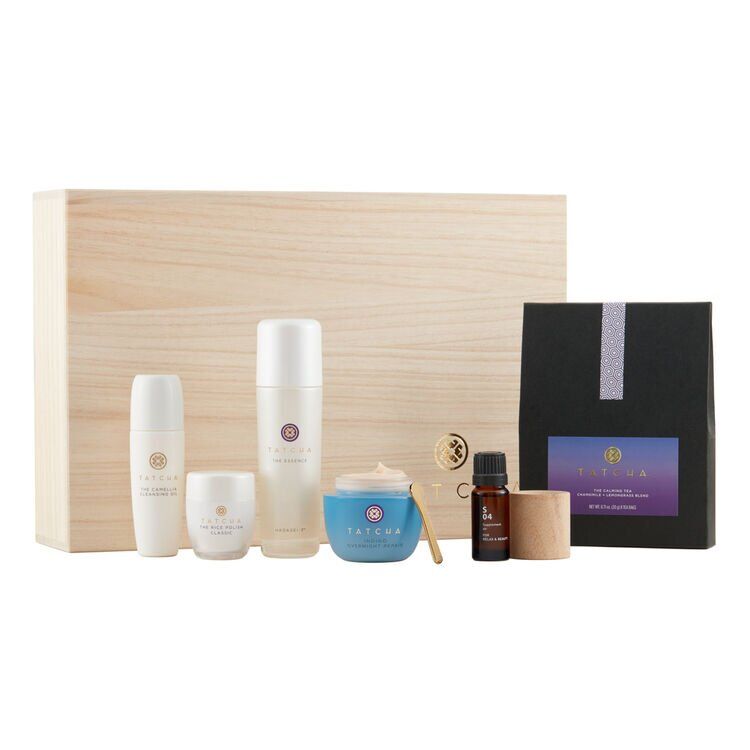 Tatcha
The Indigo Calming Ritual
WORKS FOR
Moisturizing
Anti-oxidation
KEY INGREDIENTS
ceramide ng

linoleic acid

cetyl alcohol

diglycerin

diisostearyl malate

dimethicone

glycerin

hydrolyzed silk

oryza sativa bran oil

peg-10 dimethicone

phytosterols

phytosteryl/octyldodecyl lauroyl glutamate

saccharomyces ferment filtrate

sericin

sodium hyaluronate

titanium dioxide

tocopherol

+14 more
Where to buy?
Formula review
See a mistake?
Promise
What does the product description say?
"This research-backed five-sense ritual featuring Indigo Overnight Repair, our calming serum-in-moisturizer treatment, is proven to lower mental stress and increase mental relaxation, bringing you into harmony and encouraging a virtuous cycle of well-being to support healthy-looking skin."
WIMJ
summary
This product can help improve hydration of the skin with the two types of ingredients.
The first type is called "humectants":
these ingredients help attract water. When humectants are on the surface of the skin, they "pull in" the moisture from the outside environment, or from within deeper layers of the skin. The following ingredients in this product do the job: diglycerin, glycerin.
This product also contains ingredients called "occlusives". They help reduce the speed with which our skin loses moisture to the outside environment. These ingredients also help soften the upper layer of the skin, so it feels less tight and nicer to the touch. The following ingredients in this product do the job: dimethicone, peg-10 dimethicone.
The following ingredients in this product are especially good for supporting the skin barrier and helping with the hydration level: ceramide ng, linoleic acid
| Ingredient | Effectiveness | Concentration | Irritancy |
| --- | --- | --- | --- |
| | | | |
| | | | |
| | | | |
See a mistake?
WIMJ
summary
This product contains antioxidants (ophiopogon japonicus root extract, salvia miltiorrhiza root extract). In theory, they could help neutralize free radicals in skin and lessen the damage it gets from the UV light (sun), but there is no evidence that these ingredients can have a noticeable effect in skin.
| Ingredient | Effectiveness | Concentration | Irritancy |
| --- | --- | --- | --- |
| | | | |
| | | | |
| | | | |
Potential irritants
Ingredients by volume
Ingredient
Estimated concentration

An emollient that helps soften the skin and creates a thicker product texture

25% - 30%

Helps soften the upper layer of the skin and might have some anti-oxidant properties

3.9% - 4.8%

3.6% - 4.4%

3.7% - 4.5%

A plant oil that helps to soften the upper layer of the skin and can help restore skin's barrier function. Might have an anti-oxidant effect

3.2% - 3.9%

2.5% - 3%

Plain old water

1.7% - 2.1%

1.6% - 1.9%

Acts as a solvent for other ingredients. Speeds up the absorption of other ingredients into the skin

1.2% - 1.5%

Pure form of vitamin E. Can help moisturise and protect the skin from free radicals. Often used to help stabilise other ingredients or the formula itself

1% - 1.3%

A preservative

0.75% - 1.15%

An aromatic blend of unspecified and possibly irritating ingredients

0.65% - 0.95%

A preservative. It helps prevent bacterial growth in cosmetic products

0.6% - 0.9%

The ingredient is not recognized

TBC

0.75% - 1.1%

0.6% - 0.9%

0.55% - 0.85%

Used as a cleansing agent. It creates foam

0.55% - 0.8%

Helps oil and water mix together

0.55% - 0.85%

Helps oil and water mix together

0.55% - 0.85%

Helps water and oil mix together

0.55% - 0.8%

0.5% - 0.75%

0.35% - 0.6%

An enzyme extracted from papaya fruit. Can have an exfoliating effect on the skin. Can be irritating

0.35% - 0.6%

Used to thicken the product consistency

0.35% - 0.6%

0.35% - 0.6%

Can help attract water to the upper layer of the skin

0.35% - 0.6%

0.35% - 0.6%

Acts as a solvent for other ingredients. Speeds up the absorption of other ingredients into the skin

0.35% - 0.65%

A sugar that is used to stabilize the product formulation. Can help attract water to the upper layer of the skin

0.4% - 0.6%

A mix of amino acids and plant-based lipids. Helps to soften the upper layer of the skin and reduce water loss over time

0.45% - 0.7%

A preservative

0.35% - 0.6%

Used to create a nice product texture and help delivery of other ingredients. Might be somewhat helpful in attracting water to the upper layer of the skin

0.3% - 0.6%

A preservative. It helps prevent bacterial growth in cosmetic products

0.35% - 0.65%

0.3% - 0.55%

Plain old water

0.35% - 0.6%

A silicone that helps to reduce water loss from the surface of the skin. Can temporarily "fill in" lines and wrinkles, absorb oil, and create a nice product finish

0.5% - 0.7%

Helps attract water to the upper layer of the skin

0.3% - 0.6%

0.3% - 0.55%

One of the best moisturizing ingredients. Naturally present in skin. It attracts water to the upper layer of the skin working as a humectant

0.4% - 0.6%

Help improve the product's texture

0.35% - 0.6%

0.45% - 0.65%

Used to create a nice product texture and help delivery of other ingredients. Might be somewhat helpful in attracting water to the upper layer of the skin

0.3% - 0.6%

Helps to soften the upper layer of the skin

0.45% - 0.65%

A silicone that works to soften the upper layer of the skin and reduce its water loss

0.5% - 0.7%

Acts as a solvent for other ingredients. Speeds up the absorption of other ingredients into the skin

0.35% - 0.65%

A type of clay that is used to thicken the product consistency

0.35% - 0.6%

Plant extract that might help neutralize free radicals and support skin barrier function, but research on its effectiveness in skin is lacking

0.3% - 0.6%

0.35% - 0.6%

A type of lipid similar to ceramides naturally present in skin. Helps to soften the upper layer of the skin and supports the skin barrier function to keep it hydrated. Can help to prevent inflammation in skin

0.45% - 0.65%

An emollient that is naturally present in skin and helps soften it

0.45% - 0.7%

An excellent emollient. Helps soften the skin, restore its barrier function, and can help to calm down inflammation. It can be helpful to prevent blemishes and clogged pores

0.5% - 0.75%

One of the best moisturizing ingredients. Attracts water into the upper layer of the skin

0.3% - 0.6%

0.35% - 0.65%

A non-drying alcohol that works to soften the skin and stabilize product formulations helping oil and water mix together

0.45% - 0.7%

Helps water and oil mix together

0.45% - 0.7%

0.45% - 0.7%

Used to stabilize the product formulation and can help absorb oil

0.45% - 0.65%

The ingredient is not recognized

TBC

A product of yeast fermentation. Helps attract water to the upper layer of the skin

0.3% - 0.6%

The ingredient is not recognized

TBC

An aromatic plant root extract with a mint-like smell. Can be irritating. Used as a fragrance. Might have some anti-oxidant effect

0.35% - 0.6%

Pure form of vitamin E. Can help moisturise and protect the skin from free radicals. Often used to help stabilise other ingredients or the formula itself

0.35% - 0.6%

A type of silicone that helps to soften upper layer of the skin and create a nice product texture

0.3% - 0.6%

Used to create a thicker product consistency

0.35% - 0.65%

Helps to retain moisture by creating a protective barrier on the skin. Rich in fatty acids. Improves product texture and helps with the penetration of other ingredients.

0.35% - 0.6%

Lipids that work as an emollient and can be helpful in repairing skin barrier function

0.45% - 0.65%

A preservative

0.3% - 0.5%

A preservative. It helps prevent bacterial growth in cosmetic products

0.25% - 0.5%

Creates an illusion of smoother and more radiant skin tone. Adds shimmer to the skin by reflecting light

0.3% - 0.6%

0.25% - 0.45%

A colorant that can add a pearl-like appearance to the formulation

0.4% - 0.65%

Works as a UV filter when used in high concentrations. It is photostable and is effective mostly against the UVB light, with some protection in the UVA range. In small concentrations, used for its ability to improve the color of cosmetic products. Is usually well tolerated by the skin

0.3% - 0.6%

Show more