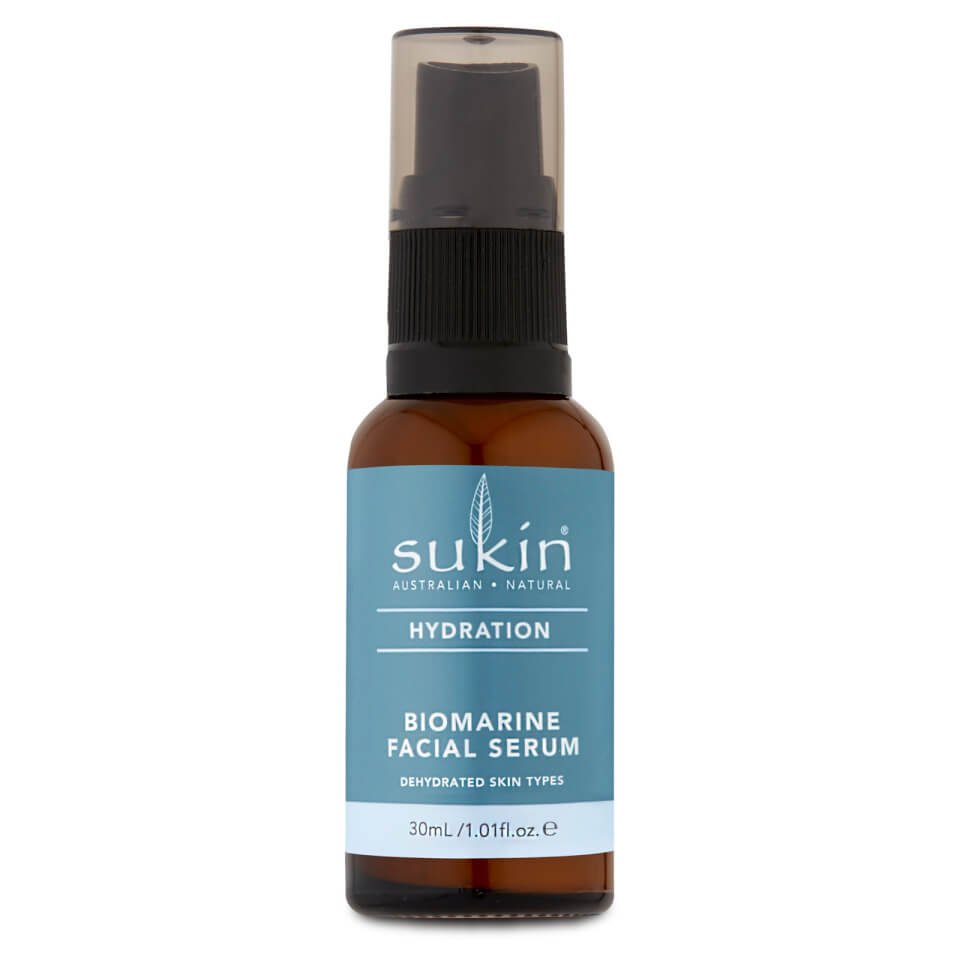 Sukin
Hydration Biomarine Facial Serum
WORKS FOR
Moisturizing
Anti-oxidation
KEY INGREDIENTS
ascophyllum nodosum extract

coco-caprylate

glycerin

saccharide isomerate

sodium hyaluronate

tocopherol

+3 more

Where to buy?
Formula review
See a mistake?
Promise
What does the product description say?
"Hydration Biomarine Facial Serum"
WIMJ
summary
This product contains good ingredients to attract water to the upper layer of the skin. These ingredients are called "humectants": glycerin, saccharide isomerate.
When humectants are on the surface of the skin, they "pull in" the moisture from the outside environment, or from within deeper layers of the skin. If the air is dry, humectants can speed up the moisture loss from the skin. This is why it is a good idea to use another product on top of this one to help "seal in" the moisture (look for ingredients like dimethicone, squalane, oils and butters).
| Ingredient | Effectiveness | Concentration | Irritancy |
| --- | --- | --- | --- |
| | | | |
| | | | |
| | | | |
See a mistake?
WIMJ
summary
This product contains antioxidants (ascophyllum nodosum extract). In theory, they could help neutralize free radicals in skin and lessen the damage it gets from the UV light (sun), but there is no evidence that these ingredients can have a noticeable effect in skin.
| Ingredient | Effectiveness | Concentration | Irritancy |
| --- | --- | --- | --- |
| | | | |
| | | | |
Potential irritants

Ingredients by volume
Ingredient
Estimated concentration

Plain old water

40% - 60%

One of the best moisturizing ingredients. Naturally present in skin. It attracts water to the upper layer of the skin working as a humectant

4.3% - 6.4%

Used to thicken product formulations and create gel-like textures

3.7% - 5.6%

Helps attract water to the upper layer of the skin

2.7% - 4%

One of the best moisturizing ingredients. Attracts water into the upper layer of the skin

2% - 3%

Brown seaweed extract. Can help attract water to the upper layer of the skin and might have some antioxidant effect

1.6% - 2.4%

Pure form of vitamin E. Can help moisturise and protect the skin from free radicals. Often used to help stabilise other ingredients or the formula itself

1.3% - 1.9%

An emollient that softens skin and creates a nice product texture

1.2% - 1.8%

Helps oil and water mix together

1% - 1.45%

Helps oil and water mix together

0.6% - 1.35%

An aromatic blend of unspecified and possibly irritating ingredients

0.45% - 1.05%

Can work as an exfoliant but is typically used to adjust the product pH

0.4% - 0.9%

Helps to control the skin's pH level. Maintains the skin's natural film of amino-lactic acids and oils. Helps to preserve products

0.35% - 0.8%

A preservative

0.15% - 0.7%

A preservative. It helps prevent bacterial growth in cosmetic products

0.1% - 0.5%

A preservative. Can be used to mask unpleasant smell. Can be irritating

0.1% - 0.3%

A common frangrance that can easily irritate skin, especially if exposed to air, light or heat

0.05% - 0.2%

A fragrance with a lemon scent. A likely irritant

0.05% - 0.15%

A fragrance. Can be irritating

0.05% - 0.1%

Show more