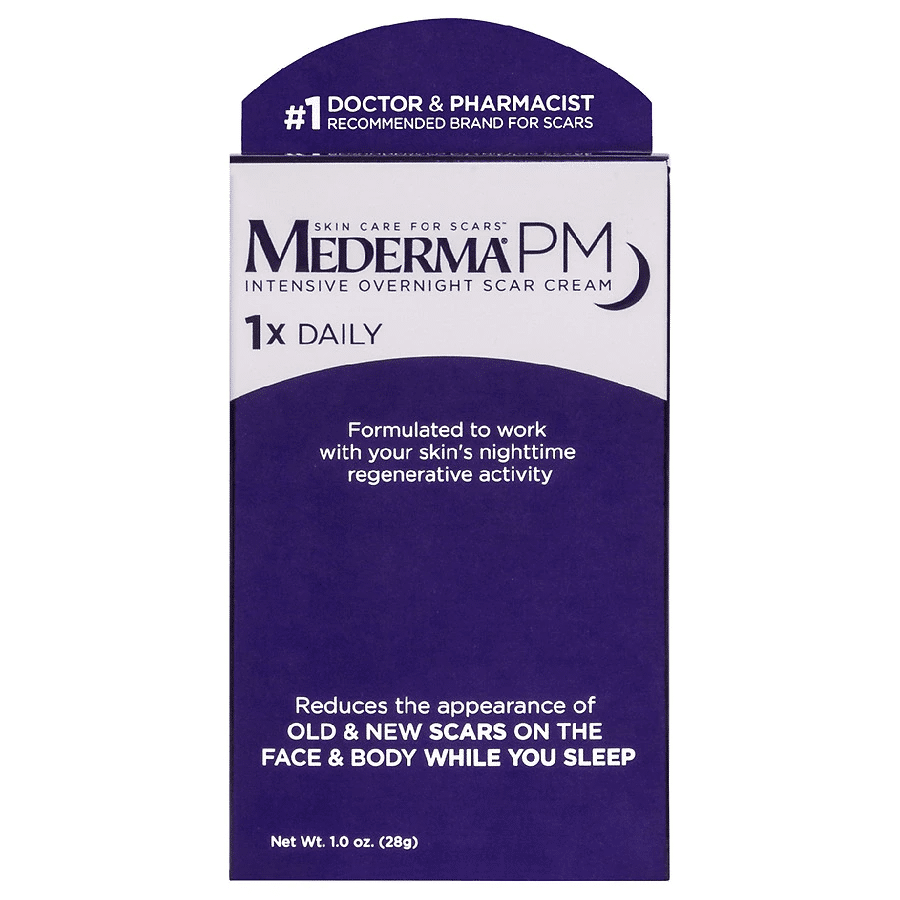 Mederma
PM Intensive Overnight Scar Cream
KEY INGREDIENTS
tripeptide-1

panthenol

alanine

arginine hcl

aspartic acid

c12-15 alkyl benzoate

cetearyl alcohol

cyclomethicone

glucose

glutamic acid

glycerin

glycine

histidine

hydrolyzed collagen

hydrolyzed soy protein

isoleucine

lysine

mannitol

sodium lactate

tyrosine

+17 more

Where to buy?
Formula review
See a mistake?
Promise
What does the product description say?
"Mederma PM Intensive Overnight Scar Cream is formulated to complement this nighttime activity with Tripeptol , a skin-nourishing complex with peptides, collagen, and antioxidants to promote healthy-looking skin and help your skin fight free-radical damage."
WIMJ
summary
This product contains aspartic acid, lysine, tripeptide-1. These ingredients might be able to help reduce and prevent fine lines and wrinkles, improve skin elasticity and firmness, but there is not enough evidence that it actually works.
| Ingredient | Effectiveness | Concentration | Irritancy |
| --- | --- | --- | --- |
| | | | |
| | | | |
| | | | |
See a mistake?
WIMJ
summary
This product can help improve hydration of the skin with the two types of ingredients.
The first type is called "humectants":
these ingredients help attract water. When humectants are on the surface of the skin, they "pull in" the moisture from the outside environment, or from within deeper layers of the skin. The following ingredients in this product do the job: alanine, aspartic acid.
This product also contains ingredients called "occlusives". They help reduce the speed with which our skin loses moisture to the outside environment. These ingredients also help soften the upper layer of the skin, so it feels less tight and nicer to the touch. The following ingredients in this product do the job: cyclomethicone, hydrolyzed collagen.
The following ingredients in this product are especially good for supporting the skin barrier and helping with the hydration level: panthenol, tripeptide-1
| Ingredient | Effectiveness | Concentration | Irritancy |
| --- | --- | --- | --- |
| | | | |
| | | | |
| | | | |
Potential irritants

Ingredients by volume
Ingredient
Estimated concentration

Plain old water

45% - 55%

A non-drying alcohol. Works as an emollient. Helps water and oil mix together and creates a nice product texture

6.4% - 7.8%

One of the best moisturizing ingredients. Naturally present in skin. It attracts water to the upper layer of the skin working as a humectant

4.8% - 5.9%

Enhances the product texture and makes it more spreadable. Helps reduce water loss from the outer layer of skin. Extands the shelf life by preventing bacteria growth

3.2% - 3.9%

Helps products spread more easily and works as an emollient to soften skin

2.3% - 2.9%

Used to preserve products, dissolve other ingredients and create a nice product texture

1.9% - 2.4%

A type of silicone that leaves a nice silky finish on the skin and can help soften its upper layer

1.6% - 1.9%

Used to soften the upper layer of the skin and create a thicker product consistency

1.5% - 1.8%

Can be drying and contribute to skin irritation. Used in formulars to dissolve other ingredients, create a thinner product consistency or for its antibacterial properties

1.2% - 1.5%

Non-drying alcohol that helps water and oil mix together. Also serves as an emollient

1.1% - 1.3%

Helps oil and water mix together

0.75% - 1.1%

0.6% - 0.9%

The ingredient is not recognized

TBC

A type of peptide. Peptides are excellent moisturizers and might be able support collagen production reducing fine lines and wrinkles

0.55% - 0.85%

0.5% - 0.75%

0.5% - 0.7%

Helps water and oil in the product mix well together and improves product texture

0.5% - 0.75%

A more stable but less bio-available form of vitamin E compared to Tocopherol. Might help moisturize and protect the skin from free radicals, but mostly used in low concentrations to stabilize other ingredients.

0.45% - 0.7%

A gelling agent that thickens the product consistency and leaves the skin with a velvety finish

0.45% - 0.65%

Used to thicken product formulations and create gel-like textures

0.4% - 0.6%

Helps attract water to the upper layer of the skin. Might have some anti-aging, anti-oxidant, and skin lightening properties, but solid evidence is missing

0.3% - 0.6%

Helps to attract water to the upper layer of the skin and can help restore the skin barrier function

0.3% - 0.55%

Helps attract water to the upper layer of the skin and can help improve skin barrier function

0.3% - 0.55%

A typically plant-derived compound that is supposed mimic human collagen. Cannot penetrate the skin barrier so is not particularly useful in skincare products beyond attracting water to the upper layer of the skin

0.3% - 0.55%

0.25% - 0.5%

An amino acid that is naturally present in skin and helps keep it hydrated. When used together with AHAs, it can reduce their irritating effect on the skin

0.25% - 0.45%

0.25% - 0.45%

An amino-acid that helps to attract water to the upper layer of the skin. In combination with other amino-acids, might help to reduce fine lines and wrinkles

0.25% - 0.45%

An amino-acid that helps to attract water to the upper layer of the skin and might help to lighten the skin, but solid evidence is lacking

0.25% - 0.45%

Helps attract water to the upper layer of the skin. Is often used to adjust the pH level of the product

0.25% - 0.5%

An amino-acid that helps increase skin hydration and might help to slightly improve skin firmness, potentially reducing lines and wrinkles

0.25% - 0.45%

Helps attract water to the upper layer of the skin. Could be helpful in restoring the skin barrier function

0.25% - 0.5%

An amino-acid that helps attract water to the upper layer of the skin

0.25% - 0.5%

A drying alcohol. Can increase skin's sensitivity and cause dryness and irritation

0.2% - 0.4%

Helps to attract water to the upper layer of the skin

0.2% - 0.4%

Helps attract water to the upper layer of the skin and improves the product texture

0.25% - 0.45%

Helps adjust pH in products

0.25% - 0.45%

0.25% - 0.45%

0.2% - 0.4%

An amino acid that can help attract water to the upper layer of the skin and support skin's barrier function

0.2% - 0.4%

0.25% - 0.45%

0.2% - 0.4%

A preservative

0.2% - 0.4%

A preservative

0.2% - 0.35%

Can work as an exfoliant but is typically used to adjust the product pH

0.2% - 0.35%

Used to adjust the product's pH

0.15% - 0.3%

An aromatic blend of unspecified and possibly irritating ingredients

0.1% - 0.2%

Show more