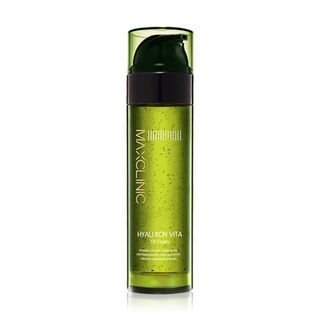 KEY INGREDIENTS
retinyl palmitate

niacinamide

ceramide np

linoleic acid

panthenol

alanine

argania spinosa kernel oil

camellia sinensis leaf extract

cannabis sativa seed oil

caprylic/capric triglyceride

carthamus tinctorius seed oil

cholesterol

cocos nucifera oil

cucurbita pepo seed oil

glycerin

glycine soja sterols

helianthus annuus seed oil

hippophae rhamnoides fruit oil

linolenic acid

olea europaea fruit oil

proline

salvia hispanica seed oil

serine

sesamum indicum seed oil

simmondsia chinensis seed oil

sodium hyaluronate

squalane

sucrose

terminalia ferdinandiana seed oil

tocopherol

triticum vulgare germ extract

ulmus davidiana root extract

vigna radiata seed extract

+30 more

Where to buy?
Formula review
See a mistake?
Promise
What does the product description say?
"Gently rid your skin of dirt and makeup with this cleanser that boasts both oil and foam benefits."
WIMJ
summary
This product works by removing dirt and oil from the surface of the skin. It uses a combination of mild cleansing agents (babassuamidopropyl betaine, carbomer, ceteth-4, cholesterol, cocamidopropyl betaine, hexylene glycol, hydrogenated lecithin, linoleic acid, linolenic acid, peg-5 rapeseed sterol, peg-6 caprylic/capric glycerides, potassium cetyl phosphate, potassium cocoate, potassium cocoyl glycinate, quillaja saponaria bark extract, sodium cocoyl apple amino acids, sodium cocoyl glycinate, sodium lauroyl oat amino acids, xanthan gum) and should be able to cleanse the skin gently. Still keep in mind that any cleansing can disrupt the skin barrier, and most people do not need to cleanse their skin more than once per day.
Even though this formulation is mild, the following cleansing agents could trigger an irritation or allergy for some people: cocamidopropyl betaine
| Ingredient | Effectiveness | Concentration | Irritancy |
| --- | --- | --- | --- |
| | | | |
| | | | |
| | | | |
Potential irritants

Ingredients by volume
Ingredient
Estimated concentration

Plain old water

45% - 55%

One of the best moisturizing ingredients. Naturally present in skin. It attracts water to the upper layer of the skin working as a humectant

4.3% - 5.3%

Helps water and oil mix together. Used as a cleansing ingredient. Could be an allergen

5.4% - 6.6%

An emollient that helps soften the skin but is not effective for restoring its barrier function. Might be helpful to calm down inflammation

3% - 3.7%

Helps oil and water mix together and works as a cleansing agent

2.2% - 2.7%

Helps dissolve other ingredients

1.8% - 2.2%

Used to stabilize product formulation, help create an even product layer over skin (for example, in sunscreen) and create a thicker product consistency

1.5% - 1.9%

1.4% - 1.7%

Used to thicken the product formulation and might help to add minerals to the surface of the skin. It is used in scrubs as a physical exfoliant. Can increase sensitivity to other ingredients if left on the skin or used in high concentration

1.1% - 1.3%

Used to adjust the product's pH

0.75% - 1.15%

Helps oil and water mix together

0.65% - 1%

Helps adjust pH in products

0.5% - 0.75%

Can help attract water to the upper layer of the skin. In crystal form, it can work as a gentle exfoliant, gentler than the salt scrub. Helps stabilize the emulsion

0.3% - 0.55%

Helps oil and water mix together and works as an emollient

0.55% - 0.8%

0.3% - 0.6%

Used to create a nice product texture and help delivery of other ingredients. Might be somewhat helpful in attracting water to the upper layer of the skin

0.35% - 0.6%

A good mix of fatty acids that forms a protective layer on the skin. Improves the shelf life of products. Derived from coconut and glycerin

0.4% - 0.65%

A preservative. It helps prevent bacterial growth in cosmetic products

0.3% - 0.55%

0.3% - 0.6%

Helps create a more spreadable product texture

0.25% - 0.45%

Can contain potent anti-oxidant compounds (abbreviated ECG, GCG, EGC, and EGCG) that might help protect the skin from free radicals. Can help calm down inflammation and has some anti-bacterial properties. Unfortunately, these antioxidants are unstable and lose their effectiveness very quickly in products. The concentration of the antioxidant compounds in the extract also tends to be low to be effective in topical formulation

0.25% - 0.45%

0.75% - 1.15%

0.2% - 0.4%

A preservative

0.2% - 0.35%

Stabilizes the product formulation

0.2% - 0.35%

0.2% - 0.35%

Helps to stabilize the product formulation

0.2% - 0.35%

0.2% - 0.35%

0.2% - 0.35%

Used to preserve products, dissolve other ingredients and create a nice product texture

0.25% - 0.45%

Helps mask the small of other ingredients and improve the product texture

0.2% - 0.4%

Helps create a thicker product consistency

0.2% - 0.4%

The ingredient is not recognized

TBC

A plant oil that due to its high linoleic acid content can help strengthen skin's barrier function and soften its upper layer

0.2% - 0.4%

0.15% - 0.3%

0.25% - 0.45%

A good moisturizing plant oil. Due to the high linoleic acid content, it helps soften the upper layer of the skin, reduce water loss and support skin barrier function

0.2% - 0.4%

Chia seed oil. Helps to soften the upper layer of the skin and might be helpful in repairing skin barrier

0.2% - 0.35%

0.2% - 0.4%

Helps soften the upper layer of the skin

0.2% - 0.4%

An emollient that helps soften the skin

0.25% - 0.45%

0.2% - 0.4%

0.3% - 0.55%

Softens the upper layer of skin and helps restore the healthy skin barrier. Has shown to help calm down inflammation in skin. It is a stable oil, meaning that it retains its properties even when exposed to air.

0.25% - 0.45%

A preservative

0.16% - 0.32%

Bean extract that in theory might help to reduce hyperpigmentation, but evidence of effectiveness in skin are missing

0.2% - 0.35%

An emollient that is naturally found in skin

0.25% - 0.45%

Helps water and oil mix together

0.3% - 0.55%

Plant extract that might help calm down inflammation in skin and neutralize free radicals, but effectiveness of topical application is not confirmed. Can be an allergen

0.2% - 0.35%

0.25% - 0.5%

0.2% - 0.35%

A preservative

0.2% - 0.35%

Helps soften the upper layer of the skin

0.25% - 0.45%

A more stable but less bio-available form of vitamin E compared to Tocopherol. Might help moisturize and protect the skin from free radicals, but mostly used in low concentrations to stabilize other ingredients.

0.2% - 0.4%

An emollient that helps soften the upper layer of the skin. Might have some weak anti-oxidant properties

0.2% - 0.4%

An emollient. Found to be as effective as a moisturizer for dry skin as mineral oil. Could be comedogenic

0.2% - 0.35%

An emollient that helps soften the skin and might help calm down inflammation

0.25% - 0.45%

Helps oil and water mix together

0.25% - 0.4%

Helps attract water to the upper layer of the skin and can help improve skin barrier function

0.2% - 0.35%

Might help neutralize free radicals in skin

0.2% - 0.35%

A plant extract that has some anti-oxidant activity, but solid research is lacking. Can help attract water to the upper layer of the skin

0.2% - 0.35%

An excellent emollient. Helps soften the skin, restore its barrier function, and can help to calm down inflammation. It can be helpful to prevent blemishes and clogged pores

0.3% - 0.55%

0.2% - 0.4%

Helps preserve products and creates a nice product texture

0.25% - 0.4%

0.2% - 0.35%

Three steps removed from the active form of vitamin A - retinoic acid. To have an effect in the skin, it first needs to be converted twice to become the retinoic acid. This means it is less potent than retinol, but could also be less irritating. Once converted to the retinoic acid in the skin, it helps against all signs of aging, improves skin cell turnover and helps fight blemishes and clogged pores. However, in many cosmetic formulations, it is used in a concentration that is too low to have the full effect

0.15% - 0.3%

Helps create a gel-like product texture. Can be used in gentle cleansing formulations

0.2% - 0.4%

One of the best moisturizing ingredients. Attracts water into the upper layer of the skin

0.2% - 0.35%

A great emollient due to its high linoleic acid content. One of the most effective plant oils in helping skin hydration and repairing skin barrier function

0.25% - 0.4%

An oil naturally present in skin. Works as an emollient to soften the skin and form a protective layer on its surface without a greasy feeling.

0.25% - 0.45%

0.2% - 0.35%

0.2% - 0.35%

0.2% - 0.4%

A preservative

0.2% - 0.35%

Can work as an exfoliant but is typically used to adjust the product pH

0.2% - 0.35%

A preservative

0.2% - 0.4%

Used to create thicker product consistency and stabilize emulsions

0.2% - 0.4%

Is proven to be effective in reducing blemishes, evening out skin tone and helping to improve lines and wrinkles. It helps the skin to repair sun damage, calm down inflammation and keep maintain good levels of moisture

0.2% - 0.4%

Might have some moisturising properties. Is not effective when applied topically beyond some moisturizing effect

0.2% - 0.35%

Plant extract that might have moisturizing properties. Avoid if you suffer from wheat or gluten intolerance

0.2% - 0.4%

Might have some anti-inflammatory properties but research is lacking

0.2% - 0.4%

A plant oil that might somewhat help to neutralize free radicals. It could be irritating

0.2% - 0.4%

Plant extract that might help calm down inflammation and have some anti-oxidant properties

0.2% - 0.35%

A plant extract that might help neutralize free radicals in skin

0.2% - 0.35%

Pure form of vitamin E. Can help moisturise and protect the skin from free radicals. Often used to help stabilise other ingredients or the formula itself

0.2% - 0.4%

An emollient that helps soften the skin and calm down inflammation

0.25% - 0.5%

0.2% - 0.35%

0.2% - 0.35%

0.2% - 0.35%

0.2% - 0.35%

A plant root extract that helps attract water to the upper layer of the skin. It might have an anti-inflammatory effect and could help neturalize free radicals in skin

0.2% - 0.35%

0.2% - 0.4%

0.2% - 0.35%

A preservative

0.2% - 0.4%

0.2% - 0.35%

A plant oil that helps to soften the upper layer of the skin and can help restore skin's barrier function. Might have an anti-oxidant effect

0.2% - 0.4%

A type of lipid similar to ceramides naturally present in skin. Helps to soften the upper layer of the skin and supports the skin barrier function to keep it hydrated. Can help to prevent inflammation in skin

0.25% - 0.45%

Helps to retain moisture by creating a protective barrier on the skin. Rich in fatty acids. Improves product texture and helps with the penetration of other ingredients.

0.2% - 0.4%

0.2% - 0.35%

Used to create a thicker product consistency

0.2% - 0.4%

An amino-acid that helps to attract water to the upper layer of the skin. In combination with other amino-acids, might help to reduce fine lines and wrinkles

0.2% - 0.35%

An amino-acid that helps to attract water to the upper layer of the skin and might help to lighten the skin, but solid evidence is lacking

0.2% - 0.35%

0.2% - 0.4%

Helps stabilize the product formulation

0.2% - 0.35%

An aromatic blend of unspecified and possibly irritating ingredients

0.15% - 0.3%

Show more