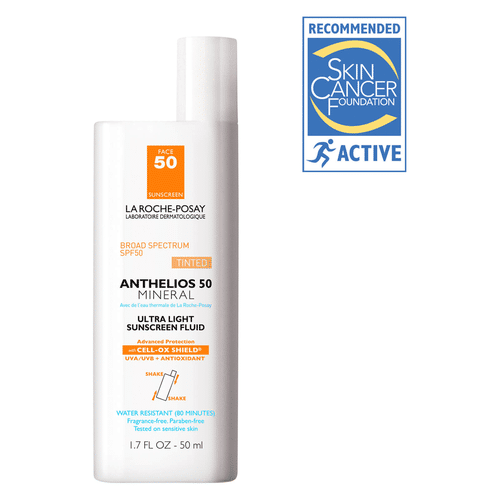 La Roche-Posay
Anthelios 50 Mineral Sunscreen Tinted for Face, Ultra-Light Fluid SPF 50 with Antioxidants
SPF 50
WORKS FOR
Sun protection
Evens skin tone
KEY INGREDIENTS
butyloctyl salicylate

dimethicone

titanium dioxide

Vitamin E

+1 more

100% recommended by WIMJ
users
User reviews
How would you describe the finish? 2 reviews
How would you describe the texture? 1 review
How much white cast does it leave? 2 reviews
How much does it sting eyes? 1 review
How much does it pill under makeup? 1 review
How much does this product clog pores? 1 review
Definitely clogs pores
Doesn't clog pores
How would you describe the smell? 1 review
No smell
Light fragrance
Strong fragrance
Product summary
We do not recommend "La Roche-Posay - Anthelios 50 Mineral Sunscreen Tinted for Face, Ultra-Light Fluid SPF 50 with Antioxidants" because it does not provide good UVA protection. UVA sun rays don't burn the skin, but they still lead to photoaging and hyperpigmentation.
Sunscreen filters
This sunscreen uses a mixture of both mineral and organic (so-called "chemical") UV filters. The organic filters in the product are: butyloctyl salicylate. As for the mineral filters, this sunscreen uses titanium dioxide.
Irritation risk
This formulation includes some common irritants, including ingredients that do not provide a benefit for the skin. We assess the overall irritancy of this sunscreen to be low. For a detailed overview of all potential irritants: click here
You can see the detailed formula review with the breakdown of all actives in the product and the full ingredient list with estimated concentrations in the tables below.
What our users say
Based on 2 reviews 100% recommend this product
When it comes to comedogenicity, the reviewer found that it does not clog pores.
As for the white cast, two out of two reviewers say that the product does not leave a white cast.
When it comes to using this sunscreen under makeup, the user found that it pills under a foundation.
As for using this sunscreen in the eye area, the reviewer reported that it stings eyes.
Our users describe the finish of this sunscreen as dewy, They find the product's texture to be light - heavy and In terms of the smell, our users report that light fragrance - no smell.
Price
The product retails from 34.99$ up to 36.99$ in the United States.
For a detailed price comparison: click here.
Can the product deliver on its promises?
WIMJ summary for sun protection
This product does not offer good protection against UVA rays.
This product can be considered "reef safe" because it does not contain the UV filters (oxybenzone and octinoxate) that can be harmful to coral reefs when present in the water in high concentrations.
Non-organic (mineral) filters
See a mistake?
WIMJ summary for evens skin tone
This product contains ingredients () that could help reduce hyperpigmentation (for example, post-acne marks or age spots) in theory, but there is not enough evidence that they actually work.
The biggest effect for evening out skin tone in this product comes from sun protection. Sun damage is the main factor causing age spots, darkening of post-acne marks and other discolorations. This is why sun protection is the best strategy for maintaining an even skin tone. We, however, do not recommend using this product as a sunscreen because the protection it offers is not strong enough).
How honest is this product?
| Promise | Can it deliver? |
| --- | --- |
| Sun protection | |
| Evens skin tone | |
Total Promises Fulfilled score:
60
/100.
Potential irritants

Ingredients by volume
Ingredient
Estimated concentration

Works as a UV filter when used in high concentrations. It is photostable and is effective mostly against the UVB light, with some protection in the UVA range. In small concentrations, used for its ability to improve the color of cosmetic products. Is usually well tolerated by the skin

Plain old water

45% - 55%

An emollient that helps soften the skin and can decrease moisture loss. Helps create a nice product texture

7.8% - 9.6%

Show more