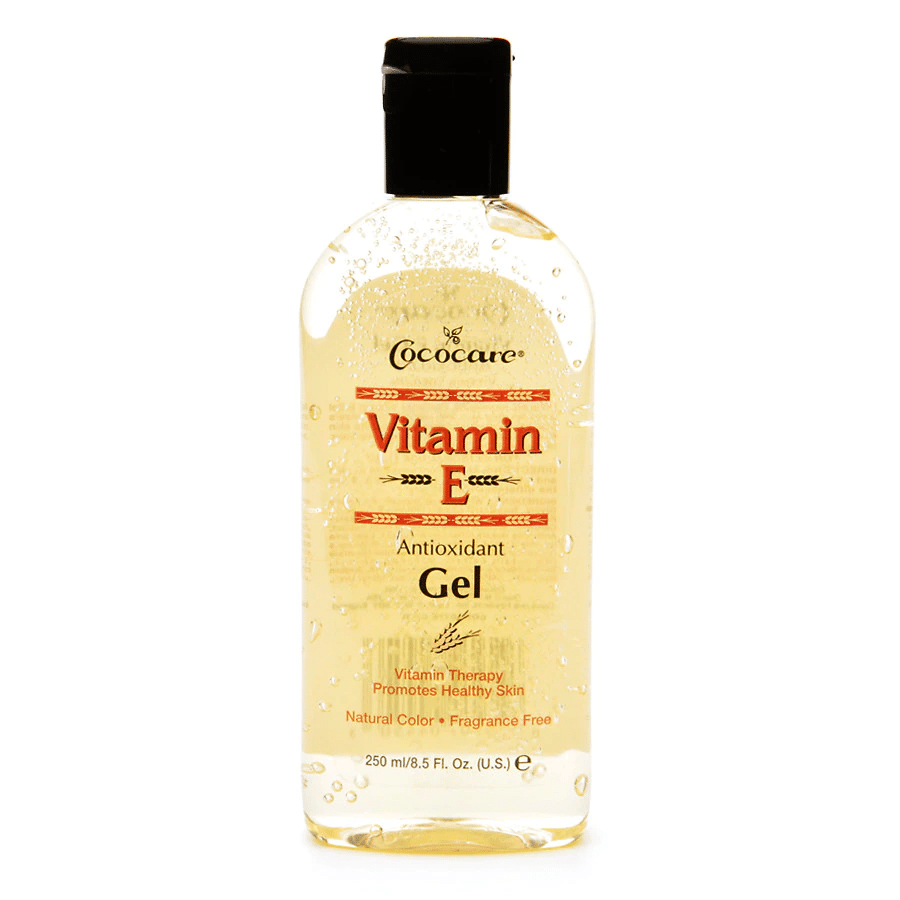 WORKS FOR
Moisturizing
Anti-aging
Evens skin tone
KEY INGREDIENTS
retinyl palmitate

Oxybenzone

glycerin

Rosemary extract

Appears in 0 user routines
Product summary
"Cococare - Vitamin E Antioxidant Gel" is a well-rounded moisturizing product.
Ingredient callouts
this moisturizer includes a form of retinoids (vitamin A) - retinyl palmitate 2.10% - 3.10%, but this type of vitamin A is not very effective. It could in theory help with fine lines and wrinkles, but the effect is most likely minimal.
This formulation also uses an effective concentration of panthenol (pro-vitamin B5) - about 1.70% - 2.50%. Panthenol helps strengthen the skin barrier, improve hydration and reduce inflammation in skin.
Irritation risk
We assess the overall irritancy of this moisturizer to be high. For a detailed overview of all potential irritants: click here
You can see the detailed formula review with the breakdown of all actives in the product and the full ingredient list with estimated concentrations in the tables below.
Price
The product retails for 19.25CA$ in Canada and from 6.99$ up to 8.03$ in the United States.
For a detailed price comparison: click here.
Can the product deliver on its promises?
See a mistake?
Promise
What does the product description say?
"Daily use will keep your skin well moisturized."
WIMJ summary for moisturizing
This product contains good ingredients to attract water to the upper layer of the skin. These ingredients are called "humectants": glycerin.
When humectants are on the surface of the skin, they "pull in" the moisture from the outside environment, or from within deeper layers of the skin. If the air is dry, humectants can speed up the moisture loss from the skin. This is why it is a good idea to use another product on top of this one to help "seal in" the moisture (look for ingredients like dimethicone, squalane, oils and butters).
| Ingredient | Effectiveness | Concentration | Irritancy |
| --- | --- | --- | --- |
| | | | |
See a mistake?
WIMJ summary for anti-aging
This product contains retinyl palmitate. This ingredient might be able to help reduce and prevent fine lines and wrinkles, improve skin elasticity and firmness, but there is not enough evidence that it actually works.
| Ingredient | Effectiveness | Concentration | Irritancy |
| --- | --- | --- | --- |
| | | | |
See a mistake?
WIMJ summary for evens skin tone
The following ingredient (ingredients) in this product might be helpful, but there is no evidence to confirm that it actually works: retinyl palmitate.
| Ingredient | Effectiveness | Concentration | Irritancy |
| --- | --- | --- | --- |
| | | | |
How honest is this product?
| Promise | Can it deliver? |
| --- | --- |
| Moisturizing | |
Total Promises Fulfilled score:
75
/100.
Potential irritants

Ingredients by volume
Ingredient
Estimated concentration

Plain old water

40% - 60%

One of the best moisturizing ingredients. Naturally present in skin. It attracts water to the upper layer of the skin working as a humectant

3.8% - 5.7%

Helps oil and water mix together and can enhance the penetration of other ingredients into the skin. It can be irritating

3.5% - 5.3%

Show more