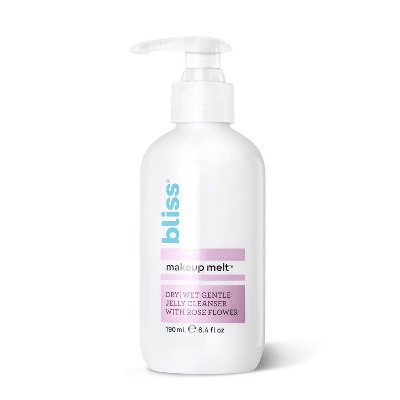 Bliss
Makeup Melt Dry/Wet Gentle Jelly Cleanser
KEY INGREDIENTS
anhydroxylitol

panthenol

allantoin

caprylic/capric triglyceride

glycerin

glycine soja oil

helianthus annuus seed oil

shea butter ethyl esters

tocopherol

xylitylglucoside

+7 more

Where to buy?
Formula review
See a mistake?
Promise
What does the product description say?
"Makeup Melt Dry/Wet Gentle Jelly Cleanser"
WIMJ
summary
This product works by removing dirt and oil from the surface of the skin. It uses a combination of mild cleansing agents (caprylyl/capryl glucoside, hexylene glycol, isohexadecane, polysorbate 60, shea butteramidopropyl betaine, sodium cocoyl apple amino acids, sodium lauroyl oat amino acids, sorbitan isostearate, xanthan gum) and should be able to cleanse the skin gently. Still keep in mind that any cleansing can disrupt the skin barrier, and most people do not need to cleanse their skin more than once per day.
| Ingredient | Effectiveness | Concentration | Irritancy |
| --- | --- | --- | --- |
| | | | |
| | | | |
| | | | |
Potential irritants

Ingredients by volume
Ingredient
Estimated concentration

Plain old water

45% - 55%

One of the best moisturizing ingredients. Naturally present in skin. It attracts water to the upper layer of the skin working as a humectant

6.9% - 8.5%

Helps oil and water mix together. Can be used as a cleansing agent

6.1% - 7.5%

A gelling agent that thickens the product consistency and leaves the skin with a velvety finish

3.2% - 3.9%

Helps attract water to the upper layer of the skin and can help improve skin barrier function

2.3% - 2.9%

Pure form of vitamin E. Can help moisturise and protect the skin from free radicals. Often used to help stabilise other ingredients or the formula itself

1.8% - 2.2%

Plant extract that can have healing and anti-inflammatory properties. It is a potential allergen and can be irritating

1.7% - 2%

Contains essential oil. Can be irritating

1.4% - 1.7%

An essential oil. Potential allergen and can be irritating. It has some anti-bacterial properties

1.2% - 1.5%

A great emollient due to its high linoleic acid content. One of the most effective plant oils in helping skin hydration and repairing skin barrier function

1.1% - 1.4%

A good emollient that helps soften the skin and helps repair its barrier function

0.8% - 1.2%

Helps calm down inflammation in skin and can help reduce itching. Helps to repair the skin barrier and keep skin hydrated

0.6% - 0.95%

0.6% - 0.9%

0.65% - 0.95%

Helps soften the upper layer of the skin

0.55% - 0.85%

Helps attract water to the upper layer of the skin and repair the skin barrier function

0.55% - 0.8%

Helps attract water to the upper layer of the skin and repair the skin barrir function

0.5% - 0.8%

Helps attract water to the upper layer of the skin and repair the skin barrier function

0.45% - 0.7%

Acts as a solvent for other ingredients. Speeds up the absorption of other ingredients into the skin

0.5% - 0.7%

Helps mask the small of other ingredients and improve the product texture

0.45% - 0.65%

Used to create a thicker product consistency

0.4% - 0.6%

0.45% - 0.7%

Used to stabilize product formulations

0.3% - 0.6%

Helps create a more spreadable product texture

0.3% - 0.55%

A good mix of fatty acids that forms a protective layer on the skin. Improves the shelf life of products. Derived from coconut and glycerin

0.4% - 0.6%

Helps oil and water mix together

0.3% - 0.55%

Helps oil and water mix together

0.3% - 0.55%

Improves the texture of the product and helps soften the skin. Helps oil and water mix together and can be used as a cleansing agent

0.4% - 0.6%

Helps to stabilize the product formulation

0.25% - 0.45%

A preservative. It helps prevent bacterial growth in cosmetic products

0.25% - 0.45%

A preservative

0.25% - 0.4%

A preservative

0.15% - 0.3%

Helps to control the skin's pH level. Maintains the skin's natural film of amino-lactic acids and oils. Helps to preserve products

0.15% - 0.3%

Can work as an exfoliant but is typically used to adjust the product pH

0.15% - 0.25%

A fragrance. Can be irritating

0.1% - 0.2%

Show more