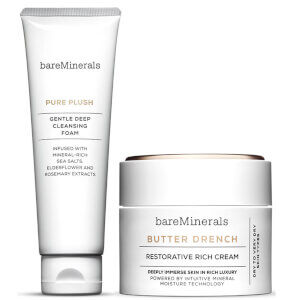 KEY INGREDIENTS
ceramide np

palmitoyl tetrapeptide-7

palmitoyl tripeptide-1

urea

algae extract

allantoin

butyrospermum parkii butter

cetyl alcohol

copernicia cerifera cera

dimethicone

glucosamine hcl

glycerin

glyceryl stearate se

myristyl myristate

phytosteryl/octyldodecyl lauroyl glutamate

saccharomyces cerevisiae extract

sambucus nigra flower extract

silica

sodium hyaluronate

sodium pca

tocopherol

tricaprylin

+19 more

Where to buy?
Formula review
See a mistake?
Promise
What does the product description say?
"Cleanser and Moisturiser"
WIMJ
summary
This product works by removing dirt and oil from the surface of the skin. It uses a combination of mild cleansing agents (carbomer, cetyl alcohol, glyceryl stearate se, isostearic acid, lauric acid, lauryl betaine, myristic acid, peg-100 stearate, polysorbate 20, sodium methyl cocoyl taurate, sorbitan tristearate, stearic acid, stearyl alcohol) and should be able to cleanse the skin gently. Still keep in mind that any cleansing can disrupt the skin barrier, and most people do not need to cleanse their skin more than once per day.
Even though this formulation is mild, the following cleansing agents could trigger an irritation or allergy for some people: sodium methyl cocoyl taurate
| Ingredient | Effectiveness | Concentration | Irritancy |
| --- | --- | --- | --- |
| | | | |
| | | | |
| | | | |
Potential irritants

Ingredients by volume
Ingredient
Estimated concentration

Plain old water

45% - 55%

One of the best moisturizing ingredients. Naturally present in skin. It attracts water to the upper layer of the skin working as a humectant

6.5% - 8%

Helps oil and water mix together and works as an emollient

4.4% - 5.4%

Helps oil and water mix together. Could be comedogenic

2.7% - 3.3%

Used to create a nice product consistency

2.1% - 2.6%

Used to adjust the pH level of products

1.7% - 2.1%

Helps water and oil mix together. Has anti-bacterial properties that might be helpful in preventing blemishes

1.7% - 2.1%

Helps oil and water mix together. Can be used as cleansing agent

1.8% - 2.1%

Used to create a nice product texture and help delivery of other ingredients. Might be somewhat helpful in attracting water to the upper layer of the skin

1.3% - 1.6%

Used to stabilize the product formulations and works as an emollient

1.1% - 1.4%

Used to create a thicker product consistency

0.95% - 1.15%

Stabilizes the product formulation

0.5% - 1%

Helps soften the upper layer of the skin and create a nice product finish

0.7% - 1.05%

0.6% - 0.85%

Can be helpful in reducing inflammation in skin. Is a likely irritant

0.55% - 0.85%

A plant extract that might help neutralize free radicals in skin

0.6% - 0.85%

Used to thicken the product formulation and might help to add minerals to the surface of the skin. It is used in scrubs as a physical exfoliant. Can increase sensitivity to other ingredients if left on the skin or used in high concentration

0.55% - 0.85%

An aromatic blend of unspecified and possibly irritating ingredients

0.5% - 0.75%

A common frangrance that can easily irritate skin, especially if exposed to air, light or heat

0.5% - 0.75%

A preservative

0.25% - 0.5%

A preservative. It helps prevent bacterial growth in cosmetic products

0.5% - 0.75%

0.5% - 0.75%

Plain old water

0.45% - 0.7%

One of the best moisturizing ingredients. Naturally present in skin. It attracts water to the upper layer of the skin working as a humectant

0.5% - 0.75%

Used to create a nice product texture and help delivery of other ingredients. Might be somewhat helpful in attracting water to the upper layer of the skin

0.45% - 0.7%

A silicone that helps to reduce water loss from the surface of the skin. Can temporarily "fill in" lines and wrinkles, absorb oil, and create a nice product finish

0.55% - 0.8%

Used to create a nice product consistency while softening the upper layer of the skin

0.5% - 0.75%

Acts as a solvent for other ingredients. Speeds up the absorption of other ingredients into the skin

0.5% - 0.7%

An emollient that helps soften the skin. Can increase penetration of other ingredients

0.5% - 0.75%

Used to stabilize the product formulations and works as an emollient

0.5% - 0.7%

A non-drying alcohol that works to soften the skin and stabilize product formulations helping oil and water mix together

0.5% - 0.75%

Used to absorb oil and can temporarily mattify skin

0.6% - 0.85%

An emollient. Is not recommended for acne-prone skin as it can be comedogenic

0.5% - 0.75%

Helps oil and water mix togehter and creates a nice product texture

0.55% - 0.85%

A great moisturising ingredient that softens the skin and reduces water loss from its upper layer. It also can be helpful in protecting skin from free radicals

0.5% - 0.75%

Brazilian palm wax. Helps soften the upper layer of the skin

0.5% - 0.75%

Used to improve the product consistency and soften the upper layer of the skin

0.5% - 0.75%

Helps to soften the upper layer of the skin and create a nice product texture

0.45% - 0.7%

Non-drying alcohol that helps water and oil mix together. Also serves as an emollient

0.5% - 0.8%

0.45% - 0.7%

Used to create a nice product texture

0.55% - 0.85%

An emollient that helps soften the skin

0.5% - 0.75%

Naturally present in skin (urea makes up about 7% of natural moisturizing factors in skin). Attracts water to the upper layer of the skin. Also has a positive effect on the skin barrier beyond the humectant action. Can enhance penetration of other ingredients. Is an exfoliating ingredient when used in high concentrations

0.45% - 0.7%

Might be able to stimulate production of skin's natural moisturizing compounds such as hyaluronic acid. Could be helpful for evening the skin tone.

0.45% - 0.7%

Plant extract that helps the skin to attract water and make it more smooth for touch. Also shows promise of anti-aging properties, but research is not extensive yet

0.55% - 0.8%

A moisturizing ingredient that works as a humectant to attract water to the upper layer of the skin.

0.45% - 0.65%

Naturally present in skin and helps to attract water to its upper layer

0.45% - 0.7%

Helps calm down inflammation in skin and can help reduce itching. Helps to repair the skin barrier and keep skin hydrated

0.45% - 0.65%

A preservative

0.45% - 0.7%

Helps water and oil mix together

0.55% - 0.8%

Helps to control the skin's pH level. Maintains the skin's natural film of amino-lactic acids and oils. Helps to preserve products

0.45% - 0.7%

Stabilizes the product formulation

0.45% - 0.7%

Helps oil and water mix together

0.5% - 0.7%

A mix of amino acids and plant-based lipids. Helps to soften the upper layer of the skin and reduce water loss over time

0.5% - 0.75%

Can be drying and contribute to skin irritation. Used in formulars to dissolve other ingredients, create a thinner product consistency or for its antibacterial properties

0.4% - 0.65%

Can work as an exfoliant but is typically used to adjust the product pH

0.4% - 0.6%

Helps create a gel-like product texture. Can be used in gentle cleansing formulations

0.35% - 0.65%

Helps oil and water mix together

0.4% - 0.65%

One of the best moisturizing ingredients. Attracts water into the upper layer of the skin

0.35% - 0.6%

A plant extract that might have some anti-bacterial properties, but might also cause photosensitivity in skin

0.3% - 0.55%

A type of peptide. Peptides are excellent moisturizers and might be able support collagen production reducing fine lines and wrinkles

0.4% - 0.6%

A type of peptide. Peptides are excellent moisturizers and might be able support collagen production reducing fine lines and wrinkles

0.35% - 0.65%

A type of lipid similar to ceramides naturally present in skin. Helps to soften the upper layer of the skin and supports the skin barrier function to keep it hydrated. Can help to prevent inflammation in skin

0.35% - 0.6%

Pure form of vitamin E. Can help moisturise and protect the skin from free radicals. Often used to help stabilise other ingredients or the formula itself

0.3% - 0.55%

An aromatic blend of unspecified and possibly irritating ingredients

0.25% - 0.4%

A fragrance. Can be irritating

0.2% - 0.35%

A common frangrance that can easily irritate skin, especially if exposed to air, light or heat

0.15% - 0.3%

A fragrance. Can be irritating

0.1% - 0.2%

A fragrance with a lemon scent. A likely irritant

0.15% - 0.25%

A preservative

0.15% - 0.25%

A preservative. It helps prevent bacterial growth in cosmetic products

0.15% - 0.25%

Show more