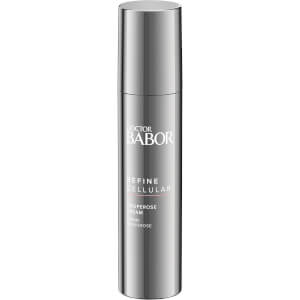 BABOR
Doctor Refine Cellular Couprose Cream
KEY INGREDIENTS
ascorbic acid

panthenol

allantoin

biosaccharide gum-1

bisabolol

butyrospermum parkii butter

caprylic/capric triglyceride

centella asiatica leaf extract

cetearyl alcohol

coco-caprylate

glycerin

glycine soja oil

helianthus annuus seed oil

hydrogenated vegetable glycerides

macadamia integrifolia seed oil

pantolactone

sesamum indicum seed oil

titanium dioxide

+15 more

Where to buy?
Formula review
See a mistake?
Promise
What does the product description say?
"The cocktail is infused with a host of Balancing Pigments, which help to promote the impression of a more youthful, lit-from-within glow, while minimising the look of irritation."
WIMJ
summary
This product contains centella asiatica leaf extract. This ingredient might be able to help reduce and prevent fine lines and wrinkles, improve skin elasticity and firmness, but there is not enough evidence that it actually works.
| Ingredient | Effectiveness | Concentration | Irritancy |
| --- | --- | --- | --- |
| | | | |
| | | | |
| | | | |
See a mistake?
WIMJ
summary
This product can help improve hydration of the skin with the two types of ingredients.
The first type is called "humectants":
these ingredients help attract water. When humectants are on the surface of the skin, they "pull in" the moisture from the outside environment, or from within deeper layers of the skin. The following ingredients in this product do the job: allantoin, biosaccharide gum-1.
This product also contains ingredients called "occlusives". They help reduce the speed with which our skin loses moisture to the outside environment. These ingredients also help soften the upper layer of the skin, so it feels less tight and nicer to the touch. The following ingredients in this product do the job: helianthus annuus seed oil, glycine soja oil.
The following ingredients in this product are especially good for supporting the skin barrier and helping with the hydration level: panthenol
| Ingredient | Effectiveness | Concentration | Irritancy |
| --- | --- | --- | --- |
| | | | |
| | | | |
| | | | |
Potential irritants

Ingredients by volume
Ingredient
Estimated concentration

Plain old water

45% - 55%

One of the best moisturizing ingredients. Naturally present in skin. It attracts water to the upper layer of the skin working as a humectant

4.4% - 5.3%

Helps water and oil mix together

3.6% - 4.5%

A good emollient that helps soften the skin and helps repair its barrier function

3% - 3.6%

A good moisturizing plant oil. Due to the high linoleic acid content, it helps soften the upper layer of the skin, reduce water loss and support skin barrier function

2.3% - 2.8%

A plant oil that helps soften the upper layer of the skin

1.9% - 2.3%

An emollient that softens skin and creates a nice product texture

1.6% - 1.9%

Help soften the upper layer of the skin

1.4% - 1.7%

Used mostly for creating emulsions - helping oil and water mix together. Helps soften the upper layer of the skin

1.2% - 1.4%

A non-drying alcohol. Works as an emollient. Helps water and oil mix together and creates a nice product texture

1% - 1.2%

A more stable but less bio-available form of vitamin E compared to Tocopherol. Might help moisturize and protect the skin from free radicals, but mostly used in low concentrations to stabilize other ingredients.

0.65% - 1%

Helps attract water to the upper layer of the skin and can help improve skin barrier function

0.55% - 0.8%

A preservative. It helps prevent bacterial growth in cosmetic products

0.45% - 0.7%

Creates an illusion of smoother and more radiant skin tone. Adds shimmer to the skin by reflecting light

0.55% - 0.85%

A great moisturising ingredient that softens the skin and reduces water loss from its upper layer. It also can be helpful in protecting skin from free radicals

0.45% - 0.7%

A plant extract that has been shown to be able to reduce inflammation in skin, support restoration of skin barrier function, as well as support collagen production. It can be irritating to sensitive skin. Might be helpful in preventing stretch marks. It could, however, itself be irritating.

0.35% - 0.65%

Used to create a thicker product consistency

0.35% - 0.65%

Used to create a nice product texture and help delivery of other ingredients. Might be somewhat helpful in attracting water to the upper layer of the skin

0.3% - 0.6%

Helps water and oil mix together and works as a cleansing agent

0.45% - 0.7%

Helps calm down inflammation in skin and can help reduce itching. Helps to repair the skin barrier and keep skin hydrated

0.25% - 0.45%

An active component of chamomile plant that historically has been used to calm down irritated skin. A recent study shows that bisabolol indeed can have some anti-inflammatory effect on skin, even though conclusive data is lacking. Bisabolol has a sweet floral scent and can be added to products for its aromatic properties

0.2% - 0.4%

A preservative

0.25% - 0.45%

Helps create a gel-like product texture. Can be used in gentle cleansing formulations

0.25% - 0.4%

A compound obtained from horse chestnut. It is claimed that this chemical can improve circulation, but there is no evidence available that it works in skin

0.2% - 0.4%

A plant extract that has some anti-oxidant and anti-bacterial properties. Can be irritating

0.2% - 0.35%

Can be drying and contribute to skin irritation. Used in formulars to dissolve other ingredients, create a thinner product consistency or for its antibacterial properties

0.2% - 0.4%

Stabilizes the product formulation

0.2% - 0.4%

Helps soften the upper layer of the skin while creating a non-greasy feel on the skin. Helps to dissolve other ingredients

0.25% - 0.45%

A good mix of fatty acids that forms a protective layer on the skin. Improves the shelf life of products. Derived from coconut and glycerin

0.25% - 0.5%

Helps attract water to the upper layer of the skin and is claimed to provide a longer-lasting hydration because of its ability to create a water-binding film on the surface of the skin

0.2% - 0.4%

0.25% - 0.45%

A colorant that can add a pearl-like appearance to the formulation

0.3% - 0.55%

Can work as an exfoliant but is typically used to adjust the product pH

0.15% - 0.3%

0.15% - 0.3%

A great emollient due to its high linoleic acid content. One of the most effective plant oils in helping skin hydration and repairing skin barrier function

0.15% - 0.3%

Helps attract water to the upper layer of the skin

0.1% - 0.2%

Being a lipid soluble form of vitamin C, it is more stable and can penetrate the skin better than L-Ascorbic acid. It is effective in protecting the skin from free radicals, as well as evening the skin tone, but is less effective in stimulating collagen production compared to L-Ascorbic acid.

0.1% - 0.15%

Can be helpful in reducing inflammation in skin. Is a likely irritant

0.05% - 0.1%

The most well-researched antioxidant that works in skin. Helps neutralize free radicals supporting collagen production, helping to even out the skin tone and preventing early signs of aging

0.05% - 0.1%

Works as a UV filter when used in high concentrations. It is photostable and is effective mostly against the UVB light, with some protection in the UVA range. In small concentrations, used for its ability to improve the color of cosmetic products. Is usually well tolerated by the skin

0.05% - 0.1%

Show more