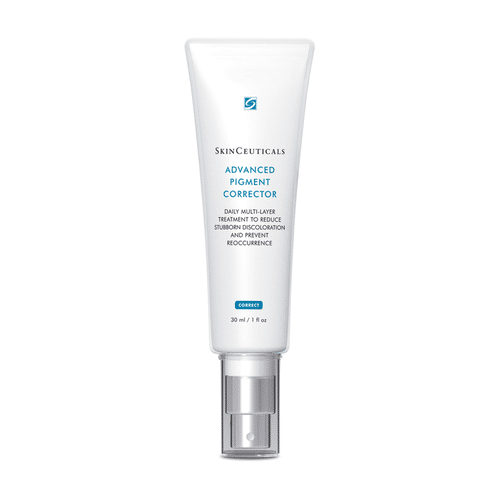 KEY INGREDIENTS
salicylic acid

salicylic acid

dimethicone

dimethiconol

ellagic acid

faex extract

glycerin

hydroxyphenoxy propionic acid

polysilicone-11

titanium dioxide

yeast extract

+8 more

Where to buy?
Formula review
See a mistake?
Promise
What does the product description say?
"SkinCeuticals Advanced Pigment Corrector unique blend of active ingredients and technology helps to exfoliate the skin and improve radiance reducing the appearance of discoloration."
WIMJ
summary
This product can help reduce hypepigmentation and even out the skin tone because it contains the following effective ingredients: ellagic acid, hydroxyphenoxy propionic acid
Keep in mind that you would need to apply any topical skincare targetted at hypigmentation consistently for a couple of months to get a result. No topical skincare product can help get rid of hyperpigmentation (including post-acne marks and age spots) instantly.
| Ingredient | Effectiveness | Concentration | Irritancy |
| --- | --- | --- | --- |
| | | | |
| | | | |
| | | | |
Potential irritants

Ingredients by volume
Ingredient
Estimated concentration

Used for skin exfoliation. It has an anti-inflammatory and anti-bacterial effect, helps to unclog pores, prevent blemishes and speed up healing of the existing ones. Sometimes referred to as a BHA (beta-hydroxy acid)

Plain old water

45% - 55%

A silicone that serves as an emollient. Helps create a nice non-greasy feels

8.5% - 10.3%

A silicone that helps to reduce water loss from the surface of the skin. Can temporarily "fill in" lines and wrinkles, absorb oil, and create a nice product finish

6.1% - 7.5%

One of the best moisturizing ingredients. Naturally present in skin. It attracts water to the upper layer of the skin working as a humectant

3.3% - 4.1%

Produces temporary toning effect. Can help dissolve other ingredients or preserve products

2.5% - 3.1%

Used to create a nice product texture and help delivery of other ingredients. Might be somewhat helpful in attracting water to the upper layer of the skin

2.1% - 2.5%

A silicone that forms a light film on the skin surface helping to bind water and temporarily absorb oils creating a matt and powdery feel

1.9% - 2.3%

Used to create a nice product consistency while softening the upper layer of the skin

1.5% - 1.9%

Used to create a nice product finish

1.3% - 1.6%

1% - 1.3%

Helps reduce hypepigmentation and even out the skin tone

0.7% - 1.1%

Used to create a thicker product consistency

0.6% - 0.9%

Can help neutralize free radicals in skin. It can help prevent and treat hyperpigmentation and even out the skin tone

0.55% - 0.8%

A preservative. It helps prevent bacterial growth in cosmetic products

0.5% - 0.75%

0.45% - 0.7%

Used to preserve products, dissolve other ingredients and create a nice product texture

0.55% - 0.8%

0.45% - 0.7%

A silicone that makes products more spreadable and keeps skin smooth. Helps to add gloss to skin and may visually fill in fine lines/wrinkles for short time

0.45% - 0.7%

Works as a UV filter when used in high concentrations. It is photostable and is effective mostly against the UVB light, with some protection in the UVA range. In small concentrations, used for its ability to improve the color of cosmetic products. Is usually well tolerated by the skin

0.45% - 0.7%

Used for skin exfoliation. It has an anti-inflammatory and anti-bacterial effect, helps to unclog pores, prevent blemishes and speed up healing of the existing ones. Sometimes referred to as a BHA (beta-hydroxy acid)

A preservative

0.16% - 0.32%

Yeast extract. Helps attract water to the upper layer of the skin

0.25% - 0.5%

Helps attract water to the upper layer of the skin and might have some anti-oxidant and skin lightening properties. It can help calm down inflammation in skin

0.25% - 0.45%

Used to adjust the product's pH

0.25% - 0.45%

Used to create a thicker product consistency

0.25% - 0.45%

Creates an illusion of smoother and more radiant skin tone. Adds shimmer to the skin by reflecting light

0.25% - 0.45%

Stabilizes the product formulation

0.15% - 0.25%

A solvent with some emollient properties

0.15% - 0.3%

Can work as an exfoliant but is typically used to adjust the product pH

0.1% - 0.15%

Show more