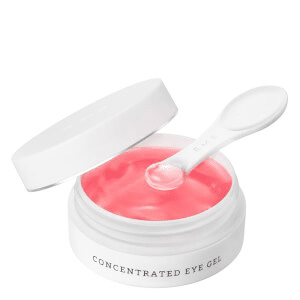 KEY INGREDIENTS
camellia sinensis leaf extract

diglycerin

glycerin

maltitol

methyl gluceth-20

peg/ppg/polybutylene glycol-8/5/3 glycerin

+3 more

Where to buy?
Formula review
See a mistake?
Promise
What does the product description say?
"Jumpstart skin's radiance with a hit of intense moisture using Japanese cosmetics brand RMK's Concentrated Eye Gel; a rapidly-absorbing and cooling gel that penetrates the delicate eye area with a blend of moisturising ingredients to combat dryness, puffiness and dark circles."
WIMJ
summary
This product contains good ingredients to attract water to the upper layer of the skin. These ingredients are called "humectants": diglycerin, glycerin.
When humectants are on the surface of the skin, they "pull in" the moisture from the outside environment, or from within deeper layers of the skin. If the air is dry, humectants can speed up the moisture loss from the skin. This is why it is a good idea to use another product on top of this one to help "seal in" the moisture (look for ingredients like dimethicone, squalane, oils and butters).
| Ingredient | Effectiveness | Concentration | Irritancy |
| --- | --- | --- | --- |
| | | | |
| | | | |
| | | | |
Potential irritants

Ingredients by volume
Ingredient
Estimated concentration

Plain old water

45% - 55%

Helps to dissolve other ingredients in a formulation. Slows down the rate of product drying

7.4% - 9.1%

Helps attract water to the upper layer of the skin

4.2% - 5.1%

Helps attract water to the upper layer of the skin

3.1% - 3.8%

One of the best moisturizing ingredients. Naturally present in skin. It attracts water to the upper layer of the skin working as a humectant

2.5% - 3%

Helps create a gel-like product texture. Can be used in gentle cleansing formulations

1.9% - 2.4%

Helps attract water to the upper layer of the skin and improves the product texture

1.7% - 2.1%

Helps attract water to the upper layer of the skin and soften it

1.5% - 1.8%

Helps create a nice product texture and attract water to the upper layer of the skin

1.2% - 1.5%

Used to adjust the pH level of products

1% - 1.2%

Helps oil and water mix together

0.75% - 1.1%

Helps oil and water mix together

0.6% - 0.95%

Used to create a nice product texture and help delivery of other ingredients. Might be somewhat helpful in attracting water to the upper layer of the skin

0.55% - 0.8%

An aromatic blend of unspecified and possibly irritating ingredients

0.45% - 0.7%

0.45% - 0.65%

Stabilizes the product formulation

0.45% - 0.65%

Can contain potent anti-oxidant compounds (abbreviated ECG, GCG, EGC, and EGCG) that might help protect the skin from free radicals. Can help calm down inflammation and has some anti-bacterial properties. Unfortunately, these antioxidants are unstable and lose their effectiveness very quickly in products. The concentration of the antioxidant compounds in the extract also tends to be low to be effective in topical formulation

0.45% - 0.65%

0.3% - 0.55%

0.3% - 0.6%

A plant extract that might have some anti-oxidant properties, but evidence is lacking

0.25% - 0.45%

A preservative. It helps prevent bacterial growth in cosmetic products

0.2% - 0.4%

A preservative

0.15% - 0.3%

A fragrance. Can be irritating

0.15% - 0.3%

A common frangrance that can easily irritate skin, especially if exposed to air, light or heat

0.15% - 0.3%

A fragrance. Can be irritating

0.1% - 0.2%

A colorant

0.1% - 0.2%

A red colorant

0.1% - 0.15%

Show more