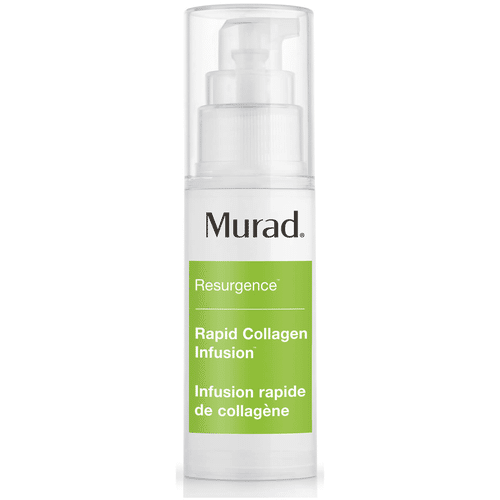 Murad
Rapid Collagen Infusion
WORKS FOR
Moisturizing
Anti-aging
Anti-oxidation
Anti-blemish
KEY INGREDIENTS
urea

palmitoyl tripeptide-5

chitosan

collagen amino acids

+10 more
Appears in 4 user routines
Product summary
Based on the ingredient list, "Murad - Rapid Collagen Infusion" can work well for skin moisturization. To work well, any moisturizer needs to include a combination of water-binding and emollient ingredients. Murad - Rapid Collagen Infusion ticks this box. Urea, betaine, glycerin, inositol and sodium hyaluronate in this product (humectants) attract water molecules to the upper layer of the skin (the water comes from the outside air or from the deeper layers of the skin if the air is dry). Olea europaea fruit oil, caprylyl glycol, cetyl ethylhexanoate, pentylene glycol and stearic acid in this product help decrease the water evoporation from the skin, so that it stays hydrated for longer. These ingredients also soften the skin and take away the feeling of tightness and dryness.
Ingredient callouts
This product also contains vitamin C (Ascorbic Acid). It can be an effective active for anti-aging and evening out the skin tone, but in this moisturizer it is used for stabilizing other ingredients in the formulation. In this concentration (0.25% - 0.45%) it cannot have a noticeable benefit for the skin.
We like that this moisturizer contains peptides (palmitoyl tripeptide-5 0.25% - 0.45%). There are many different kind of peptides and they are naturally present in our skin. They all are a combination of amino-acids. Some of them work as natural anti-biotics, promote wound-healing and production of collagen. The science is still not settled on how effective peptides in skincare are, but it is very likely that they have a benefit. Peptides might help restore the skin barrier and fight the signs of aging. At the very least, peptides work as humectants: they attract water to the upper layer of the skin and improve its hydration.
Irritation risk
This formulation includes some common irritants, including ingredients that do not provide a benefit for the skin. We assess the overall irritancy of this moisturizer to be medium. For a detailed overview of all potential irritants: click here
You can see the detailed formula review with the breakdown of all actives in the product and the full ingredient list with estimated concentrations in the tables below.
About the brand
According to Cruelty-Free Kitty "Murad" is cruelty free, but its parent company is not.
Price
The product retails for 105.00A$ in Australia, from 79.00$ up to 84.00$ in the United States, for 63.45£ in the United Kingdom and for 108.00CA$ in Canada.
For a detailed price comparison: click here.
Can the product deliver on its promises?
How honest is this product?
| Promise | Can it deliver? |
| --- | --- |
| Moisturizing | |
| Anti-aging | |
Total Promises Fulfilled score:
87
/100.
Potential irritants
Ingredients by volume
Ingredient
Estimated concentration

Plain old water

45% - 55%

An emollient that helps soften the skin. It also forms a protective on its surface to reduce water loss.

4.5% - 5.5%

A silicone that improves product texture and helps dissolve other ingredients. Can form a non-greasy film on the skin to prevent moisture loss

4.2% - 5.1%

Show more