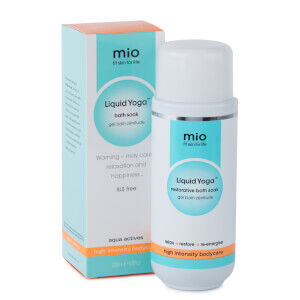 WORKS FOR
Anti-oxidation
Moisturizing
KEY INGREDIENTS
astrocaryum murumuru seed butter

ficus carica fruit extract

glycerin

prunus amygdalus dulcis oil

+1 more

Where to buy?
Formula review
See a mistake?
Promise
What does the product description say?
"Magnesium-rich Epsom salts and Arnica and our wonderful blend of essential oils help to ease your stress and anxiety, plus moisturising, Murumuru Butter so your skin feels as good as your mind upon stepping out of the tub."
WIMJ
summary
This product can help improve hydration of the skin with the two types of ingredients.
The first type is called "humectants":
these ingredients help attract water. When humectants are on the surface of the skin, they "pull in" the moisture from the outside environment, or from within deeper layers of the skin. The following ingredients in this product do the job: glycerin.
This product also contains ingredients called "occlusives". They help reduce the speed with which our skin loses moisture to the outside environment. These ingredients also help soften the upper layer of the skin, so it feels less tight and nicer to the touch. The following ingredients in this product do the job: astrocaryum murumuru seed butter, prunus amygdalus dulcis oil.
| Ingredient | Effectiveness | Concentration | Irritancy |
| --- | --- | --- | --- |
| | | | |
| | | | |
| | | | |
See a mistake?
WIMJ
summary
This product contains antioxidants (ficus carica fruit extract) that might be able to help neutralize free radicals in skin to lessen the damage it gets from the UV light (sun). There is not enough evidence to confirm their effectiveness in skin though.
| Ingredient | Effectiveness | Concentration | Irritancy |
| --- | --- | --- | --- |
| | | | |
| | | | |
| | | | |
Potential irritants

Ingredients by volume
Ingredient
Estimated concentration

Plain old water

45% - 55%

Used to create a thicker product consistency

5.5% - 6.7%

Helps oil and water mix together. Can be used as a cleansing agent

5.6% - 6.9%

An emollient that softens the skin

3.2% - 3.9%

One of the best moisturizing ingredients. Naturally present in skin. It attracts water to the upper layer of the skin working as a humectant

2.4% - 3%

An aromatic blend of unspecified and possibly irritating ingredients

1.8% - 2.2%

Plant extract that can be irritating and is a known allergen

1.6% - 2%

A preservative. Can be used to mask unpleasant smell. Can be irritating

0.5% - 1%

A fragrance. Can be irritating

1.1% - 1.4%

Used as a fragrance and can be irritating

0.95% - 1.2%

A highly irritating fragrance

0.7% - 1.05%

Used to create a thicker product consistency

0.6% - 0.9%

A preservative

0.3% - 0.6%

A plant extract. Benefits of topical application are not confirmed

0.55% - 0.8%

A plant extract that can be irritating. It can have some anti-bacterial properties, but there are no evidence of a beneficial effect for skin

0.45% - 0.65%

A plant extract that can help neutralize free radicals. The concentrations typically used in cosmetics are too small to have an effect

0.5% - 0.7%

Used as a frangrance. Can be irritating. Might have some anti-bacterial properties

0.45% - 0.7%

Used as a fragrance. Can be irritating

0.35% - 0.6%

Helps soften the upper layer of the skin. Could be comedogenic due to the myrisic acid content

0.4% - 0.65%

A plant oil that contains limonoids. Might help neutralize free radicals in skin. Can be irritating

0.3% - 0.55%

0.25% - 0.5%

0.3% - 0.55%

A plant oil with high content of volatile compounds that, especially when exposed to air, can cause allergic reactions and irritate the skin

0.25% - 0.45%

An essential oil. Potential allergen and can be irritating. It has some anti-bacterial properties

0.2% - 0.4%

An essential oil that is used as a fragrance and can be irritating. It might have some anti-oxidant effect in skin

0.15% - 0.3%

A fragrance with a lemon scent. A likely irritant

0.15% - 0.25%

A fragrance. Can be irritating

0.1% - 0.2%

A common frangrance that can easily irritate skin, especially if exposed to air, light or heat

0.1% - 0.2%

0.1% - 0.15%

The ingredient is not recognized

TBC

Show more