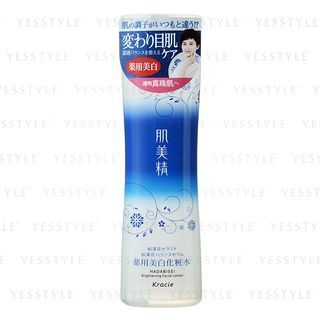 Kracie
Hadabisei Brightening Facial Lotion
WORKS FOR
Evens skin tone
Moisturizing
KEY INGREDIENTS
glycerin

hydrogenated castor oil

tranexamic acid
Where to buy?
Formula review
See a mistake?
WIMJ
summary
This product can help reduce hypepigmentation and even out the skin tone because it contains the following effective ingredients: tranexamic acid
Keep in mind that you would need to apply any topical skincare targetted at hypigmentation consistently for a couple of months to get a result. No topical skincare product can help get rid of hyperpigmentation (including post-acne marks and age spots) instantly.
| Ingredient | Effectiveness | Concentration | Irritancy |
| --- | --- | --- | --- |
| | | | |
See a mistake?
Promise
What does the product description say?
"Free of artificial colorants and fragrances, this lightweight facial lotion is formulated to balance skin's oil and water levels, brighten complexion and leave skin supple and dewy."
WIMJ
summary
This product contains good ingredients to attract water to the upper layer of the skin. These ingredients are called "humectants": glycerin, butylene glycol.
When humectants are on the surface of the skin, they "pull in" the moisture from the outside environment, or from within deeper layers of the skin. If the air is dry, humectants can speed up the moisture loss from the skin. This is why it is a good idea to use another product on top of this one to help "seal in" the moisture (look for ingredients like dimethicone, squalane, oils and butters).
| Ingredient | Effectiveness | Concentration | Irritancy |
| --- | --- | --- | --- |
| | | | |
| | | | |
| | | | |
Potential irritants
Ingredients by volume
Ingredient
Estimated concentration

An amino acid that is effective in reducing hyperpigmentation and evening out the skin tone

26% - 39%

6.1% - 9.2%

Used to thicken the product consistency

4.2% - 6.2%

The ingredient is not recognized

TBC

3.4% - 5.1%

2.7% - 4.1%

2.5% - 3.8%

The ingredient is not recognized

TBC

2.1% - 3.2%

Used to create a nice product texture and help delivery of other ingredients. Might be somewhat helpful in attracting water to the upper layer of the skin

1.9% - 2.8%

1.6% - 2.4%

Helps to dissolve other ingredients in a formulation. Slows down the rate of product drying

1% - 1.6%

One of the best moisturizing ingredients. Naturally present in skin. It attracts water to the upper layer of the skin working as a humectant

0.9% - 1.35%

0.55% - 1.3%

A plant oil that can help soften the skin. It might be helpful in calming down inflammation, but solid research is lacking. Is often used in lip products to create the needed product consistency

0.5% - 1.2%

Helps water and oil mix together. Has anti-bacterial properties that might be helpful in preventing blemishes

0.55% - 1.35%

The ingredient is not recognized

TBC

Can work as an exfoliant but is typically used to adjust the product pH

0.45% - 1.1%

Helps to control the skin's pH level. Maintains the skin's natural film of amino-lactic acids and oils. Helps to preserve products

0.45% - 1.1%

Stabilizes the product formulation

0.5% - 1%

Helps stabilize and preserve a product formulation

0.1% - 0.2%

A preservative. It helps prevent bacterial growth in cosmetic products

0.4% - 1%

Plain old water

0.4% - 0.9%

Can be drying and contribute to skin irritation. Used in formulars to dissolve other ingredients, create a thinner product consistency or for its antibacterial properties

0.35% - 0.8%

Show more