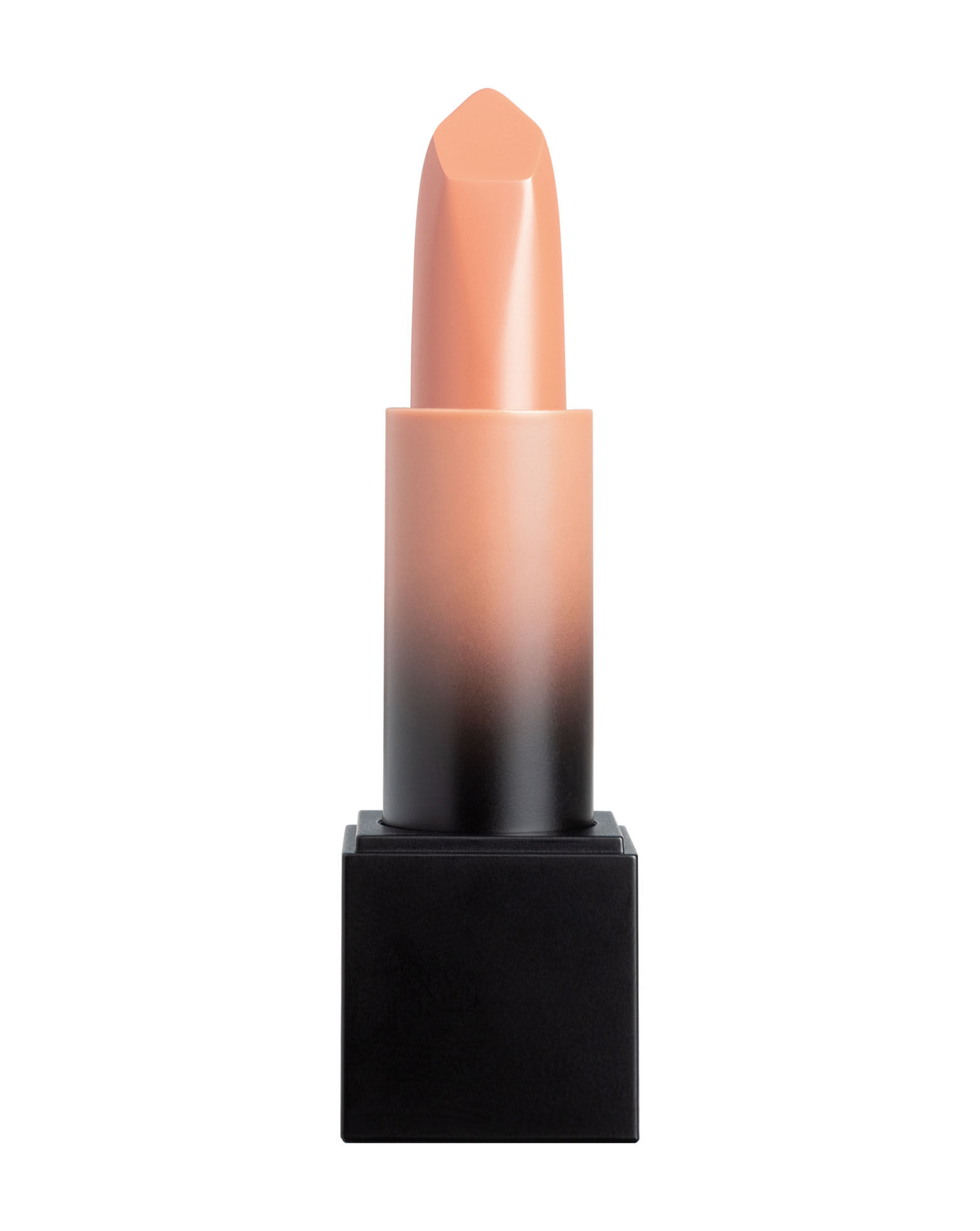 HUDA BEAUTY
Power Bullet Cream Glow Bossy Browns Empress
KEY INGREDIENTS
lactic acid

lactic acid

lactic acid

lactic acid

lactic acid

lactic acid

lactic acid

palmitoyl tripeptide-1

caprylic/capric triglyceride

diisostearyl malate

ethylhexyl palmitate

hydrogenated vegetable oil

methyl methacrylate crosspolymer

silica

titanium dioxide

+12 more

Where to buy?
Formula review
See a mistake?
WIMJ
summary
This product contains palmitoyl tripeptide-1. This ingredient might be able to help reduce and prevent fine lines and wrinkles, improve skin elasticity and firmness, but there is not enough evidence that it actually works.
| Ingredient | Effectiveness | Concentration | Irritancy |
| --- | --- | --- | --- |
| | | | |
| | | | |
See a mistake?
Promise
What does the product description say?
"Using the brand's patented Maxi-lip complex (a blend of peptides), hydraberry (stem cells derived from raspberry extract) and sea fennel (a sea-derived plant that's rich in minerals and vitamins), the Power Bullet Cream Glow formula works to stimulate collagen production, smooth, plump, hydrate, condition, retexturize and provide antioxidant protection."
WIMJ
summary
This product can help soften the skin and reduce its moisture loss with emollients and occlusives: palmitoyl tripeptide-1, diisostearyl malate.
Keep in mind that this product does not contain effective ingredients to attract water to the upper layer of the skin. This is why an additional product with humectants like glycerin or hyaluronic acid can be helpful (apply it before this product for the best results).
The following ingredients in this product are especially good for supporting the skin barrier and helping with the hydration level: palmitoyl tripeptide-1
| Ingredient | Effectiveness | Concentration | Irritancy |
| --- | --- | --- | --- |
| | | | |
| | | | |
| | | | |
Potential irritants

Ingredients by volume
Ingredient
Estimated concentration

Used to improve the product consistency and soften the upper layer of the skin

23% - 35%

Helps to soften the upper layer of the skin

5.2% - 7.7%

4.4% - 6.6%

Creates a nice product texture and can support water-resistance of sunscreens

3.2% - 4.8%

Used to thicken the product's texture

2.6% - 3.9%

Used to create a thicker product consistency

2% - 3%

Helps thicken the product consistency

1.7% - 2.5%

An emollient that helps to soften the skin and create a pleasant product texture and stabilize the formulation

1.4% - 2.1%

1.2% - 1.8%

Used to improve the product adherence to the skin, for example, to pro-long the protective effect of sunscreens. Can be irritating to very sensitive skin

0.95% - 1.4%

Helps form a film on the skin surface

0.55% - 1.3%

Used to create an even product consistency

0.45% - 1%

Used to create a thicker product consistency

0.4% - 0.9%

A good mix of fatty acids that forms a protective layer on the skin. Improves the shelf life of products. Derived from coconut and glycerin

0.4% - 0.95%

An emollient that helps soften the skin and create a nice product texture

0.35% - 0.85%

Used to create a gel-like product texture

0.35% - 0.8%

Is used to dissolve other ingredients and create nice product texture

0.35% - 0.8%

0.3% - 0.75%

0.2% - 0.8%

An unspecified blend of fragrant irritating ingredients

0.2% - 0.75%

Used to create a thicker product consistency and soften the upper layer of the skin

0.2% - 0.7%

Creates an illusion of smoother and more radiant skin tone. Adds shimmer to the skin by reflecting light

0.2% - 0.75%

Used to increase stability of product formulations

0.15% - 0.65%

Helps oil and water mix together

0.15% - 0.65%

An oil from a mixture of different vegetables. Helps soften the upper layer of the skin

0.15% - 0.7%

Helps improve the product texture and soften the upper layer of the skin

0.15% - 0.65%

0.15% - 0.6%

An exfoliating and moisturizing alpha-hydroxy acid (AHA). Typically causes less irritation than other AHAs, for example, glycolic acid. At high concentrations (about 15%), lactic acid can help reduce lines and wrinkles. Recent studies show that lactic acid can support the "good" bacteria living on skin's surface (healthy skin microbiom)

0.15% - 0.6%

0.35% - 0.8%

A preservative

0.15% - 0.6%

A type of peptide. Peptides are excellent moisturizers and might be able support collagen production reducing fine lines and wrinkles

0.2% - 0.7%

A plant extract that might have some anti-oxidant properties but evidence of effectiveness in skin is lacking

0.15% - 0.6%

Used to thickenthe product consistency

0.15% - 0.7%

0.2% - 0.75%

0.3% - 0.75%

The same compound that is used safely in dental implants and bone cements. In cosmetics, it is used to improve the consistency of products

0.35% - 0.85%

Used to add shimmer

0.15% - 0.7%

Used to absorb oil and can temporarily mattify skin

0.3% - 0.75%

A mineral that is used to improve the texture of cosmetic products

0.15% - 0.7%

A colorant that can add a pearl-like appearance to the formulation

0.3% - 0.75%

Works as a UV filter when used in high concentrations. It is photostable and is effective mostly against the UVB light, with some protection in the UVA range. In small concentrations, used for its ability to improve the color of cosmetic products. Is usually well tolerated by the skin

0.3% - 0.75%

An umbrella term for the following three colorants: CI 77491, CI 77492, CI 77499

0.15% - 0.6%

A colorant. Usually well-tolerated

0.15% - 0.65%

An umbrella term for the following three colorants: CI 77491, CI 77492, CI 77499

0.15% - 0.6%

A red colorant made of iron oxide. Typically is not irritating

0.15% - 0.65%

A red colorant

0.15% - 0.65%

A colorant

0.15% - 0.65%

A colorant (dye)

0.15% - 0.65%

A red colorant

0.15% - 0.65%

A yellow dye

0.15% - 0.65%

Used to improve the product consistency and soften the upper layer of the skin

0.15% - 0.7%

Helps to soften the upper layer of the skin

0.15% - 0.7%

0.15% - 0.7%

Creates a nice product texture and can support water-resistance of sunscreens

0.15% - 0.65%

Used to thicken the product's texture

0.35% - 0.75%

Used to create a thicker product consistency

0.15% - 0.7%

Helps thicken the product consistency

0.15% - 0.7%

An emollient that helps to soften the skin and create a pleasant product texture and stabilize the formulation

0.15% - 0.65%

0.2% - 0.7%

Used to improve the product adherence to the skin, for example, to pro-long the protective effect of sunscreens. Can be irritating to very sensitive skin

0.15% - 0.65%

0.35% - 0.8%

Helps form a film on the skin surface

0.15% - 0.7%

Used to create an even product consistency

0.15% - 0.65%

Used to create a thicker product consistency

0.15% - 0.65%

A good mix of fatty acids that forms a protective layer on the skin. Improves the shelf life of products. Derived from coconut and glycerin

0.2% - 0.75%

An emollient that helps soften the skin and create a nice product texture

0.2% - 0.7%

Used to create a gel-like product texture

0.15% - 0.65%

Is used to dissolve other ingredients and create nice product texture

0.2% - 0.7%

0.15% - 0.7%

0.15% - 0.7%

An unspecified blend of fragrant irritating ingredients

0.15% - 0.7%

Used to create a thicker product consistency and soften the upper layer of the skin

0.15% - 0.7%

Creates an illusion of smoother and more radiant skin tone. Adds shimmer to the skin by reflecting light

0.2% - 0.7%

Used to increase stability of product formulations

0.15% - 0.65%

Helps oil and water mix together

0.15% - 0.65%

An oil from a mixture of different vegetables. Helps soften the upper layer of the skin

0.15% - 0.7%

Helps improve the product texture and soften the upper layer of the skin

0.15% - 0.65%

0.15% - 0.6%

An exfoliating and moisturizing alpha-hydroxy acid (AHA). Typically causes less irritation than other AHAs, for example, glycolic acid. At high concentrations (about 15%), lactic acid can help reduce lines and wrinkles. Recent studies show that lactic acid can support the "good" bacteria living on skin's surface (healthy skin microbiom)

0.15% - 0.6%

A preservative

0.15% - 0.6%

A type of peptide. Peptides are excellent moisturizers and might be able support collagen production reducing fine lines and wrinkles

0.2% - 0.7%

A plant extract that might have some anti-oxidant properties but evidence of effectiveness in skin is lacking

0.15% - 0.6%

Used to thickenthe product consistency

0.15% - 0.7%

0.2% - 0.75%

0.3% - 0.75%

The same compound that is used safely in dental implants and bone cements. In cosmetics, it is used to improve the consistency of products

0.35% - 0.85%

Used to add shimmer

0.15% - 0.7%

Used to absorb oil and can temporarily mattify skin

0.3% - 0.75%

A mineral that is used to improve the texture of cosmetic products

0.15% - 0.7%

A colorant that can add a pearl-like appearance to the formulation

0.3% - 0.75%

Works as a UV filter when used in high concentrations. It is photostable and is effective mostly against the UVB light, with some protection in the UVA range. In small concentrations, used for its ability to improve the color of cosmetic products. Is usually well tolerated by the skin

0.3% - 0.75%

An umbrella term for the following three colorants: CI 77491, CI 77492, CI 77499

0.15% - 0.6%

A colorant. Usually well-tolerated

0.15% - 0.65%

An umbrella term for the following three colorants: CI 77491, CI 77492, CI 77499

0.15% - 0.6%

A red colorant made of iron oxide. Typically is not irritating

0.15% - 0.65%

A red colorant

0.15% - 0.65%

A colorant

0.15% - 0.65%

A colorant (dye)

0.15% - 0.65%

A yellow dye

0.15% - 0.65%

Used to improve the product consistency and soften the upper layer of the skin

0.15% - 0.7%

Helps to soften the upper layer of the skin

0.15% - 0.7%

0.15% - 0.7%

Creates a nice product texture and can support water-resistance of sunscreens

0.15% - 0.65%

Used to thicken the product's texture

0.35% - 0.75%

Used to create a thicker product consistency

0.15% - 0.7%

Helps thicken the product consistency

0.15% - 0.7%

An emollient that helps to soften the skin and create a pleasant product texture and stabilize the formulation

0.15% - 0.65%

0.2% - 0.7%

Used to improve the product adherence to the skin, for example, to pro-long the protective effect of sunscreens. Can be irritating to very sensitive skin

0.15% - 0.65%

Helps form a film on the skin surface

0.15% - 0.7%

Used to create an even product consistency

0.15% - 0.65%

Used to create a thicker product consistency

0.15% - 0.65%

A good mix of fatty acids that forms a protective layer on the skin. Improves the shelf life of products. Derived from coconut and glycerin

0.2% - 0.75%

An emollient that helps soften the skin and create a nice product texture

0.2% - 0.7%

Used to create a gel-like product texture

0.15% - 0.65%

Is used to dissolve other ingredients and create nice product texture

0.2% - 0.7%

0.15% - 0.7%

0.15% - 0.7%

An unspecified blend of fragrant irritating ingredients

0.15% - 0.7%

Used to create a thicker product consistency and soften the upper layer of the skin

0.15% - 0.7%

Creates an illusion of smoother and more radiant skin tone. Adds shimmer to the skin by reflecting light

0.2% - 0.7%

Used to increase stability of product formulations

0.15% - 0.65%

Helps oil and water mix together

0.15% - 0.65%

An oil from a mixture of different vegetables. Helps soften the upper layer of the skin

0.15% - 0.7%

Helps improve the product texture and soften the upper layer of the skin

0.15% - 0.65%

0.15% - 0.6%

An exfoliating and moisturizing alpha-hydroxy acid (AHA). Typically causes less irritation than other AHAs, for example, glycolic acid. At high concentrations (about 15%), lactic acid can help reduce lines and wrinkles. Recent studies show that lactic acid can support the "good" bacteria living on skin's surface (healthy skin microbiom)

0.15% - 0.6%

0.35% - 0.8%

A preservative

0.15% - 0.6%

A type of peptide. Peptides are excellent moisturizers and might be able support collagen production reducing fine lines and wrinkles

0.2% - 0.7%

A plant extract that might have some anti-oxidant properties but evidence of effectiveness in skin is lacking

0.15% - 0.6%

Used to thickenthe product consistency

0.15% - 0.7%

0.2% - 0.75%

0.3% - 0.75%

The same compound that is used safely in dental implants and bone cements. In cosmetics, it is used to improve the consistency of products

0.35% - 0.85%

Used to add shimmer

0.15% - 0.7%

Used to absorb oil and can temporarily mattify skin

0.3% - 0.75%

A mineral that is used to improve the texture of cosmetic products

0.15% - 0.7%

A colorant that can add a pearl-like appearance to the formulation

0.3% - 0.75%

Works as a UV filter when used in high concentrations. It is photostable and is effective mostly against the UVB light, with some protection in the UVA range. In small concentrations, used for its ability to improve the color of cosmetic products. Is usually well tolerated by the skin

0.3% - 0.75%

An umbrella term for the following three colorants: CI 77491, CI 77492, CI 77499

0.15% - 0.6%

A colorant. Usually well-tolerated

0.15% - 0.65%

An umbrella term for the following three colorants: CI 77491, CI 77492, CI 77499

0.15% - 0.6%

A red colorant made of iron oxide. Typically is not irritating

0.15% - 0.65%

A red colorant

0.15% - 0.65%

A colorant

0.15% - 0.65%

A colorant (dye)

0.15% - 0.65%

A red colorant

0.15% - 0.65%

A yellow dye

0.15% - 0.65%

Used to improve the product consistency and soften the upper layer of the skin

0.15% - 0.7%

Helps to soften the upper layer of the skin

0.15% - 0.7%

0.15% - 0.7%

Creates a nice product texture and can support water-resistance of sunscreens

0.15% - 0.65%

Used to thicken the product's texture

0.35% - 0.75%

Used to create a thicker product consistency

0.15% - 0.7%

Helps thicken the product consistency

0.15% - 0.7%

An emollient that helps to soften the skin and create a pleasant product texture and stabilize the formulation

0.15% - 0.65%

0.2% - 0.7%

Used to improve the product adherence to the skin, for example, to pro-long the protective effect of sunscreens. Can be irritating to very sensitive skin

0.15% - 0.65%

Creates an illusion of smoother and more radiant skin tone. Adds shimmer to the skin by reflecting light

0.2% - 0.7%

Helps form a film on the skin surface

0.15% - 0.7%

Used to create an even product consistency

0.15% - 0.65%

Used to create a thicker product consistency

0.15% - 0.65%

A good mix of fatty acids that forms a protective layer on the skin. Improves the shelf life of products. Derived from coconut and glycerin

0.2% - 0.75%

An emollient that helps soften the skin and create a nice product texture

0.2% - 0.7%

Used to create a gel-like product texture

0.15% - 0.65%

Is used to dissolve other ingredients and create nice product texture

0.2% - 0.7%

0.15% - 0.7%

0.15% - 0.7%

An unspecified blend of fragrant irritating ingredients

0.15% - 0.7%

Used to create a thicker product consistency and soften the upper layer of the skin

0.15% - 0.7%

Used to increase stability of product formulations

0.15% - 0.65%

Helps oil and water mix together

0.15% - 0.65%

An oil from a mixture of different vegetables. Helps soften the upper layer of the skin

0.15% - 0.7%

Helps improve the product texture and soften the upper layer of the skin

0.15% - 0.65%

0.15% - 0.6%

An exfoliating and moisturizing alpha-hydroxy acid (AHA). Typically causes less irritation than other AHAs, for example, glycolic acid. At high concentrations (about 15%), lactic acid can help reduce lines and wrinkles. Recent studies show that lactic acid can support the "good" bacteria living on skin's surface (healthy skin microbiom)

0.15% - 0.6%

0.35% - 0.8%

A preservative

0.15% - 0.6%

A type of peptide. Peptides are excellent moisturizers and might be able support collagen production reducing fine lines and wrinkles

0.2% - 0.7%

A plant extract that might have some anti-oxidant properties but evidence of effectiveness in skin is lacking

0.15% - 0.6%

Used to thickenthe product consistency

0.15% - 0.7%

0.2% - 0.75%

0.3% - 0.75%

The same compound that is used safely in dental implants and bone cements. In cosmetics, it is used to improve the consistency of products

0.35% - 0.85%

Used to add shimmer

0.15% - 0.7%

Used to absorb oil and can temporarily mattify skin

0.3% - 0.75%

A mineral that is used to improve the texture of cosmetic products

0.15% - 0.7%

A colorant that can add a pearl-like appearance to the formulation

0.3% - 0.75%

Works as a UV filter when used in high concentrations. It is photostable and is effective mostly against the UVB light, with some protection in the UVA range. In small concentrations, used for its ability to improve the color of cosmetic products. Is usually well tolerated by the skin

0.3% - 0.75%

An umbrella term for the following three colorants: CI 77491, CI 77492, CI 77499

0.15% - 0.6%

A colorant. Usually well-tolerated

0.15% - 0.65%

An umbrella term for the following three colorants: CI 77491, CI 77492, CI 77499

0.15% - 0.6%

A red colorant made of iron oxide. Typically is not irritating

0.15% - 0.65%

A red colorant

0.15% - 0.65%

A colorant

0.15% - 0.65%

A colorant (dye)

0.15% - 0.65%

A red colorant

0.15% - 0.65%

A yellow dye

0.15% - 0.65%

Used to improve the product consistency and soften the upper layer of the skin

0.15% - 0.7%

Helps to soften the upper layer of the skin

0.15% - 0.7%

0.15% - 0.7%

Creates a nice product texture and can support water-resistance of sunscreens

0.15% - 0.65%

Used to thicken the product's texture

0.35% - 0.75%

Used to create a thicker product consistency

0.15% - 0.7%

Helps thicken the product consistency

0.15% - 0.7%

An emollient that helps to soften the skin and create a pleasant product texture and stabilize the formulation

0.15% - 0.65%

0.2% - 0.7%

Used to improve the product adherence to the skin, for example, to pro-long the protective effect of sunscreens. Can be irritating to very sensitive skin

0.15% - 0.65%

Helps form a film on the skin surface

0.15% - 0.7%

Used to create an even product consistency

0.15% - 0.65%

Used to create a thicker product consistency

0.15% - 0.65%

A good mix of fatty acids that forms a protective layer on the skin. Improves the shelf life of products. Derived from coconut and glycerin

0.2% - 0.75%

An emollient that helps soften the skin and create a nice product texture

0.2% - 0.7%

Used to create a gel-like product texture

0.15% - 0.65%

Is used to dissolve other ingredients and create nice product texture

0.2% - 0.7%

0.15% - 0.7%

0.15% - 0.7%

An unspecified blend of fragrant irritating ingredients

0.15% - 0.7%

Used to create a thicker product consistency and soften the upper layer of the skin

0.15% - 0.7%

Creates an illusion of smoother and more radiant skin tone. Adds shimmer to the skin by reflecting light

0.2% - 0.7%

Used to increase stability of product formulations

0.15% - 0.65%

Helps oil and water mix together

0.15% - 0.65%

An oil from a mixture of different vegetables. Helps soften the upper layer of the skin

0.15% - 0.7%

Helps improve the product texture and soften the upper layer of the skin

0.15% - 0.65%

0.15% - 0.6%

An exfoliating and moisturizing alpha-hydroxy acid (AHA). Typically causes less irritation than other AHAs, for example, glycolic acid. At high concentrations (about 15%), lactic acid can help reduce lines and wrinkles. Recent studies show that lactic acid can support the "good" bacteria living on skin's surface (healthy skin microbiom)

0.15% - 0.6%

0.35% - 0.8%

A preservative

0.15% - 0.6%

A type of peptide. Peptides are excellent moisturizers and might be able support collagen production reducing fine lines and wrinkles

0.2% - 0.7%

A plant extract that might have some anti-oxidant properties but evidence of effectiveness in skin is lacking

0.15% - 0.6%

Used to thickenthe product consistency

0.15% - 0.7%

0.2% - 0.75%

0.3% - 0.75%

The same compound that is used safely in dental implants and bone cements. In cosmetics, it is used to improve the consistency of products

0.35% - 0.85%

Used to add shimmer

0.15% - 0.7%

Used to absorb oil and can temporarily mattify skin

0.3% - 0.75%

A mineral that is used to improve the texture of cosmetic products

0.15% - 0.7%

A colorant that can add a pearl-like appearance to the formulation

0.3% - 0.75%

An umbrella term for the following three colorants: CI 77491, CI 77492, CI 77499

0.15% - 0.6%

A colorant. Usually well-tolerated

0.15% - 0.65%

Works as a UV filter when used in high concentrations. It is photostable and is effective mostly against the UVB light, with some protection in the UVA range. In small concentrations, used for its ability to improve the color of cosmetic products. Is usually well tolerated by the skin

0.3% - 0.75%

An umbrella term for the following three colorants: CI 77491, CI 77492, CI 77499

0.15% - 0.6%

A red colorant made of iron oxide. Typically is not irritating

0.15% - 0.65%

A red colorant

0.15% - 0.65%

A colorant

0.15% - 0.65%

A colorant (dye)

0.15% - 0.65%

A yellow dye

0.15% - 0.65%

Used to improve the product consistency and soften the upper layer of the skin

0.15% - 0.7%

Helps to soften the upper layer of the skin

0.15% - 0.7%

0.15% - 0.7%

Creates a nice product texture and can support water-resistance of sunscreens

0.15% - 0.65%

Used to thicken the product's texture

0.35% - 0.75%

Used to create a thicker product consistency

0.15% - 0.7%

Helps thicken the product consistency

0.15% - 0.7%

An emollient that helps to soften the skin and create a pleasant product texture and stabilize the formulation

0.15% - 0.65%

0.2% - 0.7%

Used to improve the product adherence to the skin, for example, to pro-long the protective effect of sunscreens. Can be irritating to very sensitive skin

0.15% - 0.65%

Helps form a film on the skin surface

0.15% - 0.7%

Used to create an even product consistency

0.15% - 0.65%

Used to create a thicker product consistency

0.15% - 0.65%

A good mix of fatty acids that forms a protective layer on the skin. Improves the shelf life of products. Derived from coconut and glycerin

0.2% - 0.75%

An emollient that helps soften the skin and create a nice product texture

0.2% - 0.7%

Used to create a gel-like product texture

0.15% - 0.65%

Is used to dissolve other ingredients and create nice product texture

0.2% - 0.7%

0.15% - 0.7%

0.15% - 0.7%

An unspecified blend of fragrant irritating ingredients

0.15% - 0.7%

Used to create a thicker product consistency and soften the upper layer of the skin

0.15% - 0.7%

Creates an illusion of smoother and more radiant skin tone. Adds shimmer to the skin by reflecting light

0.2% - 0.7%

Used to increase stability of product formulations

0.15% - 0.65%

Helps oil and water mix together

0.15% - 0.65%

An oil from a mixture of different vegetables. Helps soften the upper layer of the skin

0.15% - 0.7%

Helps improve the product texture and soften the upper layer of the skin

0.15% - 0.65%

0.15% - 0.6%

An exfoliating and moisturizing alpha-hydroxy acid (AHA). Typically causes less irritation than other AHAs, for example, glycolic acid. At high concentrations (about 15%), lactic acid can help reduce lines and wrinkles. Recent studies show that lactic acid can support the "good" bacteria living on skin's surface (healthy skin microbiom)

0.15% - 0.6%

0.35% - 0.8%

A preservative

0.15% - 0.6%

A type of peptide. Peptides are excellent moisturizers and might be able support collagen production reducing fine lines and wrinkles

0.2% - 0.7%

A plant extract that might have some anti-oxidant properties but evidence of effectiveness in skin is lacking

0.15% - 0.6%

Used to thickenthe product consistency

0.15% - 0.7%

0.2% - 0.75%

0.3% - 0.75%

The same compound that is used safely in dental implants and bone cements. In cosmetics, it is used to improve the consistency of products

0.35% - 0.85%

Used to add shimmer

0.15% - 0.7%

Used to absorb oil and can temporarily mattify skin

0.3% - 0.75%

A mineral that is used to improve the texture of cosmetic products

0.15% - 0.7%

A colorant that can add a pearl-like appearance to the formulation

0.3% - 0.75%

An umbrella term for the following three colorants: CI 77491, CI 77492, CI 77499

0.15% - 0.6%

A colorant. Usually well-tolerated

0.15% - 0.65%

An umbrella term for the following three colorants: CI 77491, CI 77492, CI 77499

0.15% - 0.6%

A red colorant made of iron oxide. Typically is not irritating

0.15% - 0.65%

Works as a UV filter when used in high concentrations. It is photostable and is effective mostly against the UVB light, with some protection in the UVA range. In small concentrations, used for its ability to improve the color of cosmetic products. Is usually well tolerated by the skin

0.3% - 0.75%

A red colorant

0.15% - 0.65%

A colorant

0.15% - 0.65%

A colorant (dye)

0.15% - 0.65%

A yellow dye

0.15% - 0.65%

Used to improve the product consistency and soften the upper layer of the skin

0.15% - 0.7%

Helps to soften the upper layer of the skin

0.15% - 0.7%

0.15% - 0.7%

Creates a nice product texture and can support water-resistance of sunscreens

0.15% - 0.65%

Used to thicken the product's texture

0.35% - 0.75%

Used to create a thicker product consistency

0.15% - 0.7%

Helps thicken the product consistency

0.15% - 0.7%

An emollient that helps to soften the skin and create a pleasant product texture and stabilize the formulation

0.15% - 0.65%

0.2% - 0.7%

Used to improve the product adherence to the skin, for example, to pro-long the protective effect of sunscreens. Can be irritating to very sensitive skin

0.15% - 0.65%

Helps form a film on the skin surface

0.15% - 0.7%

Used to create an even product consistency

0.15% - 0.65%

Used to create a thicker product consistency

0.15% - 0.65%

A good mix of fatty acids that forms a protective layer on the skin. Improves the shelf life of products. Derived from coconut and glycerin

0.2% - 0.75%

An emollient that helps soften the skin and create a nice product texture

0.2% - 0.7%

Used to create a gel-like product texture

0.15% - 0.65%

Is used to dissolve other ingredients and create nice product texture

0.2% - 0.7%

0.15% - 0.7%

0.15% - 0.7%

An unspecified blend of fragrant irritating ingredients

0.15% - 0.7%

Used to create a thicker product consistency and soften the upper layer of the skin

0.15% - 0.7%

Creates an illusion of smoother and more radiant skin tone. Adds shimmer to the skin by reflecting light

0.2% - 0.7%

Used to increase stability of product formulations

0.15% - 0.65%

Helps oil and water mix together

0.15% - 0.65%

An oil from a mixture of different vegetables. Helps soften the upper layer of the skin

0.15% - 0.7%

Helps improve the product texture and soften the upper layer of the skin

0.15% - 0.65%

0.15% - 0.6%

An exfoliating and moisturizing alpha-hydroxy acid (AHA). Typically causes less irritation than other AHAs, for example, glycolic acid. At high concentrations (about 15%), lactic acid can help reduce lines and wrinkles. Recent studies show that lactic acid can support the "good" bacteria living on skin's surface (healthy skin microbiom)

0.15% - 0.6%

0.35% - 0.8%

A preservative

0.15% - 0.6%

A type of peptide. Peptides are excellent moisturizers and might be able support collagen production reducing fine lines and wrinkles

0.2% - 0.7%

A plant extract that might have some anti-oxidant properties but evidence of effectiveness in skin is lacking

0.15% - 0.6%

Used to thickenthe product consistency

0.15% - 0.7%

0.2% - 0.75%

0.3% - 0.75%

The same compound that is used safely in dental implants and bone cements. In cosmetics, it is used to improve the consistency of products

0.35% - 0.8%

Used to add shimmer

0.15% - 0.65%

Used to absorb oil and can temporarily mattify skin

0.3% - 0.75%

A mineral that is used to improve the texture of cosmetic products

0.15% - 0.65%

A colorant that can add a pearl-like appearance to the formulation

0.3% - 0.75%

An umbrella term for the following three colorants: CI 77491, CI 77492, CI 77499

0.15% - 0.55%

A colorant. Usually well-tolerated

0.15% - 0.65%

An umbrella term for the following three colorants: CI 77491, CI 77492, CI 77499

0.15% - 0.6%

A red colorant made of iron oxide. Typically is not irritating

0.15% - 0.6%

A colorant

0.15% - 0.65%

A colorant (dye)

0.15% - 0.6%

Works as a UV filter when used in high concentrations. It is photostable and is effective mostly against the UVB light, with some protection in the UVA range. In small concentrations, used for its ability to improve the color of cosmetic products. Is usually well tolerated by the skin

0.3% - 0.75%

A red colorant

0.15% - 0.6%

A yellow dye

0.15% - 0.6%

Show more