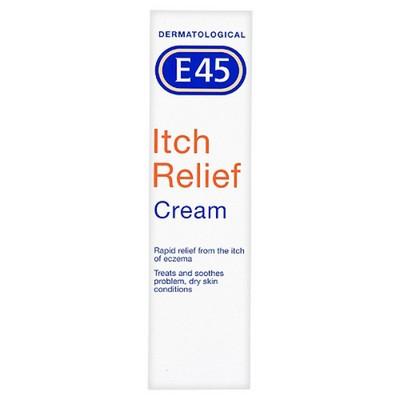 Shop now
Formula review
Promises, but can't deliver:
All promises can be fulfilled by this formula at least in theory
See a mistake?
Promise
What does the product description say?
"Product Information E45 Itch Relief Cream contains an anti-itch ingredient, lauromacrogols, which treats and soothes the itching caused by eczema, dermatitis, pruritus and scaling skin conditions Features Urea helps your skin retain moisture to keep it hydrated."
WIMJ
summary
This product contains good ingredients to attract water to the upper layer of the skin. These ingredients are called "humectants": glycerin.
When humectants are on the surface of the skin, they "pull in" the moisture from the outside environment, or from within deeper layers of the skin. If the air is dry, humectants can speed up the moisture loss from the skin. This is why it is a good idea to use another product on top of this one to help "seal in" the moisture (look for ingredients like dimethicone, squalane, oils and butters).
The following ingredients in this product are especially good for supporting the skin barrier and helping with the hydration level: urea
| Ingredient | Effectiveness | Concentration | Irritancy |
| --- | --- | --- | --- |
| | | | |
| | | | |
| | | | |
Potential irritants

Ingredients by volume
Naturally present in skin (urea makes up about 7% of natural moisturizing factors in skin). Attracts water to the upper layer of the skin. Also has a positive effect on the skin barrier beyond the humectant action. Can enhance penetration of other ingredients. Is an exfoliating ingredient when used in high concentrations
Questions