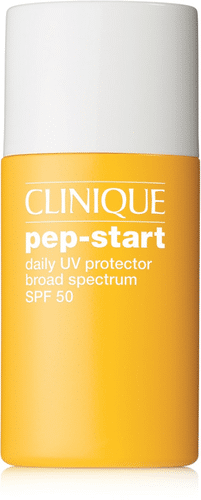 Clinique
Pep Start Daily UV Protector Broad Spectrum SPF 50
SPF 50
WORKS FOR
Sun protection
Evens skin tone
Moisturizing
KEY INGREDIENTS
c12-15 alkyl benzoate

diethylhexyl succinate

dimethicone

silica

titanium dioxide

zinc oxide

+3 more

Where to buy?
Formula review
WIMJ
summary
This product offers a good level of protection against both UVB and UVA rays.
It is a mineral sunscreen. In other words, it contains non-organic UV filters. It will probably not sting your eyes but might leave a white cast.
This product can be considered "reef safe" because it does not contain the UV filters (oxybenzone and octinoxate) that can be harmful to coral reefs when present in the water in high concentrations.
Non-organic (mineral) filters
See a mistake?
WIMJ
summary
This product offers broad spectrum sun protection. It means that it can prevent hyperpigmentation and help keep the skin tone even (sun damage is the main factor causing age spots, darkening of post-acne marks and other discolorations).
See a mistake?
Promise
What does the product description say?
WIMJ
summary
This product can help soften the skin and reduce its moisture loss with emollients and occlusives: dimethicone, c12-15 alkyl benzoate.
Keep in mind that this product does not contain effective ingredients to attract water to the upper layer of the skin. This is why an additional product with humectants like glycerin or hyaluronic acid can be helpful (apply it before this product for the best results).
| Ingredient | Effectiveness | Concentration | Irritancy |
| --- | --- | --- | --- |
| | | | |
| | | | |
| | | | |
Potential irritants

Ingredients by volume
Ingredient
Estimated concentration

Works as a UV filter when used in high concentrations. It is photostable and is effective mostly against the UVB light, with some protection in the UVA range. In small concentrations, used for its ability to improve the color of cosmetic products. Is usually well tolerated by the skin

A broad spectrum sunblock (protects from both UVA and UVB rays). Is suitable for most sensitive skins. In small concentrations, can be used as a colorant

Plain old water

45% - 55%

A silicone that helps to reduce water loss from the surface of the skin. Can temporarily "fill in" lines and wrinkles, absorb oil, and create a nice product finish

6.2% - 7.6%

A synthetic ester of salicylic acid that is used to help disperse pigments and boost effectiveness of sunscreen ingredients. It is able to absorb UV light (working as an organic, or chemical filter), but is not approved as a sunscreen ingredient on its own

5.7% - 6.9%

4.3% - 5.3%

Enhances the product texture and makes it more spreadable. Helps reduce water loss from the outer layer of skin. Extands the shelf life by preventing bacteria growth

3.6% - 4.4%

Forms a protective film on the surface of the skin to prevent moisture loss. Gives a velvety feel to products while reducing tackiness

3% - 3.7%

Helps soften the upper layer of the skin and create a nice product texture

2.7% - 3.3%

Helps soften the upper layer of the skin and create a nice product consistency

2.3% - 2.8%

A type of silicone that helps create a silky product finish and dissolve other ingredients

2% - 2.5%

Used to create a nice product texture and help delivery of other ingredients. Might be somewhat helpful in attracting water to the upper layer of the skin

1.4% - 1.8%

Helps improve stability of sunscreen filters and boost their effectiveness

1.2% - 1.4%

A type of silicone that helps to soften upper layer of the skin and create a nice product texture

1.1% - 1.3%

Used to absorb oil and can temporarily mattify skin

1.3% - 1.6%

Helps water and oil mix together

1% - 1.2%

A type of silicone that helps water and oil mix together. Can help to soften upper layer of the skin

0.95% - 1.15%

1% - 1.2%

0.95% - 1.2%

Helps preserve products and creates a nice product texture

0.8% - 1.2%

0.7% - 1%

Helps oil and water mix together

0.65% - 0.95%

Used to create a nice product texture

0.75% - 1.1%

0.65% - 0.95%

Used to create a thicker product consistency and stabilize the formulation

0.65% - 0.95%

A type of silicone that helps oil and water mix well together. Helps to disperse other ingredients, e.g. pigments, evenly in a formulation

0.6% - 0.9%

Helps to dissolve other ingredients in a formulation. Slows down the rate of product drying

0.55% - 0.8%

A preservative. It helps prevent bacterial growth in cosmetic products

0.55% - 0.8%

An umbrella term for the following three colorants: CI 77491, CI 77492, CI 77499

0.5% - 0.75%

A red colorant made of iron oxide. Typically is not irritating

0.5% - 0.7%

An umbrella term for the following three colorants: CI 77491, CI 77492, CI 77499

0.35% - 0.65%

A colorant. Usually well-tolerated

0.4% - 0.6%

Show more