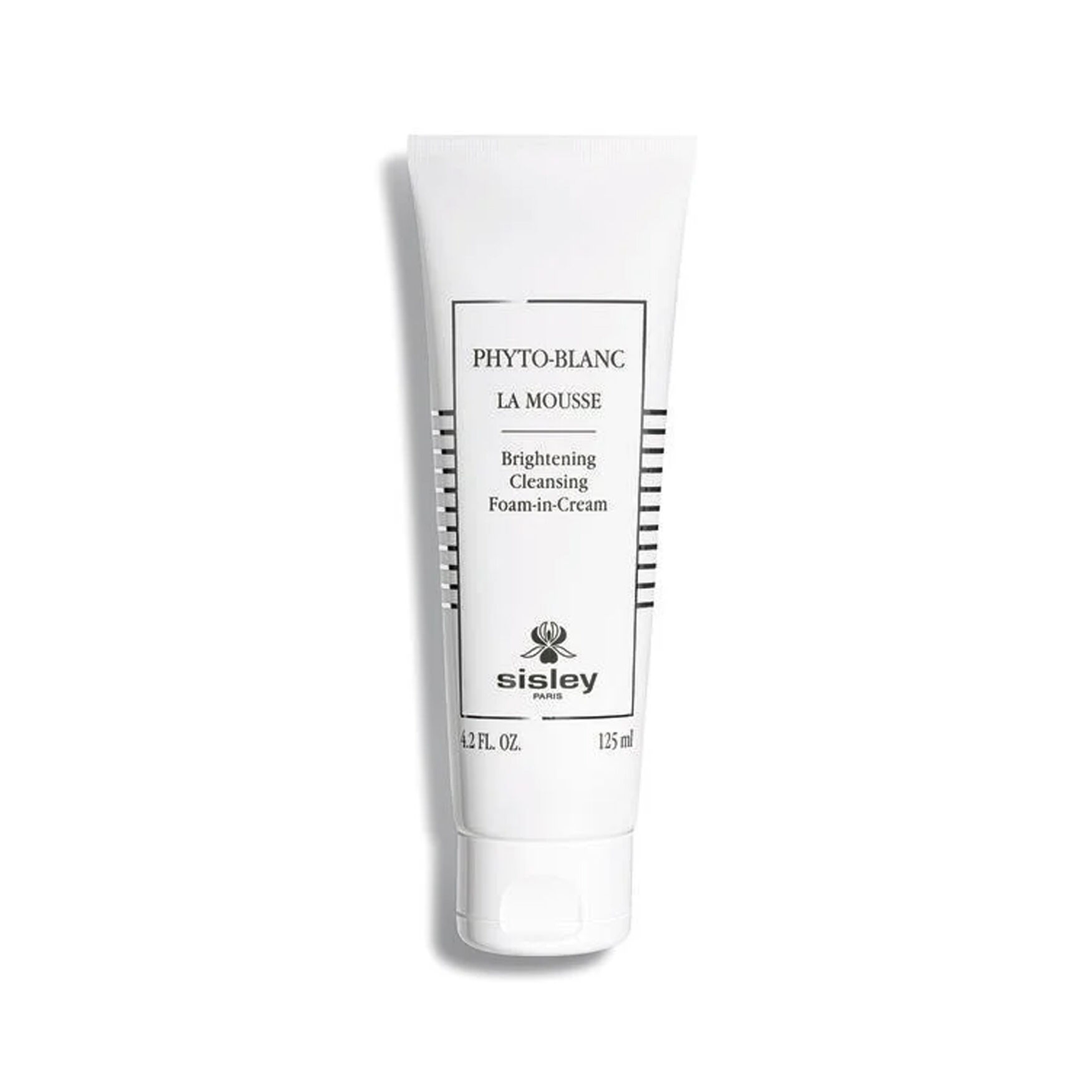 Sisley-Paris
Phyto-Blanc Brightening Cleansing Foam-in-Cream
KEY INGREDIENTS
niacinamide

althaea officinalis root extract

biosaccharide gum-1

camellia oleifera seed oil

cetearyl alcohol

glycerin

helianthus annuus seed oil

hydrogenated castor oil

titanium dioxide

+6 more

Where to buy?
Formula review
See a mistake?
Promise
What does the product description say?
"Phyto-Blanc Brightening Cleansing Foam-in-Cream"
WIMJ
summary
This product works by removing dirt and oil from the surface of the skin. It uses a combination of mild cleansing agents (cetearyl alcohol, cocamidopropyl betaine, disodium laureth sulfosuccinate, disodium lauryl sulfosuccinate, hydrogenated castor oil, sodium cocoyl isethionate) and should be able to cleanse the skin gently. Still keep in mind that any cleansing can disrupt the skin barrier, and most people do not need to cleanse their skin more than once per day.
Even though this formulation is mild, the following cleansing agents could trigger an irritation or allergy for some people: cocamidopropyl betaine
| Ingredient | Effectiveness | Concentration | Irritancy |
| --- | --- | --- | --- |
| | | | |
| | | | |
| | | | |
See a mistake?
WIMJ
summary
This product might be able to help reduce blemishes and clogged pores because it contains niacinamide.
| Ingredient | Effectiveness | Concentration | Irritancy |
| --- | --- | --- | --- |
| | | | |
Potential irritants

Ingredients by volume
Ingredient
Estimated concentration

Plain old water

45% - 55%

A great emollient due to its high linoleic acid content. One of the most effective plant oils in helping skin hydration and repairing skin barrier function

6.8% - 8.3%

One of the best moisturizing ingredients. Naturally present in skin. It attracts water to the upper layer of the skin working as a humectant

4.5% - 5.5%

Helps water and oil mix together. Can be used as a cleansing agent

3.9% - 4.8%

2.6% - 3.2%

2.2% - 2.6%

Used as a cleansing agent. Helps water and oil mix together

1.8% - 2.2%

A non-drying alcohol. Works as an emollient. Helps water and oil mix together and creates a nice product texture

1.6% - 1.9%

Is proven to be effective in reducing blemishes, evening out skin tone and helping to improve lines and wrinkles. It helps the skin to repair sun damage, calm down inflammation and keep maintain good levels of moisture

1.3% - 1.5%

Helps water and oil mix together. Used as a cleansing ingredient. Could be an allergen

1.5% - 1.8%

Used to preserve products, dissolve other ingredients and create a nice product texture

0.75% - 1.1%

A mineral that is used to improve the texture of cosmetic products

0.6% - 0.9%

A plant oil that can help soften the skin. It might be helpful in calming down inflammation, but solid research is lacking. Is often used in lip products to create the needed product consistency

0.55% - 0.8%

Used to create a nice product texture and help delivery of other ingredients. Might be somewhat helpful in attracting water to the upper layer of the skin

0.45% - 0.7%

An emollient that does not leave a greasy finish

0.45% - 0.7%

0.4% - 0.6%

A plant extract that can help attract water to the upper layer of the skin and might help to reduce inflammation

0.4% - 0.6%

Helps attract water to the upper layer of the skin and is claimed to provide a longer-lasting hydration because of its ability to create a water-binding film on the surface of the skin

0.35% - 0.6%

An essential oil. Potential allergen and can be irritating. It has some anti-bacterial properties

0.3% - 0.55%

0.3% - 0.55%

Used to thicken the product formulation and might help to add minerals to the surface of the skin. It is used in scrubs as a physical exfoliant. Can increase sensitivity to other ingredients if left on the skin or used in high concentration

0.25% - 0.5%

Used to thicken product formulations and create gel-like textures

0.3% - 0.55%

Can work as an exfoliant but is typically used to adjust the product pH

0.25% - 0.5%

Used to adjust the product's pH

0.25% - 0.5%

A colorant that can add a pearl-like appearance to the formulation

0.35% - 0.65%

A preservative

0.25% - 0.45%

A preservative. It helps prevent bacterial growth in cosmetic products

0.2% - 0.4%

A preservative

0.15% - 0.3%

Used to increase stability of product formulations

0.2% - 0.35%

Works as a UV filter when used in high concentrations. It is photostable and is effective mostly against the UVB light, with some protection in the UVA range. In small concentrations, used for its ability to improve the color of cosmetic products. Is usually well tolerated by the skin

0.25% - 0.45%

A fragrance. Can be irritating

0.1% - 0.2%

A common frangrance that can easily irritate skin, especially if exposed to air, light or heat

0.1% - 0.15%

Show more