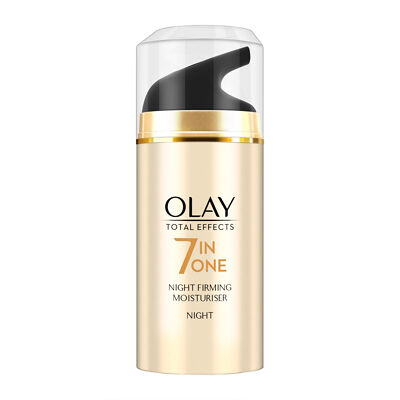 Olay
Total Effects UV Night Cream
WORKS FOR
Anti-aging
Moisturizing
Evens skin tone
Exfoliation

+2 more
KEY INGREDIENTS
niacinamide

sodium ascorbyl phosphate

panthenol

dimethiconol

+4 more

Appears in 1 user routines
Product summary
Based on the ingredients included, "Olay - Total Effects UV Night Cream" works well for moisturizing the skin. As we expect from a proper moisturizer, the formula includes a combo of effective humectants and emollients. These are the two different types of ingredients that are essential for improving the skin hydration and supporting a healthy skin barrier. Panthenol, glycerin and caprylyl glycol in this product (humectants) attract water molecules to the upper layer of the skin (the water comes from the outside air or from the deeper layers of the skin if the air is dry). Emollients in this formulation (dimethicone, dimethiconol, cetearyl alcohol, cetyl alcohol and caprylyl glycol) help to reduce the moisture loss from the skin. They also soften the skin surface and relieve the feeling of dryness and tightness.
Ingredient callouts
We particularly like that there is a good concentration of niacinamide (niacinamide 4.20% - 5.10%) in this moisturizer. Niacinamide is a well-studied multi-tasking active. It is a great ingredient to have in a moisturizer. It is stable, and can work well in almost any hydrating formulation. There is solid evidence that niacinamide can help support skin barrier, regulate oil production and reduce acne and clogged pores. It also helps to fight photodamage and help improve the skin tone, reducing pigmentation marks.
This formulation also includes panthenol (pro-vitamin B5) at about 0.95% - 1.15% concentration. In this concentration, panthenol works effectively to improve the skin barrier and reduce inflammation.
Irritation risk
This moisturizer contains some common irritants, including those without a benefit for the skin. We assess the overall irritancy of this moisturizer to be high. For a detailed overview of all potential irritants: click here
You can see the detailed formula review with the breakdown of all actives in the product and the full ingredient list with estimated concentrations in the tables below.
Price
The product retails for 3.99£ in the United Kingdom.
For a detailed price comparison: click here.
Can the product deliver on its promises?
How honest is this product?
| Promise | Can it deliver? |
| --- | --- |
| Anti-aging | |
| Moisturizing | |
| Evens skin tone | |
| Exfoliation | |
Total Promises Fulfilled score:
75
/100.
Potential irritants

Ingredients by volume
Ingredient
Estimated concentration

Plain old water

45% - 55%

One of the best moisturizing ingredients. Naturally present in skin. It attracts water to the upper layer of the skin working as a humectant

4.8% - 5.9%

Is proven to be effective in reducing blemishes, evening out skin tone and helping to improve lines and wrinkles. It helps the skin to repair sun damage, calm down inflammation and keep maintain good levels of moisture. The concentration of about 2% is effective for supporting the skin barrier and evening out the skin tone. Concentration of 4-6% is better for helping with acne and balancing the sebum production

4.2% - 5.1%

Show more