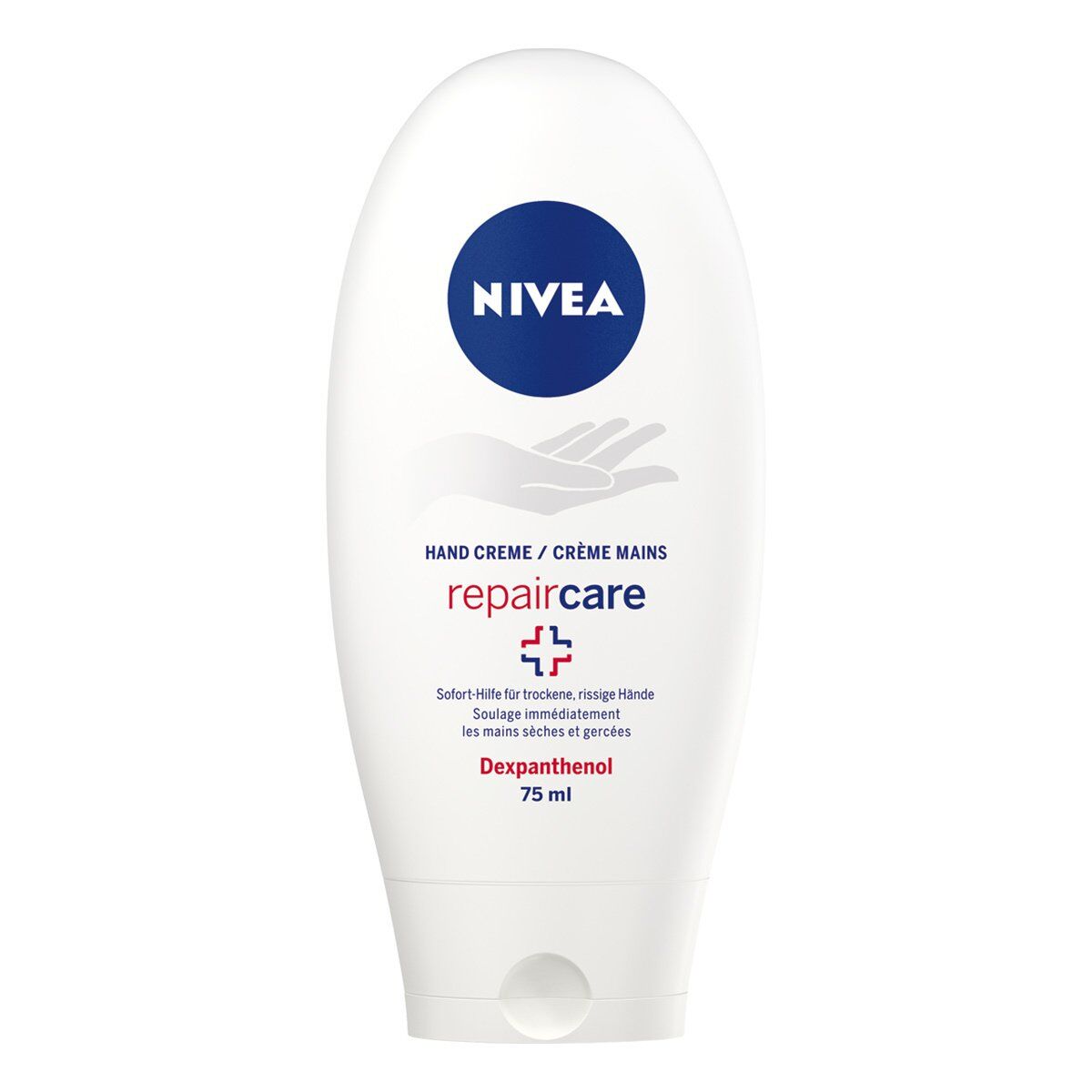 Nivea
Repair Care Hand Creme
KEY INGREDIENTS
panthenol

butyrospermum parkii butter

Appears in 0 user routines
Product summary
Judging from the ingredient list, "Nivea - Repair Care Hand Creme" works well for improving skin hydration To work well, any moisturizer needs to include a combination of water-binding and emollient ingredients. Nivea - Repair Care Hand Creme ticks this box. Panthenol in this product (humectants) attract water molecules to the upper layer of the skin (the water comes from the outside air or from the deeper layers of the skin if the air is dry). Emollients in this formulation (oleic acid and palmitic acid) help to reduce the moisture loss from the skin. They also soften the skin surface and relieve the feeling of dryness and tightness.
Ingredient callouts
This formulation also includes panthenol (pro-vitamin B5) at about 0.55% - 1.25% concentration. In this concentration, panthenol works effectively to improve the skin barrier and reduce inflammation.
Irritation risk
There are quite a few common irritants in this product, including ingredients without particular skin benefits. We would not recommend it for sensitive skin. We assess the overall irritancy of this moisturizer to be high. For a detailed overview of all potential irritants: click here
You can see the detailed formula review with the breakdown of all actives in the product and the full ingredient list with estimated concentrations in the tables below.
Price
The product retails for 12.49£ in the United Kingdom and for 12.50$ in the United States.
For a detailed price comparison: click here.
Can the product deliver on its promises?
See a mistake?
Promise
What does the product description say?
"Intensive Care for Dry, Chapped Hands Do you want a hand cream that soothes and protects dry, chapped hands?"
WIMJ summary for moisturizing
This product contains good ingredients to attract water to the upper layer of the skin. These ingredients are called "humectants": panthenol.
When humectants are on the surface of the skin, they "pull in" the moisture from the outside environment, or from within deeper layers of the skin. If the air is dry, humectants can speed up the moisture loss from the skin. This is why it is a good idea to use another product on top of this one to help "seal in" the moisture (look for ingredients like dimethicone, squalane, oils and butters).
The following ingredients in this product are especially good for supporting the skin barrier and helping with the hydration level: panthenol
| Ingredient | Effectiveness | Concentration | Irritancy |
| --- | --- | --- | --- |
| | | | |
| | | | |
| | | | |
How honest is this product?
| Promise | Can it deliver? |
| --- | --- |
| Moisturizing | |
Total Promises Fulfilled score:
100
/100.
Potential irritants

Ingredients by volume
Ingredient
Estimated concentration

23% - 34%

Helps soften the upper layer of the skin. At the same time, it can weaken the skin's barrier enhancing penetration of other ingredients and increasing the risk of skin dryness

5.3% - 7.9%

A preservative. It helps prevent bacterial growth in cosmetic products

0.5% - 1%

Show more