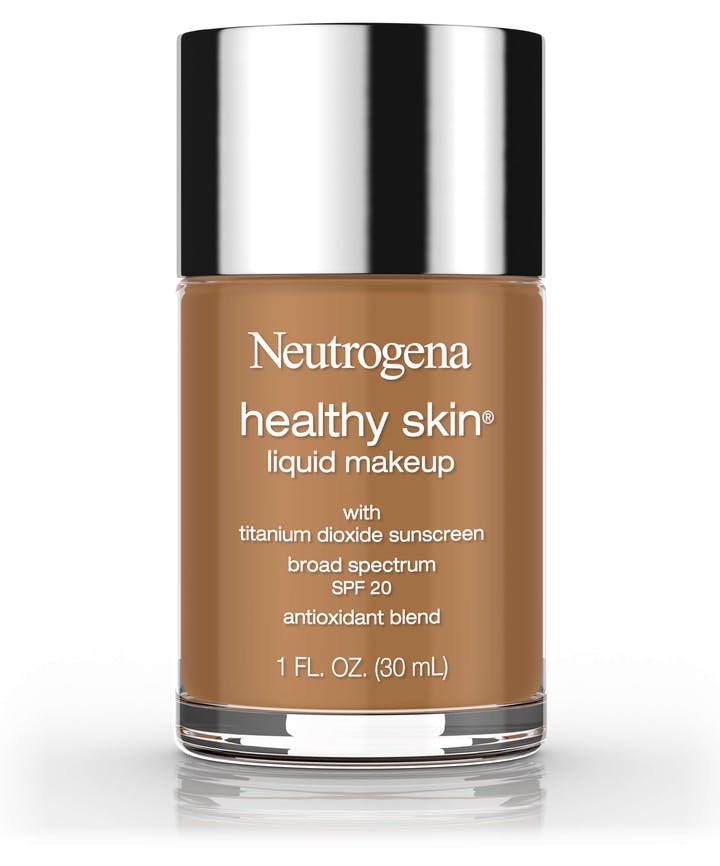 Neutrogena
Healthy Skin Liquid Makeup Broad Spectrum SPF 20
SPF 20
WORKS FOR
Moisturizing
Sun protection
Evens skin tone
KEY INGREDIENTS
c12-15 alkyl benzoate

cetyl dimethicone

cyclomethicone

cyclopentasiloxane

dimethicone

ethylhexyl palmitate

glycerin

silica

titanium dioxide

tocopherol

+7 more

Where to buy?
Formula review
WIMJ
summary
This product does not offer good protection against UVA rays.
This product can be considered "reef safe" because it does not contain the UV filters (oxybenzone and octinoxate) that can be harmful to coral reefs when present in the water in high concentrations.
Non-organic (mineral) filters
See a mistake?
Promise
What does the product description say?
"The broad spectrum SPF 20 formula, with an exclusive antioxidant blend, works to visibly improve luminosity, tone and texture for healthier-looking skin."
WIMJ
summary
This product contains ingredients () that could help reduce hyperpigmentation (for example, post-acne marks or age spots) in theory, but there is not enough evidence that they actually work.
The biggest effect for evening out skin tone in this product comes from sun protection. Sun damage is the main factor causing age spots, darkening of post-acne marks and other discolorations. This is why sun protection is the best strategy for maintaining an even skin tone. We, however, do not recommend using this product as a sunscreen because the protection it offers is not strong enough).
| Ingredient | Effectiveness | Concentration | Irritancy |
| --- | --- | --- | --- |
| | | | |
See a mistake?
WIMJ
summary
This product can help improve hydration of the skin with the two types of ingredients.
The first type is called "humectants":
these ingredients help attract water. When humectants are on the surface of the skin, they "pull in" the moisture from the outside environment, or from within deeper layers of the skin. The following ingredients in this product do the job: cyclomethicone, glycerin.
This product also contains ingredients called "occlusives". They help reduce the speed with which our skin loses moisture to the outside environment. These ingredients also help soften the upper layer of the skin, so it feels less tight and nicer to the touch. The following ingredients in this product do the job: dimethicone, cetyl dimethicone.
| Ingredient | Effectiveness | Concentration | Irritancy |
| --- | --- | --- | --- |
| | | | |
| | | | |
| | | | |
Potential irritants

Ingredients by volume
Ingredient
Estimated concentration

Plain old water

40% - 60%

A silicone that helps improve the product texture and spreadability. Can absord oil creating a short-term mattifying effect on the skin

6.5% - 9.8%

An emollient that helps soften the skin and create a nice product texture

5% - 7.4%

Absorbs oil and moisture helping to create a dryer product finish

3.1% - 4.6%

A silicone that serves as an emollient. Helps create a nice non-greasy feels

2.3% - 3.5%

Enhances the product texture and makes it more spreadable. Helps reduce water loss from the outer layer of skin. Extands the shelf life by preventing bacteria growth

1.9% - 2.8%

Used to create a nice product texture and help delivery of other ingredients. Might be somewhat helpful in attracting water to the upper layer of the skin

1.6% - 2.4%

Helps water and oil mix together

1.5% - 2.3%

A type of silicone. Helps soften the upper layer of the skin and creates a nice, light product texture

1.3% - 2%

A type of silicone that helps water and oil mix together. Can help to soften upper layer of the skin

1% - 1.6%

Used to create a thicker product consistency

0.9% - 1.4%

A type of silicone that leaves a nice silky finish on the skin and can help soften its upper layer

0.6% - 1.35%

Helps to absord oil and evenly disperse other ingredients (for example, pigment) in product formulation

0.55% - 1.3%

Used to create a silky product texture and add volume to products

0.5% - 1.15%

0.5% - 1.1%

Used to create a nice product finish

0.5% - 1.15%

Pure form of vitamin E. Can help moisturise and protect the skin from free radicals. Often used to help stabilise other ingredients or the formula itself

0.45% - 1.05%

Used to increase stability of product formulations

0.45% - 1%

The same compound that is used safely in dental implants and bone cements. In cosmetics, it is used to improve the consistency of products

0.5% - 1.15%

The ingredient is not recognized

TBC

Used to absorb oil and can temporarily mattify skin

0.45% - 1.1%

0.35% - 0.85%

One of the best moisturizing ingredients. Naturally present in skin. It attracts water to the upper layer of the skin working as a humectant

0.4% - 0.9%

A silicone that helps to reduce water loss from the surface of the skin. Can temporarily "fill in" lines and wrinkles, absorb oil, and create a nice product finish

0.4% - 0.95%

Could have anti-inflammatory effect on skin, but can be irritating as well. Can be added to products for its smell

0.3% - 0.75%

0.35% - 0.8%

Is used to dissolve other ingredients and create nice product texture

0.4% - 0.9%

Helps create a thicker product consistency

0.4% - 0.9%

Used to stabilize product formulations and create a nice product texture

0.35% - 0.8%

Helps preserve products and creates a nice product texture

0.35% - 0.85%

A preservative

0.3% - 0.6%

Used to thicken the product's consistency

0.35% - 0.8%

Used to stabilize product formulation, help create an even product layer over skin (for example, in sunscreen) and create a thicker product consistency

0.35% - 0.85%

0.4% - 0.9%

Stabilizes the product formulation

0.35% - 0.8%

Used to stabilize the product formulation protecting it from sun light

0.35% - 0.8%

A preservative. Is a frequent allergen

0.00075% - 0.0015%

A preservative. It helps prevent bacterial growth in cosmetic products

0.4% - 0.9%

Works as a UV filter when used in high concentrations. It is photostable and is effective mostly against the UVB light, with some protection in the UVA range. In small concentrations, used for its ability to improve the color of cosmetic products. Is usually well tolerated by the skin

An umbrella term for the following three colorants: CI 77491, CI 77492, CI 77499

0.35% - 0.85%

An aromatic blend of unspecified and possibly irritating ingredients

0.35% - 0.85%

Works as a UV filter when used in high concentrations. It is photostable and is effective mostly against the UVB light, with some protection in the UVA range. In small concentrations, used for its ability to improve the color of cosmetic products. Is usually well tolerated by the skin

Plain old water

0.4% - 0.9%

A silicone that helps improve the product texture and spreadability. Can absord oil creating a short-term mattifying effect on the skin

0.4% - 0.95%

An emollient that helps soften the skin and create a nice product texture

0.4% - 0.95%

Absorbs oil and moisture helping to create a dryer product finish

0.45% - 1.1%

A silicone that serves as an emollient. Helps create a nice non-greasy feels

0.4% - 0.95%

Enhances the product texture and makes it more spreadable. Helps reduce water loss from the outer layer of skin. Extands the shelf life by preventing bacteria growth

0.4% - 0.95%

Used to create a nice product texture and help delivery of other ingredients. Might be somewhat helpful in attracting water to the upper layer of the skin

0.4% - 0.9%

Helps water and oil mix together

0.4% - 0.95%

A type of silicone. Helps soften the upper layer of the skin and creates a nice, light product texture

0.4% - 0.95%

A type of silicone that helps water and oil mix together. Can help to soften upper layer of the skin

0.4% - 0.9%

Used to create a thicker product consistency

0.4% - 0.9%

A type of silicone that leaves a nice silky finish on the skin and can help soften its upper layer

0.4% - 0.95%

Helps to absord oil and evenly disperse other ingredients (for example, pigment) in product formulation

0.4% - 0.9%

Used to create a silky product texture and add volume to products

0.4% - 0.9%

0.4% - 0.9%

Used to create a nice product finish

0.4% - 0.95%

Pure form of vitamin E. Can help moisturise and protect the skin from free radicals. Often used to help stabilise other ingredients or the formula itself

0.4% - 0.9%

Used to increase stability of product formulations

0.4% - 0.9%

The same compound that is used safely in dental implants and bone cements. In cosmetics, it is used to improve the consistency of products

0.45% - 1.1%

The ingredient is not recognized

TBC

Used to absorb oil and can temporarily mattify skin

0.45% - 1.1%

0.35% - 0.85%

One of the best moisturizing ingredients. Naturally present in skin. It attracts water to the upper layer of the skin working as a humectant

0.4% - 0.95%

A silicone that helps to reduce water loss from the surface of the skin. Can temporarily "fill in" lines and wrinkles, absorb oil, and create a nice product finish

0.4% - 1%

Could have anti-inflammatory effect on skin, but can be irritating as well. Can be added to products for its smell

0.35% - 0.8%

0.4% - 0.9%

Is used to dissolve other ingredients and create nice product texture

0.4% - 0.95%

Helps create a thicker product consistency

0.4% - 0.95%

Used to stabilize product formulations and create a nice product texture

0.4% - 0.9%

Helps preserve products and creates a nice product texture

0.4% - 0.95%

A preservative

0.3% - 0.6%

Used to thicken the product's consistency

0.35% - 0.8%

Used to stabilize product formulation, help create an even product layer over skin (for example, in sunscreen) and create a thicker product consistency

0.35% - 0.85%

0.35% - 0.8%

Stabilizes the product formulation

0.35% - 0.8%

Used to stabilize the product formulation protecting it from sun light

0.35% - 0.8%

A preservative. Is a frequent allergen

0.00075% - 0.0015%

A preservative. It helps prevent bacterial growth in cosmetic products

0.35% - 0.8%

Works as a UV filter when used in high concentrations. It is photostable and is effective mostly against the UVB light, with some protection in the UVA range. In small concentrations, used for its ability to improve the color of cosmetic products. Is usually well tolerated by the skin

An umbrella term for the following three colorants: CI 77491, CI 77492, CI 77499

0.3% - 0.7%

An aromatic blend of unspecified and possibly irritating ingredients

0.2% - 0.75%

Show more