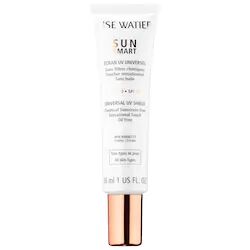 Can it work?
Irritants
Ingredient concentrations
Sources
Similar products
User reviews
Q&A
Where to buy
KEY INGREDIENTS
cyclopentasiloxane

isododecane

peg-10 dimethicone

+4 more

Where to buy?
Formula review
WIMJ
summary
This product offers a good level of protection against both UVB and UVA rays.
It is a mineral sunscreen. In other words, it contains non-organic UV filters. It will probably not sting your eyes but might leave a white cast.
This product can be considered "reef safe" because it does not contain the UV filters (oxybenzone and octinoxate) that can be harmful to coral reefs when present in the water in high concentrations.
Non-organic (mineral) filters
Potential irritants

Ingredients by volume
Ingredient
Estimated concentration

Works as a UV filter when used in high concentrations. It is photostable and is effective mostly against the UVB light, with some protection in the UVA range. In small concentrations, used for its ability to improve the color of cosmetic products. Is usually well tolerated by the skin

A broad spectrum sunblock (protects from both UVA and UVB rays). Is suitable for most sensitive skins. In small concentrations, can be used as a colorant

A silicone that helps improve the product texture and spreadability. Can absord oil creating a short-term mattifying effect on the skin

23% - 35%

Show more