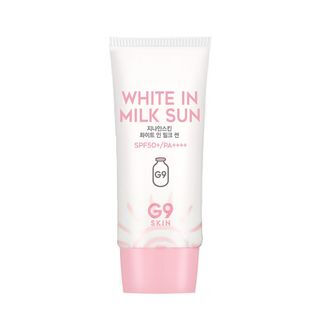 G9SKIN
White In Milk Sun SPF50+ PA++++
SPF 50
WORKS FOR
Anti-aging
Moisturizing
Sun protection
Anti-oxidation

+2 more
KEY INGREDIENTS
niacinamide

adenosine

panthenol

camellia sinensis leaf extract

+15 more

Appears in 0 user routines
User reviews
How would you describe the finish? 1 review
How much white cast does it leave? 1 review
How much does it sting eyes? 1 review
How much does it pill under makeup? 1 review
How much does this product clog pores? 1 review
Definitely clogs pores
Doesn't clog pores
Product summary
"G9SKIN - White In Milk Sun SPF50+ PA++++" is using UV filters in a relatively low concentration. Because of this, it might not be able to provide reliable sun protection.
It should also be hydrating enough to use without an additional moisturizer during the day. Like all broad-spectrum sunscreens, this product has an anti-aging benefit.
Sunscreen filters
This sunscreen uses a mixture of both mineral and organic (so-called "chemical") UV filters. Here are the organic filters this product uses: uvinul a plus and octinoxate. As for the mineral filters, this sunscreen uses zinc oxide.
Irritation risk
It contains a bunch of common irritants, including ingredients that do not provide any known benefit for the skin. It might not be the best choice if your skin is sensitive. We assess the overall irritancy of this sunscreen to be high. For a detailed overview of all potential irritants: click here
You can see the detailed formula review with the breakdown of all actives in the product and the full ingredient list with estimated concentrations in the tables below.
What our users say
Based on 1 review 100% of users would recommend this product.
When it comes to comedogenicity, the reviewer believes that it clogs pores.
As for the white cast, it did not leave a noticeable white residue for the reviewer.
When it comes to using this sunscreen under makeup, the user found that it pills under a foundation.
As for using this sunscreen in the eye area, the reviewer reported that it does not sting eyes.
Our users describe the finish of this sunscreen as shiny - dewy.
Can the product deliver on its promises?
How honest is this product?
| Promise | Can it deliver? |
| --- | --- |
| Sun protection | |
| Anti-aging | |
| Moisturizing | |
Total Promises Fulfilled score:
60
/100.
Potential irritants

Ingredients by volume
Ingredient
Estimated concentration

Plain old water

45% - 55%

A silicone that helps improve the product texture and spreadability. Can absord oil creating a short-term mattifying effect on the skin

6.5% - 7.9%

Forms a protective film on the surface of the skin to prevent moisture loss. Gives a velvety feel to products while reducing tackiness

4.5% - 5.5%

Show more