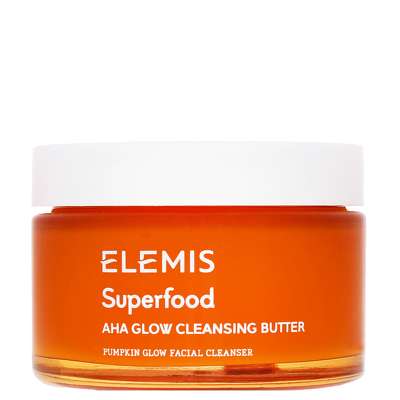 ELEMIS
Advanced Skincare Superfood AHA Glow Cleansing Butter
KEY INGREDIENTS
ascorbic acid

camellia sinensis seed oil

caprylic/capric triglyceride

glycerin

helianthus annuus seed oil

mangifera indica seed butter

olea europaea fruit oil

saccharomyces/rice ferment filtrate

salvia hispanica seed oil

tocopherol

+7 more
Where to buy?
Formula review
See a mistake?
Promise
What does the product description say?
"Advanced Skincare Superfood AHA Glow Cleansing Butter"
WIMJ
summary
This product works by removing dirt and oil from the surface of the skin. It uses a combination of mild cleansing agents (candida bombicola/glucose/methyl rapeseedate ferment, cetearyl olivate, polyglyceryl-3 diisostearate, polyglyceryl-3 methylglucose distearate, polysorbate 80, sorbitan olivate) and should be able to cleanse the skin gently. Still keep in mind that any cleansing can disrupt the skin barrier, and most people do not need to cleanse their skin more than once per day.
| Ingredient | Effectiveness | Concentration | Irritancy |
| --- | --- | --- | --- |
| | | | |
| | | | |
| | | | |
Potential irritants
Ingredients by volume
Ingredient
Estimated concentration

A good mix of fatty acids that forms a protective layer on the skin. Improves the shelf life of products. Derived from coconut and glycerin

23% - 35%

One of the best moisturizing ingredients. Naturally present in skin. It attracts water to the upper layer of the skin working as a humectant

3.5% - 5.3%

Plain old water

3.8% - 5.7%

Helps water and oil mix together

2.4% - 3.5%

Helps water and oil mix together

1.9% - 2.8%

Helps oil and water mix together

1.6% - 2.4%

Helps oil and water mix together

1.3% - 1.9%

Used to increase effectiveness of preservatives

1.1% - 1.6%

A preservative. It helps prevent bacterial growth in cosmetic products

0.5% - 1%

0.45% - 1.1%

Helps to soften the upper layer of the skin and might have some anti-oxidant effect

0.4% - 0.95%

Chia seed oil. Helps to soften the upper layer of the skin and might be helpful in repairing skin barrier

0.3% - 0.75%

0.2% - 0.8%

0.15% - 0.65%

A product of yeast fermentation. Can contain humectants that help attract water to the upper layer of the skin and might help neutralize free oxidants

0.15% - 0.6%

A plant oil that helps to soften the upper layer of the skin and can help restore the skin barrier. Might have some anti-oxidant effect

0.15% - 0.65%

Helps water and oil mix together and preserve the product formulation

0.3% - 0.7%

Used to adjust the product's pH

0.15% - 0.55%

A great emollient due to its high linoleic acid content. One of the most effective plant oils in helping skin hydration and repairing skin barrier function

0.15% - 0.5%

A colorant adding orange or bright yellow color

0.1% - 0.4%

0.1% - 0.45%

Used to create a nice product texture and help delivery of other ingredients. Might be somewhat helpful in attracting water to the upper layer of the skin

0.1% - 0.4%

Pure form of vitamin E. Can help moisturise and protect the skin from free radicals. Often used to help stabilise other ingredients or the formula itself

0.1% - 0.4%

A preservative that comes from radishes fermented by a bacteria. New research suggests that the preservation properties in the ingredient come from an ammonium salt that is not present naturally in radish root but used in its cultivation. Is problematic because the exact amount of the preservative agents is difficult to determine

0.1% - 0.4%

An emollient that helps soften the skin but is not effective for restoring its barrier function. Might be helpful to calm down inflammation

0.1% - 0.4%

A preservative

0.05% - 0.2%

Helps oil and water mix together

0.05% - 0.25%

Being a lipid soluble form of vitamin C, it is more stable and can penetrate the skin better than L-Ascorbic acid. It is effective in protecting the skin from free radicals, as well as evening the skin tone, but is less effective in stimulating collagen production compared to L-Ascorbic acid.

0.05% - 0.15%

Can be helpful in reducing inflammation in skin. Is a likely irritant

0.01% - 0.1%

The most well-researched antioxidant that works in skin. Helps neutralize free radicals supporting collagen production, helping to even out the skin tone and preventing early signs of aging

0.01% - 0.05%

Show more