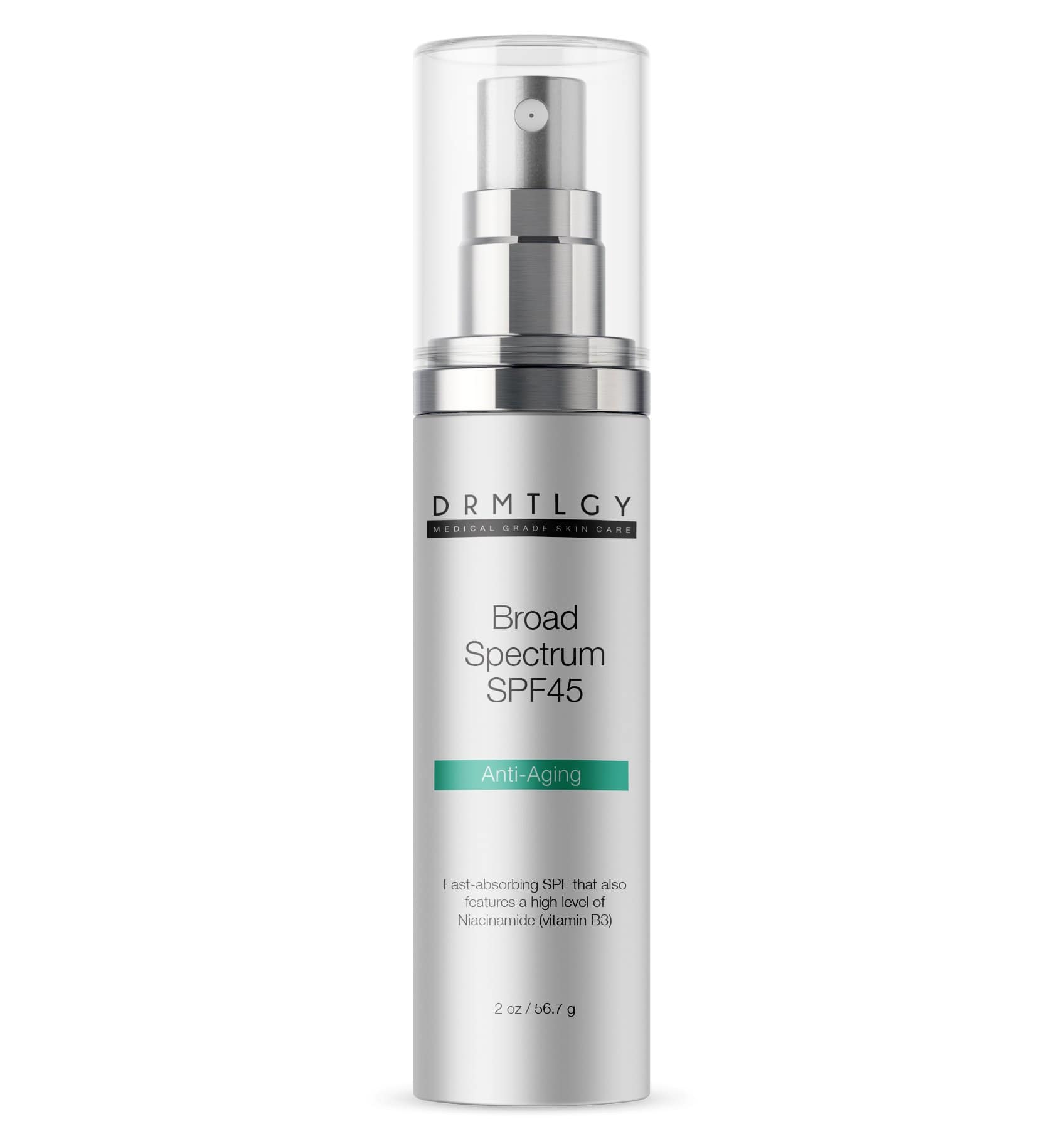 DRMTLGY
Broad Spectrum SPF 45
SPF 45
WORKS FOR
Anti-aging
Sun protection
Anti-oxidation
KEY INGREDIENTS
niacinamide

Knotgrass extract

glycerin

octyldodecyl neopentanoate

+4 more

Appears in 2 user routines
Product summary
We believe that "DRMTLGY - Broad Spectrum SPF 45" can provide reliable sun protection based on the ingredients listed. It can protect from both UVA and UVB rays. This is great news because not all sunscreens with SPF ratings give UVA protection. (UVA rays do not cause sunburn, but still damage our skin and lead to early aging).
This product prevents early signs of aging by protecting against sun damage (all broad spectrum sunscreens do that).
Sunscreen filters
This is a "mixed" sunscreen in the sense that it uses both mineral and organic (so-called "chemical") sun filters. The organic filters in the product are: octinoxate. As for the mineral filters, this sunscreen uses zinc oxide.
Irritation risk
There are actives in this product that can be irritating. We assess the overall irritancy of it to be low. For a detailed overview of all potential irritants: click here
You can see the detailed formula review with the breakdown of all actives in the product and the full ingredient list with estimated concentrations in the tables below.
Price
The product retails for 71.19A$ in Australia, from 13.97$ up to 25.00$ in the United States and for 80.00£ in the United Kingdom.
For a detailed price comparison: click here.
Can the product deliver on its promises?
WIMJ summary for sun protection
This product offers a good level of protection against both UVB and UVA rays.
This sunscreen uses organic (so-called "chemical") sunscreen filters. Organic, or "chemical" filters usually provide reliable sun protection and rarely leave a white cast. Sunscreens with organic filters can sting eyes.
Non-organic (mineral) filters
See a mistake?
Promise
What does the product description say?
"This unique anti-aging sunscreen that will prevent further aging and skin damage, plump your skin to reduce fine lines and wrinkles, reduce redness, and regulate excess oil."
WIMJ summary for anti-aging
This product can help reduce and prevent fine lines and wrinkles, improve skin elasticity and firmness because it contains niacinamide.
Keep in mind that it typically takes at least 6 weeks to notice any results because the changes that are needed to improve fine lines and elasticity happen in the deeper layers of the skin. No topical anti-aging product can "erase" wrinkles or fully reverse signs of aging.
This product can also help prevent early signs of skin aging because it offers a good level of broad spectrum sun protection. Sun damage is the main cause of premature skin aging, and protecting your skin from the sun is the best anti-aging strategy.
| Ingredient | Effectiveness | Concentration | Irritancy |
| --- | --- | --- | --- |
| | | | |
See a mistake?
WIMJ summary for anti-oxidation
This product contains antioxidants (polygonum aviculare extract) that can help neutralize free radicals in skin. By doing so, they can lessen the damage the skin gets from the UV light (sun).
| Ingredient | Effectiveness | Concentration | Irritancy |
| --- | --- | --- | --- |
| | | | |
| | | | |
How honest is this product?
| Promise | Can it deliver? |
| --- | --- |
| Sun protection | |
| Anti-aging | |
Total Promises Fulfilled score:
90
/100.
Potential irritants

Ingredients by volume
Ingredient
Estimated concentration

A broad spectrum sunblock (protects from both UVA and UVB rays). Is suitable for most sensitive skins. In small concentrations, can be used as a colorant

Octinoxate. When used in higher concentrations, works as a sunscreen protecting the skin from UVB rays. When used in lower concentration, helps to preserve the product formulation. Is shown to be harmful to coral reefs - consider avoiding bathing in coral reef areas when wearing a product with this ingredient. It can be irritating

Plain old water

40% - 60%

Show more