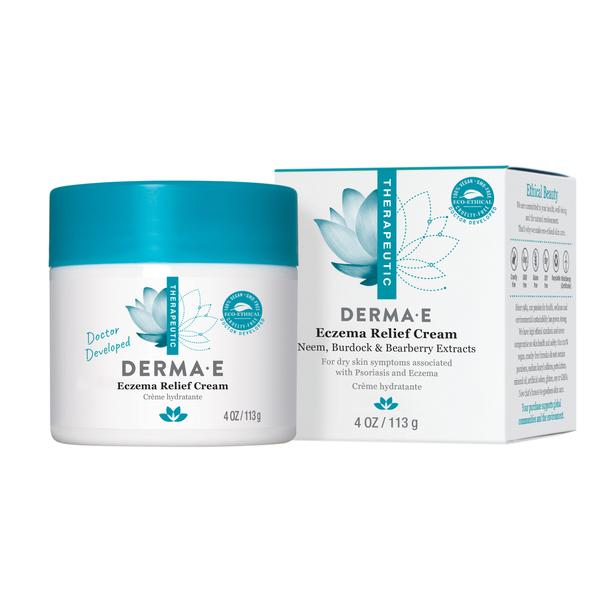 KEY INGREDIENTS
colloidal oatmeal

allantoin

caprylic/capric triglyceride

dimethicone

+2 more

Appears in 0 user routines
Product summary
Judging from the ingredient list, "Derma E - Eczema Relief Cream" works well for improving skin hydration To work well, any moisturizer needs to include a combination of water-binding and emollient ingredients. Derma E - Eczema Relief Cream ticks this box. Humectants in this product (allantoin and glycerin) help to increase the water content in the upper layer of the skin. (These ingredients do so by "capturing" water molecules from the outside air or from within the deeper layers of the skin). Emollients in this formulation (colloidal oatmeal, caprylic/capric triglyceride, dimethicone, cetyl alcohol and coco-caprylate) help to reduce the moisture loss from the skin. They also soften the skin surface and relieve the feeling of dryness and tightness.
Ingredient callouts
In addition, this moisturizer contains Allantoin (23.00% - 34.00%). Allantoin is helpful in wound-healing and can help restore the skin barrier faster. It might also be able to improve scars, but the evidence is not very strong for this.
Irritation risk
There are actives in this product that can be irritating. We assess the overall irritancy of this moisturizer to be low. For a detailed overview of all potential irritants: click here
You can see the detailed formula review with the breakdown of all actives in the product and the full ingredient list with estimated concentrations in the tables below.
About the brand
According to Cruelty-Free Kitty "Derma E" is cruelty free and so is its parent company.
Price
The product retails for 19.95$ in the United States, for 25.95A$ in Australia and for 19.99£ in the United Kingdom.
For a detailed price comparison: click here.
Can the product deliver on its promises?
See a mistake?
Promise
What does the product description say?
"Hypoallergenic and gluten-free cream formulated with colloidal oatmeal and a unique blend of botanical extracts addresses dry skin symptoms."
WIMJ summary for moisturizing
This product can help improve hydration of the skin with the two types of ingredients.
The first type is called "humectants":
these ingredients help attract water. When humectants are on the surface of the skin, they "pull in" the moisture from the outside environment, or from within deeper layers of the skin. The following ingredients in this product do the job: allantoin, glycerin.
This product also contains ingredients called "occlusives". They help reduce the speed with which our skin loses moisture to the outside environment. These ingredients also help soften the upper layer of the skin, so it feels less tight and nicer to the touch. The following ingredients in this product do the job: caprylic/capric triglyceride, dimethicone.
The following ingredients in this product are especially good for supporting the skin barrier and helping with the hydration level: colloidal oatmeal
| Ingredient | Effectiveness | Concentration | Irritancy |
| --- | --- | --- | --- |
| | | | |
| | | | |
| | | | |
How honest is this product?
| Promise | Can it deliver? |
| --- | --- |
| Moisturizing | |
Total Promises Fulfilled score:
100
/100.
Potential irritants

Ingredients by volume
Ingredient
Estimated concentration

Helps to restore skin barrier function, soften the upper layer of the skin and calm down inflammation

Helps calm down inflammation in skin and can help reduce itching. Helps to repair the skin barrier and keep skin hydrated

23% - 34%

Plant extract. Has some anti-microbial and anti-oxidant properties. Can be irritating

4.9% - 7.3%

Show more