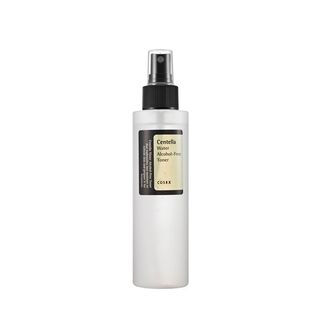 Can it work?
Irritants
Ingredient concentrations
Sources
Similar products
Q&A
Where to buy
KEY INGREDIENTS
panthenol

allantoin

betaine

+1 more

Where to buy?
Formula review
See a mistake?
Promise
What does the product description say?
"Toner enriched with centella asiatica extract and leaf water to soothe, clarify and hydrate skin Mild alcohol-free formulation that is gentle on skin Can be used as a wiping toner or a mask pack How to Use."
WIMJ
summary
This product contains good ingredients to attract water to the upper layer of the skin. These ingredients are called "humectants": allantoin, betaine.
When humectants are on the surface of the skin, they "pull in" the moisture from the outside environment, or from within deeper layers of the skin. If the air is dry, humectants can speed up the moisture loss from the skin. This is why it is a good idea to use another product on top of this one to help "seal in" the moisture (look for ingredients like dimethicone, squalane, oils and butters).
The following ingredients in this product are especially good for supporting the skin barrier and helping with the hydration level: panthenol
Potential irritants

Ingredients by volume
Ingredient
Estimated concentration

Plain old water

40% - 60%

6.2% - 9.2%

Used to create a nice product texture and help delivery of other ingredients. Might be somewhat helpful in attracting water to the upper layer of the skin

3.3% - 5%

Show more