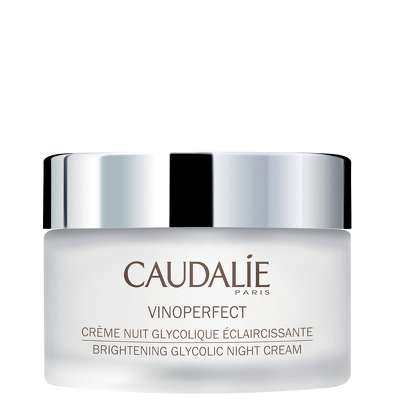 Caudalie
Night Treatment Vinoperfect Brightening Glycolic Night Cream
WORKS FOR
Exfoliation
Moisturizing
Evens skin tone
Anti-aging

+1 more
KEY INGREDIENTS
glycolic acid

panthenol

butyrospermum parkii butter extract

caprylic/capric triglyceride

+10 more

Appears in 0 user routines
Product summary
"Caudalie - Night Treatment Vinoperfect Brightening Glycolic Night Cream" is a well-rounded moisturizing product. The formulation is based on a combination of good humectants and emollients. Both are needed to increase the skin hydration level. Panthenol, arginine, glycerin, sodium hyaluronate and butylene glycol in this product (humectants) attract water molecules to the upper layer of the skin (the water comes from the outside air or from the deeper layers of the skin if the air is dry). Emollients in this formulation (vitis vinifera seed oil, arginine, butyrospermum parkii butter extract, caprylic/capric triglyceride and squalane) help to reduce the moisture loss from the skin. They also soften the skin surface and relieve the feeling of dryness and tightness.
Irritation risk
There are quite a few common irritants in this product, including ingredients without particular skin benefits. We would not recommend it for sensitive skin. We assess the overall irritancy of this moisturizer to be high. For a detailed overview of all potential irritants: click here
You can see the detailed formula review with the breakdown of all actives in the product and the full ingredient list with estimated concentrations in the tables below.
Can the product deliver on its promises?
How honest is this product?
| Promise | Can it deliver? |
| --- | --- |
| Exfoliation | |
| Moisturizing | |
| Evens skin tone | |
Total Promises Fulfilled score:
100
/100.
Potential irritants

Ingredients by volume
Ingredient
Estimated concentration

Plain old water

45% - 55%

Used to create a nice product texture and help delivery of other ingredients. Might be somewhat helpful in attracting water to the upper layer of the skin

5.9% - 7.2%

One of the best moisturizing ingredients. Naturally present in skin. It attracts water to the upper layer of the skin working as a humectant

4.1% - 5%

Show more