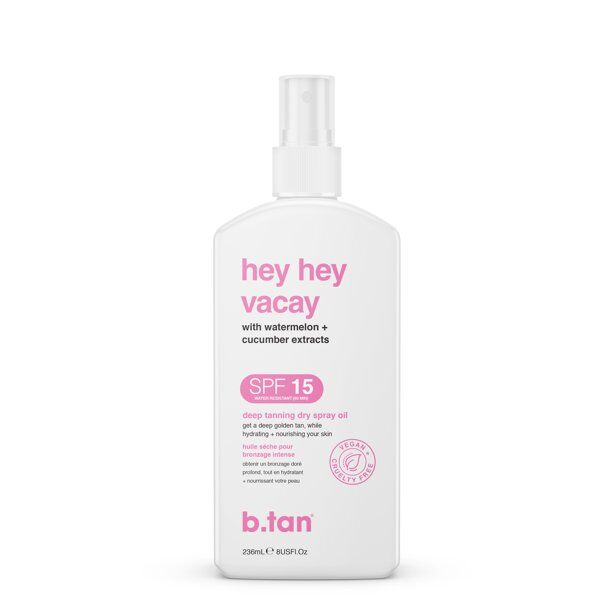 B.Tan
hey hey vacay... SPF15 tanning oil
SPF 15
WORKS FOR
Moisturizing
Sun protection
KEY INGREDIENTS
butyl methoxydibenzoylmethane

caprylic/capric triglyceride

homosalate

octocrylene

olea europaea fruit oil

silica

vitis vinifera seed oil

+4 more
Where to buy?
Formula review
WIMJ
summary
This product offers broad spectrum sun protection, but it is weak. We recommend to use a broad spectrum sunscreen with at least SPF 30.
This product can be considered "reef safe" because it does not contain the UV filters (oxybenzone and octinoxate) that can be harmful to coral reefs when present in the water in high concentrations.
See a mistake?
Promise
What does the product description say?
"your skin will also be treated a vacay-style tropical cocktail thanks to the added benefits of watermelon + cucumber extracts to deeply hydrate + nourish your skin while tan."
WIMJ
summary
This product can help soften the skin and reduce its moisture loss with emollients and occlusives: caprylic/capric triglyceride, vitis vinifera seed oil.
Keep in mind that this product does not contain effective ingredients to attract water to the upper layer of the skin. This is why an additional product with humectants like glycerin or hyaluronic acid can be helpful (apply it before this product for the best results).
| Ingredient | Effectiveness | Concentration | Irritancy |
| --- | --- | --- | --- |
| | | | |
| | | | |
| | | | |
Potential irritants
Ingredients by volume
Ingredient
Estimated concentration

Avobenzone. An organic, or so-called "chemical" UV filter. Protects against both UVA and UVB rays. Needs to be combined with other filters in a formulation to be stable.

A weak sunscreen that offers some protection against the sun rays that cause sunburn (UVB), but does not offer meaningful protection against protect against the most aging sun rays (UVA). It loses its effectiveness quickly when exposed to sunlight. It is an organic, or so called "chemical" sunscreen. When used in low concentrations, helps to stabilize the product formulation

Octisalate. A UV filter. It offers some protection against the sun rays that cause sunburn (UVB), but does not protect against the most aging sun rays (UVA). It loses its effectiveness quickly when exposed to sunlight. It is an organic, or so called "chemical" sunscreen

A weak sunscreen that protects against the sun rays that cause sunburn (UVB) and is somewhat effective against the UVA rays. It is quite stable and can help stabilize other, more vulnerable, sunscreen ingredients like Avobenzone. It is an organic, or so called "chemical" sunscreen

Helps soften the upper layer of the skin

24% - 36%

A good mix of fatty acids that forms a protective layer on the skin. Improves the shelf life of products. Derived from coconut and glycerin

6.5% - 9.7%

A plant extract that can contain an antioxidant compound

3.9% - 5.9%

Might be somewhat helpful in reducing hyperpigmentation and neutralizing free radicals but its typical concentration in a product is too low for having an effect

2.8% - 4.2%

An aromatic blend of unspecified and possibly irritating ingredients

1.7% - 2.6%

1.6% - 2.3%

A drying alcohol. Can increase skin's sensitivity and cause dryness and irritation

1.3% - 1.9%

The ingredient is not recognized

TBC

An emollient that helps soften the skin but is not effective for restoring its barrier function. Might be helpful to calm down inflammation

1.2% - 1.7%

A preservative. It helps prevent bacterial growth in cosmetic products

0.5% - 1%

Used to absorb oil and can temporarily mattify skin

1.1% - 1.7%

A more stable but less bio-available form of vitamin E compared to Tocopherol. Might help moisturize and protect the skin from free radicals, but mostly used in low concentrations to stabilize other ingredients.

0.5% - 1.2%

A great emollient that can also have anti-oxidant properties

0.5% - 1.1%

Creates a nice product texture and can support water-resistance of sunscreens

0.4% - 0.9%

Show more