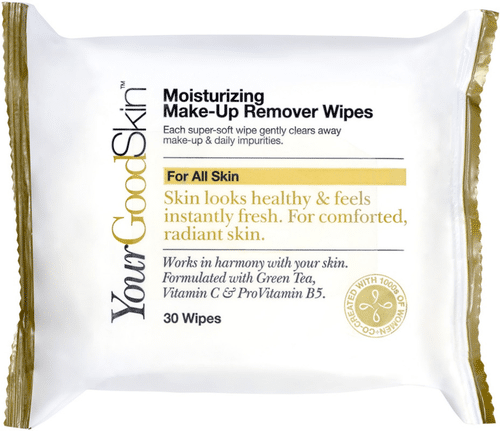 KEY INGREDIENTS
ascorbyl glucoside

panthenol

betaine

bisabolol

camellia sinensis leaf extract

glycerin

+3 more

Where to buy?
Formula review
See a mistake?
Promise
What does the product description say?
"Moisturizing Make-Up Remover Wipes"
WIMJ
summary
This product works by removing dirt and oil from the surface of the skin. It uses a combination of mild cleansing agents (glycereth-7 caprylate/caprate, polysorbate 20) and should be able to cleanse the skin gently. Still keep in mind that any cleansing can disrupt the skin barrier, and most people do not need to cleanse their skin more than once per day.
| Ingredient | Effectiveness | Concentration | Irritancy |
| --- | --- | --- | --- |
| | | | |
| | | | |
Potential irritants

Ingredients by volume
Ingredient
Estimated concentration

Plain old water

40% - 60%

5.4% - 8.1%

A preservative. It helps prevent bacterial growth in cosmetic products

0.5% - 1%

One of the best moisturizing ingredients. Naturally present in skin. It attracts water to the upper layer of the skin working as a humectant

2.6% - 3.9%

Helps attract water to the upper layer of the skin and improves the product texture

2% - 3%

Helps oil and water mix together

1.5% - 2.3%

Used to create a nice product texture and help delivery of other ingredients. Might be somewhat helpful in attracting water to the upper layer of the skin

1.3% - 1.9%

Helps attract water to the upper layer of the skin and can help improve skin barrier function

1.1% - 1.7%

A preservative

0.25% - 0.5%

A preservative

0.3% - 0.6%

A vitamin C derivative that is more stable but less potent than pure form of vitamin C. Has a potential to boost collagen production, nutralise free radicals and reduce hyperpigmentation, but the required concentration is likely to be much higher than for the pure form of vitamin C, limiting the ingredient's effectiveness in products

0.45% - 1%

A preservative

0.3% - 0.6%

Helps to control the skin's pH level. Maintains the skin's natural film of amino-lactic acids and oils. Helps to preserve products

0.15% - 0.7%

Stabilizes the product formulation

0.15% - 0.5%

An active component of chamomile plant that historically has been used to calm down irritated skin. A recent study shows that bisabolol indeed can have some anti-inflammatory effect on skin, even though conclusive data is lacking. Bisabolol has a sweet floral scent and can be added to products for its aromatic properties

0.1% - 0.3%

A more stable but less bio-available form of vitamin E compared to Tocopherol. Might help moisturize and protect the skin from free radicals, but mostly used in low concentrations to stabilize other ingredients.

0.05% - 0.25%

Can contain potent anti-oxidant compounds (abbreviated ECG, GCG, EGC, and EGCG) that might help protect the skin from free radicals. Can help calm down inflammation and has some anti-bacterial properties. Unfortunately, these antioxidants are unstable and lose their effectiveness very quickly in products. The concentration of the antioxidant compounds in the extract also tends to be low to be effective in topical formulation

0.05% - 0.15%

Can work as an exfoliant but is typically used to adjust the product pH

0.01% - 0.05%

Show more