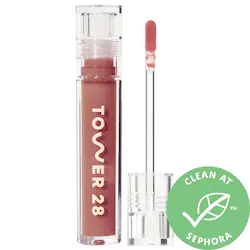 WORKS FOR
Anti-oxidation
Moisturizing
KEY INGREDIENTS
helianthus annuus extract

persea gratissima oil

prunus armeniaca kernel oil

ricinus communis seed oil

rosa canina fruit oil

rubus idaeus seed oil

tocopherol

+4 more
Where to buy?
Formula review
See a mistake?
Promise
What does the product description say?
"A bestselling, non-sticky, moisturizing gloss for soft, shiny lips—now available in shades inspired by alternative milks."
WIMJ
summary
This product can help soften the skin and reduce its moisture loss with emollients and occlusives: ricinus communis seed oil, helianthus annuus extract.
Keep in mind that this product does not contain effective ingredients to attract water to the upper layer of the skin. This is why an additional product with humectants like glycerin or hyaluronic acid can be helpful (apply it before this product for the best results).
| Ingredient | Effectiveness | Concentration | Irritancy |
| --- | --- | --- | --- |
| | | | |
| | | | |
| | | | |
See a mistake?
WIMJ
summary
This product contains antioxidants (rubus idaeus seed oil) that might be able to help neutralize free radicals in skin to lessen the damage it gets from the UV light (sun). There is not enough evidence to confirm their effectiveness in skin though.
| Ingredient | Effectiveness | Concentration | Irritancy |
| --- | --- | --- | --- |
| | | | |
| | | | |
| | | | |
Potential irritants
Ingredients by volume
Ingredient
Estimated concentration

Used to improve the product consistency and soften the upper layer of the skin

22% - 33%

Used to create a thicker product consistency

4.4% - 6.6%

An emollient that helps soften the skin

4.5% - 6.7%

Used to create a thicker product consistency

3.6% - 5.3%

An emollient that helps to soften the skin and create a pleasant product texture and stabilize the formulation

2.7% - 4%

Used to thicken the product consistency

2% - 2.9%

Helps soften the upper layer of the skin

1.6% - 2.4%

Can be helpful in reducing inflammation in skin. Is a likely irritant

1.2% - 1.7%

A plant oil that can help soften the skin. It might be helpful in calming down inflammation, but solid research is lacking. Is often used in lip products to create the needed product consistency

1.3% - 1.9%

A great emollient. Contains vitamin E (tocopherol) which may give it some anti-oxidant properties. Can contain volatile compounds and can be irritating

0.95% - 1.45%

A plant oil that might be able to help neutralize free radicals in skin

0.8% - 1.2%

An emollient that helps soften the skin and could be helpful in repairing its barrier function

0.55% - 1.25%

Pure form of vitamin E. Can help moisturise and protect the skin from free radicals. Often used to help stabilise other ingredients or the formula itself

0.4% - 1%

Helps preserve products and creates a nice product texture

0.45% - 1.05%

A preservative

0.35% - 0.8%

Used to create a gel-like product texture

0.2% - 0.75%

An unspecified blend of fragrant irritating ingredients

0.15% - 0.65%

An umbrella term for the following three colorants: CI 77491, CI 77492, CI 77499

0.15% - 0.7%

A colorant. Usually well-tolerated

0.1% - 0.45%

A red colorant

0.1% - 0.4%

A yellow dye

0.1% - 0.35%

A red colorant

0.05% - 0.3%

A violet pigment

0.05% - 0.25%

A red dye

0.05% - 0.2%

Show more