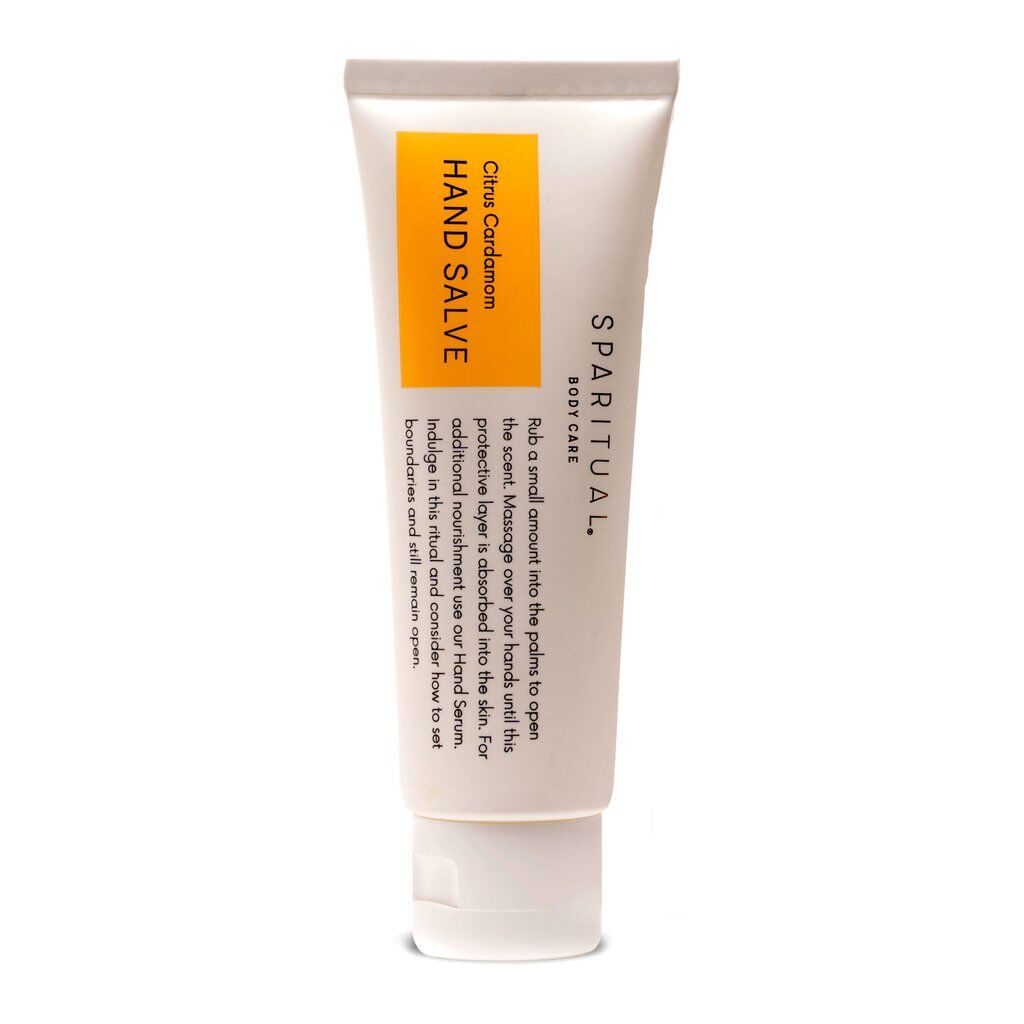 KEY INGREDIENTS
butyrospermum parkii butter

carthamus tinctorius seed oil

cetearyl alcohol

glycerin

helianthus annuus seed oil

prunus domestica seed oil

sclerocarya birrea seed oil

tocopherol

+5 more

Where to buy?
Formula review
See a mistake?
Promise
What does the product description say?
"This Hand Salve, formulated with ancient healing ingredients including Marula Oil, Shea Butter, and Honeybush Extract moisturizes, softens dry skin and provides a breathable layer of protection, while the rejuvenating scent elevates the senses."
WIMJ
summary
This product can help improve hydration of the skin with the two types of ingredients.
The first type is called "humectants":
these ingredients help attract water. When humectants are on the surface of the skin, they "pull in" the moisture from the outside environment, or from within deeper layers of the skin. The following ingredients in this product do the job: glycerin.
This product also contains ingredients called "occlusives". They help reduce the speed with which our skin loses moisture to the outside environment. These ingredients also help soften the upper layer of the skin, so it feels less tight and nicer to the touch. The following ingredients in this product do the job: butyrospermum parkii butter, helianthus annuus seed oil.
| Ingredient | Effectiveness | Concentration | Irritancy |
| --- | --- | --- | --- |
| | | | |
| | | | |
| | | | |
Potential irritants

Ingredients by volume
Ingredient
Estimated concentration

Plain old water

45% - 55%

A non-drying alcohol. Works as an emollient. Helps water and oil mix together and creates a nice product texture

5.9% - 7.2%

Helps water and oil mix together and works as a cleansing agent

5.9% - 7.2%

An emollient that helps soften the skin and might help calm down inflammation

3.2% - 3.9%

One of the best moisturizing ingredients. Naturally present in skin. It attracts water to the upper layer of the skin working as a humectant

2.4% - 2.9%

A great moisturising ingredient that softens the skin and reduces water loss from its upper layer. It also can be helpful in protecting skin from free radicals

2.1% - 2.5%

1.6% - 1.9%

A plant oil with a high content of volatile compounds that can irritate the skin and lead to allergic reactions. Can lead to photosensitivity

1.4% - 1.7%

An essentil oil from orange peel. Potential allergen and can be irritating

1.2% - 1.4%

0.95% - 1.15%

A highly irritating fragrance

0.7% - 1%

Helps oil and water mix together and works as an emollient

0.7% - 1.1%

Traditionally used to treat sunburns, dermatitis and inflammation, but evidence for its effectiveness is lacking. The extract can contain humectants that help attract water into the skin

0.55% - 0.8%

0.5% - 0.7%

0.45% - 0.65%

An emollient that helps to soften the skin. It has a high contetn of oleic acid that might weaken the skin barrier. Might have some anti-oxidant properties. It might be somewhat helpful against hyperpigmentation.

0.5% - 0.75%

Pure form of vitamin E. Can help moisturise and protect the skin from free radicals. Often used to help stabilise other ingredients or the formula itself

0.45% - 0.65%

A great emollient due to its high linoleic acid content. One of the most effective plant oils in helping skin hydration and repairing skin barrier function

0.4% - 0.65%

Can work as an exfoliant but is typically used to adjust the product pH

0.3% - 0.55%

A preservative

0.25% - 0.45%

A preservative

0.2% - 0.4%

A preservative. Can be used to mask unpleasant smell. Can be irritating

0.15% - 0.3%

A fragrance with a lemon scent. A likely irritant

0.2% - 0.35%

A fragrance. Can be irritating

0.15% - 0.3%

A common frangrance that can easily irritate skin, especially if exposed to air, light or heat

0.15% - 0.25%

A fragrance. Can be irritating

0.15% - 0.25%

The ingredient is not recognized

TBC

Helps soften the upper layer of the skin

0.1% - 0.25%

Show more