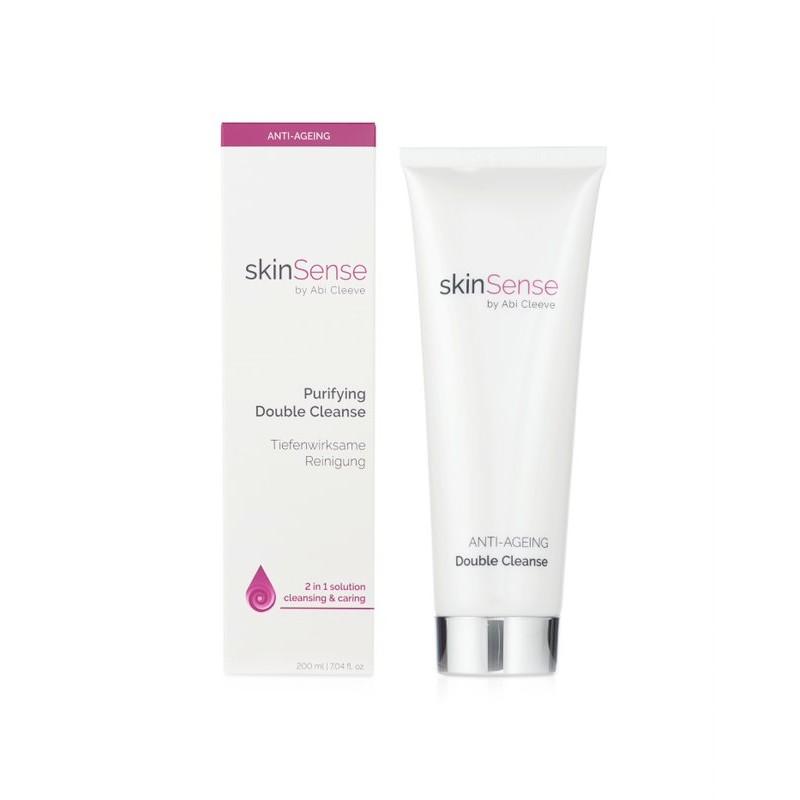 skinSense
Anti-Ageing Purifying Double Cleanse
KEY INGREDIENTS
tripeptide-1

panthenol

arginine

butyrospermum parkii butter

caprylic/capric triglyceride

glycerin

glycine

hydrated silica

hydrolyzed soy protein

persea gratissima oil

proline

prunus amygdalus dulcis oil

sesamum indicum seed extract

sodium hyaluronate

squalane

theobroma grandiflorum seed butter

trehalose

+14 more
Where to buy?
Formula review
See a mistake?
Promise
What does the product description say?
"Anti-Ageing Purifying Double Cleanse"
WIMJ
summary
This product works by removing dirt and oil from the surface of the skin. It uses a combination of mild cleansing agents (ammonium lauryl sulfate, myristic acid, palmitic acid, sodium lauroyl sarcosinate, sodium methyl cocoyl taurate, stearic acid) and should be able to cleanse the skin gently. Still keep in mind that any cleansing can disrupt the skin barrier, and most people do not need to cleanse their skin more than once per day.
Even though this formulation is mild, the following cleansing agents could trigger an irritation or allergy for some people: ammonium lauryl sulfate, sodium methyl cocoyl taurate
| Ingredient | Effectiveness | Concentration | Irritancy |
| --- | --- | --- | --- |
| | | | |
| | | | |
| | | | |
Potential irritants
Ingredients by volume
Ingredient
Estimated concentration

Plain old water

45% - 55%

Helps oil and water mix together. Could be comedogenic

7.3% - 8.9%

One of the best moisturizing ingredients. Naturally present in skin. It attracts water to the upper layer of the skin working as a humectant

4% - 4.9%

Used to adjust the pH level of products

3.1% - 3.8%

An emollient that is naturally present in skin and helps soften it

2.4% - 2.9%

Helps oil and water mix together. Can be used as cleansing agent

2.2% - 2.7%

A great moisturising ingredient that softens the skin and reduces water loss from its upper layer. It also can be helpful in protecting skin from free radicals

1.7% - 2.1%

Helps dissolve other ingredients and attract water to the upper layer of the skin

1.4% - 1.8%

Helps oil and water mix together and works as an emollient

1.3% - 1.6%

Helps oil and water mix together and works as a cleansing agent

1.6% - 1.9%

A preservative. It helps prevent bacterial growth in cosmetic products

0.7% - 1%

An aromatic blend of unspecified and possibly irritating ingredients

0.6% - 0.85%

Helps preserve products and creates a nice product texture

0.6% - 0.9%

Used to thicken product formulations and create gel-like textures

0.55% - 0.8%

Helps to stabilize the product formulation

0.5% - 0.75%

0.7% - 1%

A fragrance. Is a likely irritant

0.45% - 0.7%

Helps soften the upper layer of the skin and might as well help to attract moisture to its upper layer

0.45% - 0.65%

A sugar that attracts water to the upper layer of the skin

0.4% - 0.6%

0.4% - 0.6%

An emollient that helps soften the skin and could be helpful in repairing its barrier function

0.4% - 0.65%

An emollient that softens the skin

0.35% - 0.65%

An oil naturally present in skin. Works as an emollient to soften the skin and form a protective layer on its surface without a greasy feeling.

0.4% - 0.6%

A good mix of fatty acids that forms a protective layer on the skin. Improves the shelf life of products. Derived from coconut and glycerin

0.4% - 0.6%

An amino acid that is naturally present in skin and helps keep it hydrated. When used together with AHAs, it can reduce their irritating effect on the skin

0.3% - 0.55%

Helps attract water to the upper layer of the skin and can help improve skin barrier function

0.3% - 0.55%

Helps improve the product texture

0.3% - 0.5%

One of the best moisturizing ingredients. Attracts water into the upper layer of the skin

0.25% - 0.5%

Helps attract water to the upper layer of the skin and improves the product texture

0.25% - 0.45%

0.25% - 0.5%

Helps to attract water to the upper layer of the skin and can help restore the skin barrier function

0.2% - 0.4%

Used to dissolve other ingredients in a product and can enhance their ability to penetrate the skin

0.2% - 0.35%

0.25% - 0.5%

The ingredient is not recognized

TBC

A type of peptide. Peptides are excellent moisturizers and might be able support collagen production reducing fine lines and wrinkles

0.2% - 0.35%

0.15% - 0.25%

Helps attract water to the upper layer of the skin. Might have some anti-aging, anti-oxidant, and skin lightening properties, but solid evidence is missing

0.1% - 0.2%

Plant oil that due to its high content of linoleic acid can help support skin's barrier function improving its hydration

0.1% - 0.15%

Show more