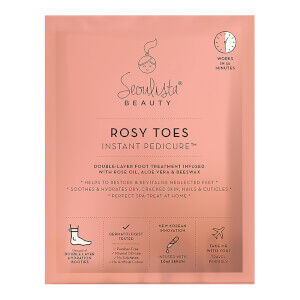 KEY INGREDIENTS
adenosine

ascorbic acid

ceramide 3

betaine

butyrospermum parkii butter

cetearyl alcohol

cyclopentasiloxane

dimethicone

glycerin

simmondsia chinensis seed extract

theobroma cacao seed butter

+8 more

Where to buy?
Formula review
See a mistake?
WIMJ
summary
This product contains adenosine. This ingredient might be able to help reduce and prevent fine lines and wrinkles, improve skin elasticity and firmness, but there is not enough evidence that it actually works.
| Ingredient | Effectiveness | Concentration | Irritancy |
| --- | --- | --- | --- |
| | | | |
| | | | |
| | | | |
See a mistake?
Promise
What does the product description say?
"Infused with Bulgarian Rose Oil, Beeswax and Aloe Vera, the double-layer foot mask provides much-needed repair; it eliminates dry, cracked skin whilst delivering long-lasting hydration to condition from heel to toe."
WIMJ
summary
This product can help improve hydration of the skin with the two types of ingredients.
The first type is called "humectants":
these ingredients help attract water. When humectants are on the surface of the skin, they "pull in" the moisture from the outside environment, or from within deeper layers of the skin. The following ingredients in this product do the job: betaine, glycerin.
This product also contains ingredients called "occlusives". They help reduce the speed with which our skin loses moisture to the outside environment. These ingredients also help soften the upper layer of the skin, so it feels less tight and nicer to the touch. The following ingredients in this product do the job: dimethicone, simmondsia chinensis seed extract.
The following ingredients in this product are especially good for supporting the skin barrier and helping with the hydration level: ceramide 3
| Ingredient | Effectiveness | Concentration | Irritancy |
| --- | --- | --- | --- |
| | | | |
| | | | |
| | | | |
Potential irritants

Ingredients by volume
Ingredient
Estimated concentration

Plain old water

45% - 55%

An emollient that helps soften the skin and creates a thicker product texture

5.5% - 6.7%

Used to create a nice product texture and help delivery of other ingredients. Might be somewhat helpful in attracting water to the upper layer of the skin

4.1% - 5%

One of the best moisturizing ingredients. Naturally present in skin. It attracts water to the upper layer of the skin working as a humectant

3.1% - 3.8%

A non-drying alcohol. Works as an emollient. Helps water and oil mix together and creates a nice product texture

2.4% - 2.9%

Helps oil and water mix together and works as an emollient

2.1% - 2.6%

An emollient that is naturally present in skin and helps soften it

1.8% - 2.2%

An emollient that softens the skin and forms a protective layer on its surface. Helps water and oil mix together

1.5% - 1.8%

Helps oil and water mix together

1.2% - 1.5%

A silicone that helps improve the product texture and spreadability. Can absord oil creating a short-term mattifying effect on the skin

1% - 1.2%

A silicone that serves as an emollient. Helps create a nice non-greasy feels

0.75% - 1.1%

A silicone that helps to reduce water loss from the surface of the skin. Can temporarily "fill in" lines and wrinkles, absorb oil, and create a nice product finish

0.65% - 0.95%

Helps oil and water mix togehter and creates a nice product texture

0.6% - 0.95%

Helps water and oil mix together

0.5% - 0.75%

A preservative

0.45% - 0.65%

Helps preserve products and creates a nice product texture

0.45% - 0.7%

Helps create a gel-like product texture. Can be used in gentle cleansing formulations

0.4% - 0.65%

Used to adjust pH of the product and can help improve the product's smell

0.4% - 0.6%

A preservative

0.3% - 0.6%

0.25% - 0.5%

An essential oil. Can be irritating. Can become an allergen with oxidation

0.3% - 0.55%

Plant oil that helps soften the upper layer of the skin

0.3% - 0.55%

Might help improve cell turnover and reduce inflammation in skin. One study shows that the ingredients might be able to stimulate collagen production in skin

0.25% - 0.45%

Stabilizes the product formulation

0.25% - 0.45%

0.25% - 0.45%

The most well-researched antioxidant that works in skin. Helps neutralize free radicals supporting collagen production, helping to even out the skin tone and preventing early signs of aging

0.25% - 0.4%

Helps attract water to the upper layer of the skin and improves the product texture

0.25% - 0.4%

Used as a fragrance. Can be irritating

0.2% - 0.4%

Traditionally used to treat sunburns, dermatitis and inflammation, but evidence for its effectiveness is lacking. The extract can contain humectants that help attract water into the skin

0.3% - 0.5%

A great moisturising ingredient that softens the skin and reduces water loss from its upper layer. It also can be helpful in protecting skin from free radicals

0.25% - 0.5%

A type of lipid similar to ceramides naturally present in skin. Helps to soften the upper layer of the skin and supports the skin barrier function to keep it hydrated. Can help to prevent inflammation in skin

0.25% - 0.45%

Prevents water loss from the skin surface and thickens the product consistency

0.15% - 0.3%

Helps soften the upper layer of the skin and can be helpful in restoring the skin barrier function. Might have some anti-oxidant effect

0.2% - 0.4%

0.15% - 0.3%

A mushroom extract that might help attract water to the upper layer of the skin

0.15% - 0.25%

A fragrance. Can be irritating

0.1% - 0.2%

A fragrance. Can be irritating

0.1% - 0.15%

A fragrance. Can be irritating

0.05% - 0.1%

Show more