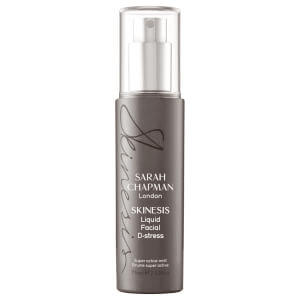 KEY INGREDIENTS
acetyl hexapeptide-37

heptapeptide-15 palmitate

acetyl hexapeptide-49

palmitoyl tetrapeptide-50

panthenol

ahnfeltia concinna extract

biosaccharide gum-1

dipotassium glycyrrhizate

glycerin

sodium pca

+7 more

Where to buy?
Formula review
See a mistake?
Promise
What does the product description say?
"Fortified with SmartsomeTM X50 targeted peptide, the refreshing formula targets visible lines and wrinkles, whilst antioxidant Glycofilm® and VenuceaneTM defend against pollution and environmental aggressors."
WIMJ
summary
This product can help reduce and prevent fine lines and wrinkles, improve skin elasticity and firmness because it contains heptapeptide-15 palmitate.
These ingredients in the product can also be helpful, even though there is less evidence for their effectiveness: acetyl hexapeptide-37, acetyl hexapeptide-49, palmitoyl tetrapeptide-50.
Keep in mind that it typically takes at least 6 weeks to notice any results because the changes that are needed to improve fine lines and elasticity happen in the deeper layers of the skin. No topical anti-aging product can "erase" wrinkles or fully reverse signs of aging.
| Ingredient | Effectiveness | Concentration | Irritancy |
| --- | --- | --- | --- |
| | | | |
| | | | |
| | | | |
See a mistake?
Promise
What does the product description say?
"Calming, soothing and ultra-hydrating, the liquid is ideal for travelling and quenching thirsty skin on-the-go."
WIMJ
summary
This product contains good ingredients to attract water to the upper layer of the skin. These ingredients are called "humectants": ahnfeltia concinna extract, biosaccharide gum-1.
When humectants are on the surface of the skin, they "pull in" the moisture from the outside environment, or from within deeper layers of the skin. If the air is dry, humectants can speed up the moisture loss from the skin. This is why it is a good idea to use another product on top of this one to help "seal in" the moisture (look for ingredients like dimethicone, squalane, oils and butters).
The following ingredients in this product are especially good for supporting the skin barrier and helping with the hydration level: acetyl hexapeptide-37, acetyl hexapeptide-49, heptapeptide-15 palmitate, palmitoyl tetrapeptide-50, panthenol
| Ingredient | Effectiveness | Concentration | Irritancy |
| --- | --- | --- | --- |
| | | | |
| | | | |
| | | | |
Potential irritants

Ingredients by volume
Ingredient
Estimated concentration

Plain old water

45% - 55%

Used to preserve products, dissolve other ingredients and create a nice product texture

6% - 7.3%

Helps oil and water mix together

4.6% - 5.6%

A preservative. It helps prevent bacterial growth in cosmetic products

0.5% - 1%

The ingredient is not recognized

TBC

Used to create a nice product texture and help delivery of other ingredients. Might be somewhat helpful in attracting water to the upper layer of the skin

2.9% - 3.6%

2.5% - 3%

Naturally present in skin and helps to attract water to its upper layer

2.2% - 2.6%

Used to creat a nice product texture and support penetration of other ingredients

2% - 2.4%

Helps attract water to the upper layer of the skin and can help improve skin barrier function

1.7% - 2.1%

1.3% - 1.6%

An aromatic blend of unspecified and possibly irritating ingredients

0.75% - 1.15%

A preservative

0.65% - 1%

A salt derived from licorice. Works as an emollient to soften the upper layer of the skin and can help calm down inflammation. Might be helpful for skin lightening

0.55% - 0.8%

One of the best moisturizing ingredients. Naturally present in skin. It attracts water to the upper layer of the skin working as a humectant

0.55% - 0.85%

Fragrance. Can be irritating

0.45% - 0.7%

An essential oil. Can be irritating. Can become an allergen with oxidation

0.5% - 0.75%

0.45% - 0.7%

0.45% - 0.65%

Helps improve the product texture

0.4% - 0.6%

A fragrance. Can be irritating

0.4% - 0.6%

Might be helpful in attracting water to the upper layer of the skin. Is claimed by the manufacturer to have other skin benefits but any evidence is lacking. Can be irritating

0.4% - 0.6%

Used as a fragrance. Can be irritating

0.3% - 0.55%

Can work as an exfoliant but is typically used to adjust the product pH

0.3% - 0.6%

An algae extract that helps attract water to the upper layer of the skin. Also used to create a thicker product texture

0.3% - 0.55%

Helps preserve products and creates a nice product texture

0.35% - 0.6%

The ingredient is not recognized

TBC

A fragrance. Is a likely irritant

0.3% - 0.5%

Can be drying and contribute to skin irritation. Used in formulars to dissolve other ingredients, create a thinner product consistency or for its antibacterial properties

0.3% - 0.55%

0.3% - 0.55%

0.3% - 0.5%

0.3% - 0.55%

0.3% - 0.55%

0.3% - 0.5%

Helps attract water to the upper layer of the skin and is claimed to provide a longer-lasting hydration because of its ability to create a water-binding film on the surface of the skin

0.3% - 0.55%

A preservative

0.16% - 0.32%

0.3% - 0.55%

Helps oil and water mix together and can enhance the penetration of other ingredients into the skin

0.3% - 0.55%

0.3% - 0.55%

A type of peptide. Peptides are excellent moisturizers and might be able support collagen production reducing fine lines and wrinkles

0.3% - 0.55%

0.3% - 0.55%

A preservative

0.3% - 0.55%

0.3% - 0.55%

0.3% - 0.55%

Helps improve the product texture

0.35% - 0.6%

A type of peptide. Peptides are excellent moisturizers and might be able support collagen production reducing fine lines and wrinkles

0.3% - 0.55%

A preservative

0.3% - 0.6%

Fragrance. Can be irritating

0.3% - 0.55%

A fragrance with a lemon scent. A likely irritant

0.3% - 0.55%

A fragrance. Is a likely irritant

0.3% - 0.5%

Added to create a nice product smell. Can be irritating

0.3% - 0.5%

A fragrance. A likely allergen and can be irritating

0.3% - 0.5%

0.3% - 0.5%

0.3% - 0.5%

A fragrance. Is a likely irritant

0.3% - 0.5%

0.25% - 0.5%

0.25% - 0.5%

A fragrance. Is a likely skin allergen and can be irritating

0.25% - 0.45%

0.25% - 0.45%

A common frangrance that can easily irritate skin, especially if exposed to air, light or heat

0.2% - 0.4%

A preservative. Can be used to mask unpleasant smell. Can be irritating

0.15% - 0.3%

0.15% - 0.3%

Fragrance with sweet balsamic smell. Help to preserve products and dissolve other ingredients. Could trigger allergic reactions and be irritating

0.15% - 0.3%

A fragrance. Can be irritating

0.15% - 0.25%

A fragrance. Can be irritating

0.15% - 0.3%

A fragrance. Can be irritating

0.15% - 0.25%

Show more