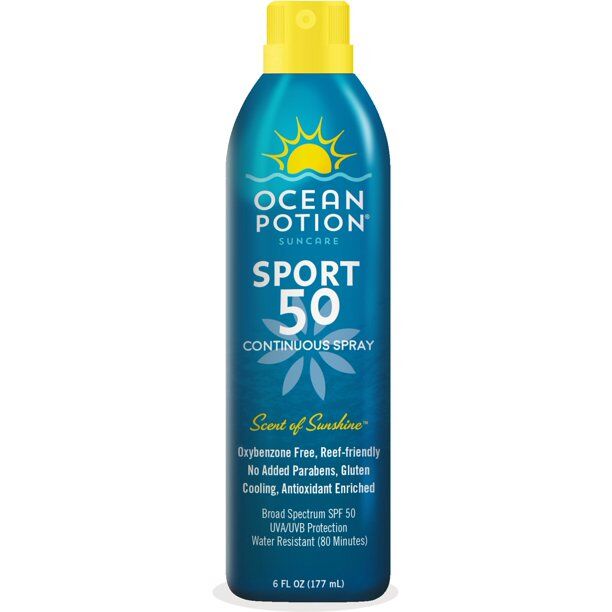 WORKS FOR
Sun protection
Anti-aging
Evens skin tone
Moisturizing
KEY INGREDIENTS
Oxybenzone

Avobenzone

glycerin

homosalate

+1 more

Appears in 0 user routines
Product summary
We assess that this product can provide reliable sun protection based on the ingredient list. We love that it can protect from both UVA and UVB rays (not all sunscreens with SPF ratings give UVA protection. UVA rays do not cause sunburn, but still damage our skin and lead to early aging).
It should also be hydrating enough to use without an additional moisturizer during the day. This product prevents early signs of aging by protecting against sun damage (all broad spectrum sunscreens do that).
Sunscreen filters
This is a so-called "chemical" sunscreen. It means that it uses organic UV filters. They typically offer good sun protection and rarely leave a white cast, but they can be irritating for some people with sensitive skin. These are the sun protection ingredients in this sunscreen: oxybenzone 5.00% (declared), avobenzone 2.00% (declared), octisalate 5.00% (declared), homosalate 10.00% (declared) and octocrylene 2.00% (declared).
Irritation risk
This formulation includes some common irritants, including ingredients that do not provide a benefit for the skin. We assess the overall irritancy of this sunscreen to be high. For a detailed overview of all potential irritants: click here
You can see the detailed formula review with the breakdown of all actives in the product and the full ingredient list with estimated concentrations in the tables below.
Can the product deliver on its promises?
WIMJ summary for sun protection
This product offers a good level of protection against both UVB and UVA rays.
This sunscreen uses organic (so-called "chemical") sunscreen filters. Organic, or "chemical" filters usually provide reliable sun protection and rarely leave a white cast. Sunscreens with organic filters can sting eyes.
This product can be considered "reef safe" because it does not contain the UV filters (oxybenzone and octinoxate) that can be harmful to coral reefs when present in the water in high concentrations.
See a mistake?
WIMJ summary for anti-aging
This product can help prevent early signs of skin aging because it offers a good level of broad spectrum sun protection. Sun damage is the main cause of premature skin aging, and protecting your skin from the sun is the best anti-aging strategy.
See a mistake?
WIMJ summary for evens skin tone
This product offers broad spectrum sun protection. It means that it can prevent hyperpigmentation and help keep the skin tone even (sun damage is the main factor causing age spots, darkening of post-acne marks and other discolorations).
See a mistake?
WIMJ summary for moisturizing
This product contains good ingredients to attract water to the upper layer of the skin. These ingredients are called "humectants": glycerin.
When humectants are on the surface of the skin, they "pull in" the moisture from the outside environment, or from within deeper layers of the skin. If the air is dry, humectants can speed up the moisture loss from the skin. This is why it is a good idea to use another product on top of this one to help "seal in" the moisture (look for ingredients like dimethicone, squalane, oils and butters).
| Ingredient | Effectiveness | Concentration | Irritancy |
| --- | --- | --- | --- |
| | | | |
How honest is this product?
| Promise | Can it deliver? |
| --- | --- |
| Sun protection | |
Total Promises Fulfilled score:
100
/100.
Potential irritants

Ingredients by volume
Ingredient
Estimated concentration

Avobenzone. An organic, or so-called "chemical" UV filter. Protects against both UVA and UVB rays. Needs to be combined with other filters in a formulation to be stable.

A weak sunscreen that offers some protection against the sun rays that cause sunburn (UVB), but does not offer meaningful protection against protect against the most aging sun rays (UVA). It loses its effectiveness quickly when exposed to sunlight. It is an organic, or so called "chemical" sunscreen. When used in low concentrations, helps to stabilize the product formulation

Octisalate. A UV filter. It offers some protection against the sun rays that cause sunburn (UVB), but does not protect against the most aging sun rays (UVA). It loses its effectiveness quickly when exposed to sunlight. It is an organic, or so called "chemical" sunscreen

Show more