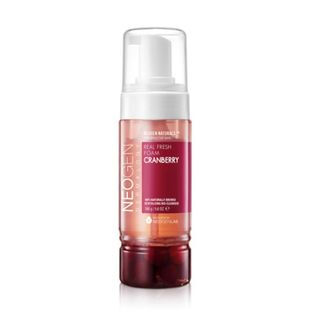 NEOGEN
Dermalogy Real Fresh Foam Cranberry
KEY INGREDIENTS
niacinamide

acetyl glucosamine

panthenol

allantoin

argania spinosa kernel oil

chenopodium quinoa seed extract

cocos nucifera fruit extract

cornus officinalis fruit extract

glycerin

hamamelis virginiana extract

honey extract

lactobacillus/soybean ferment extract

laminaria digitata extract

laminaria japonica extract

plankton extract

saccharum officinarum extract

sodium hyaluronate

trehalose

vitis vinifera fruit extract

+16 more

Where to buy?
Formula review
See a mistake?
Promise
What does the product description say?
"Gentle enough for sensitive and dry skin, the cleanser effectively removes makeup, dirt and sweat from skin without stripping it of natural oils."
WIMJ
summary
This product works by removing dirt and oil from the surface of the skin.
The following cleansing agents are typically mild, but still can cause an irritation or allergy for some people cocamidopropyl betaine.
Keep in mind that cleansing can disrupt the skin barrier, and most people do not need to cleanse their skin more than once per day.
| Ingredient | Effectiveness | Concentration | Irritancy |
| --- | --- | --- | --- |
| | | | |
| | | | |
| | | | |
Potential irritants

Ingredients by volume
Ingredient
Estimated concentration

33% - 41%

4.3% - 5.3%

Helps water and oil mix together. Has anti-bacterial properties that might be helpful in preventing blemishes

4.4% - 5.4%

Helps oil and water mix together and works as a cleansing agent

2.9% - 3.5%

Helps to dissolve other ingredients in a formulation. Slows down the rate of product drying

2.2% - 2.7%

Helps oil and water mix together. Could be comedogenic

1.9% - 2.4%

One of the best moisturizing ingredients. Naturally present in skin. It attracts water to the upper layer of the skin working as a humectant

1.7% - 2.1%

Used to create a nice product texture and help delivery of other ingredients. Might be somewhat helpful in attracting water to the upper layer of the skin

1.4% - 1.7%

Helps oil and water mix together

1.2% - 1.4%

0.95% - 1.15%

Helps oil and water mix together

0.7% - 1.05%

A plant extract that might have some anti-oxidant properties. Can be used as a fragrance

0.6% - 0.85%

A fruit extract that might have some anti-oxidant effect in skin

0.55% - 0.8%

0.5% - 0.75%

A fruit extract that might have some anti-oxidant effect

0.45% - 0.7%

Seaweed extract that might help to attract water to the upper layer of the skin and have some anti-oxidant properties

0.5% - 0.7%

0.45% - 0.65%

0.45% - 0.7%

0.35% - 0.65%

A plant extract that might help to neutralize free radicals. It can be irritating

0.3% - 0.6%

0.3% - 0.6%

0.3% - 0.55%

0.3% - 0.5%

0.3% - 0.5%

Helps soften the upper layer of the skin

0.3% - 0.5%

0.3% - 0.5%

0.3% - 0.55%

Seaweed extract that helps the skin to attract water and make it more smooth for touch. Also shows promise of anti-aging properties, but good research is lacking at the moment

0.3% - 0.55%

0.25% - 0.5%

A plant extract that might help neutralize free radicals in skin. Can be used for its fragrance

0.3% - 0.5%

0.3% - 0.5%

Might be somewhat helpful in reducing hyperpigmentation and neutralizing free radicals but its typical concentration in a product is too low for having an effect

0.3% - 0.55%

0.3% - 0.5%

The ingredient is not recognized

TBC

A plant extract that might have some anti-inflammatory properties, but solid evidence is lacking. It can be irritating

0.3% - 0.6%

A plant extract that contains anti-oxidants. It might help to neutralize free radicals in skin. Can be used to help preserve the product formulation

0.3% - 0.5%

A berry extract that might help neutralize free radicals on the surface of the skin

0.3% - 0.5%

0.3% - 0.5%

0.3% - 0.5%

0.3% - 0.55%

0.3% - 0.5%

A mushroom extract that might help attract water to the upper layer of the skin

0.3% - 0.5%

0.3% - 0.55%

0.3% - 0.55%

0.3% - 0.5%

0.3% - 0.5%

Contains essential oil. Can be irritating and lead to photosensitivity

0.3% - 0.5%

0.3% - 0.55%

Used to thicken the product consistency

0.3% - 0.5%

0.3% - 0.5%

0.3% - 0.5%

0.3% - 0.5%

0.3% - 0.5%

0.3% - 0.5%

A plant extract that can help calm down inflammation in skin. Can, however, itself be irritating

0.3% - 0.5%

0.25% - 0.5%

0.3% - 0.5%

0.3% - 0.5%

0.3% - 0.5%

0.3% - 0.5%

0.3% - 0.5%

0.3% - 0.5%

0.3% - 0.5%

A fruit extract that might help attract water to the upper layer of the skin. There is no evidence of other benefits in skin

0.3% - 0.5%

Traditionally used to treat sunburns, dermatitis and inflammation, but evidence for its effectiveness is lacking. The extract can contain humectants that help attract water into the skin

0.35% - 0.65%

0.3% - 0.5%

0.3% - 0.5%

An emollient. Found to be as effective as a moisturizer for dry skin as mineral oil. Could be comedogenic

0.3% - 0.6%

Helps attract water to the upper layer of the skin

0.3% - 0.5%

Used to add a nice smell to the product. Can be irritating

0.3% - 0.5%

0.25% - 0.5%

0.3% - 0.5%

A plant extract that is used as a fragrance. Can be irritating and lead to photosensitivity

0.3% - 0.5%

Used as a fragrance. Can be irritating and cause photosensitivity

0.3% - 0.5%

0.25% - 0.5%

Sugar extract that helps attract water to the upper layer of the skin

0.3% - 0.5%

A plant extract that contains small percentage of AHAs. Is unlikely to have any skin benefit due the small concentration of the active compounds

0.3% - 0.5%

0.3% - 0.5%

0.3% - 0.5%

Can help attract water to the upper layer of the skin

0.3% - 0.55%

0.3% - 0.5%

A plant extract that has some anti-oxidant activity, but solid research is lacking. Can help attract water to the upper layer of the skin

0.3% - 0.55%

A plant extract that can help calm down inflammation in skin. Can, however, itself be irritating

0.3% - 0.5%

Plant extract that can help neutralize free radicals in skin. Can be used as a fragrance. Can be irritating

0.35% - 0.6%

A plant extract that can help strengthen the skin barrier function and improve skin moisture levels

0.3% - 0.5%

A plant extract that one one hand, can contain compounds that can help calm down skin irritation, but, on the other hand, its other compounds (especially fragrant ones) can themselves be irritating

0.25% - 0.5%

0.3% - 0.55%

0.3% - 0.5%

0.25% - 0.45%

A plant extract that is added for its fragrance. Can be irritating

0.3% - 0.5%

0.3% - 0.5%

0.3% - 0.5%

0.3% - 0.55%

Might be helpful in protecting skin collagen and elastin from breaking down but solid research is lacking

0.3% - 0.55%

A plant extract that helps attract water to the upper layer of the skin. It might be helpful in neutralizing free radicals in skin, but is less potent than the extract from the seeds

0.3% - 0.5%

0.3% - 0.6%

A plant extract that can be irritating. It can have some anti-bacterial properties, but there are no evidence of a beneficial effect for skin

0.25% - 0.5%

0.3% - 0.5%

0.3% - 0.5%

0.3% - 0.5%

0.3% - 0.5%

An enzyme-based exfoliant

0.3% - 0.5%

A fermentation product created by bacteria Lactobacillus out of soybean. The fermented product helps to attract water to the upper layer of the skin and has anti-bacterial properties. It might be helpful in calming down inflammation and could be helpful in evening out skin tone, but studies are lacking

0.3% - 0.5%

0.3% - 0.5%

Helps calm down inflammation in skin and can help reduce itching. Helps to repair the skin barrier and keep skin hydrated

0.25% - 0.5%

A sugar that attracts water to the upper layer of the skin

0.3% - 0.55%

Is proven to be effective in reducing blemishes, evening out skin tone and helping to improve lines and wrinkles. It helps the skin to repair sun damage, calm down inflammation and keep maintain good levels of moisture

0.3% - 0.55%

Helps attract water to the upper layer of the skin and can help improve skin barrier function

0.3% - 0.55%

An emollient that helps soften the upper layer of the skin. Might have some weak anti-oxidant properties

0.3% - 0.6%

Can work as an exfoliant but is typically used to adjust the product pH

0.3% - 0.5%

Helps water and oil mix together. Used as a cleansing ingredient. Could be an allergen

0.95% - 1.15%

Used to thicken the product formulation and might help to add minerals to the surface of the skin. It is used in scrubs as a physical exfoliant. Can increase sensitivity to other ingredients if left on the skin or used in high concentration

0.3% - 0.5%

Plain old water

0.25% - 0.5%

One of the best moisturizing ingredients. Attracts water into the upper layer of the skin

0.25% - 0.5%

An effective moisturizing ingredient that also has been shown to be effective in evening out the skin tone and reducing hyperpigmentation. It can help somewhat reduce wrinkles in skin

0.25% - 0.45%

Helps preserve products and creates a nice product texture

0.25% - 0.5%

A preservative

0.2% - 0.4%

A preservative. It helps prevent bacterial growth in cosmetic products

0.2% - 0.4%

A preservative

0.15% - 0.25%

0.15% - 0.3%

0.15% - 0.25%

0.15% - 0.25%

Stabilizes the product formulation

0.1% - 0.2%

An aromatic blend of unspecified and possibly irritating ingredients

0.05% - 0.1%

Show more