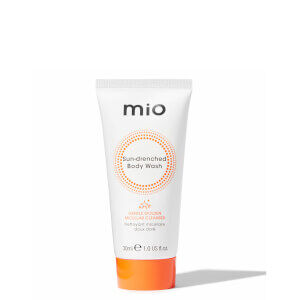 KEY INGREDIENTS
ascorbyl tetraisopalmitate

butyrospermum parkii butter extract

glycerin

titanium dioxide

tocopherol

vegetable oil

+3 more

Where to buy?
Formula review
See a mistake?
Promise
What does the product description say?
"Sun-Drenched Easy Glow Body Wash"
WIMJ
summary
This product works by removing dirt and oil from the surface of the skin. It uses a combination of mild cleansing agents (coco-glucoside, disodium cocoamphodiacetate, glyceryl oleate, sodium lauroyl sarcosinate, xanthan gum) and should be able to cleanse the skin gently. Still keep in mind that any cleansing can disrupt the skin barrier, and most people do not need to cleanse their skin more than once per day.
Even though this formulation is mild, the following cleansing agents could trigger an irritation or allergy for some people: coco-glucoside, glyceryl oleate
| Ingredient | Effectiveness | Concentration | Irritancy |
| --- | --- | --- | --- |
| | | | |
| | | | |
| | | | |
Potential irritants

Ingredients by volume
Ingredient
Estimated concentration

Plain old water

45% - 55%

Helps oil and water mix together and works as a cleansing agent

8.5% - 10.3%

One of the best moisturizing ingredients. Naturally present in skin. It attracts water to the upper layer of the skin working as a humectant

4.2% - 5.1%

Used to create a nice product texture and help delivery of other ingredients. Might be somewhat helpful in attracting water to the upper layer of the skin

3.1% - 3.7%

Helps oil and water mix together and works as a cleansing agent

3.1% - 3.8%

Used to thicken the product formulation and might help to add minerals to the surface of the skin. It is used in scrubs as a physical exfoliant. Can increase sensitivity to other ingredients if left on the skin or used in high concentration

1.9% - 2.3%

Maintains the texture of skincare products. Allows the product to spread evenly. Helps oil and water mix together

1.7% - 2.1%

An aromatic blend of unspecified and possibly irritating ingredients

1.3% - 1.6%

A preservative. It helps prevent bacterial growth in cosmetic products

0.5% - 1%

A common frangrance that can easily irritate skin, especially if exposed to air, light or heat

0.8% - 1.2%

Used to increase effectiveness of preservatives

0.65% - 0.95%

Used as a cleansing agent (surfactant) in cleansers. Helps water and oil mix together in lotions. Can be irritating

0.6% - 0.9%

Helps oil and water mix together. Can be irritating

0.5% - 0.75%

Used to create a thicker product consistency

0.45% - 0.65%

A preservative

0.4% - 0.6%

Can be drying and contribute to skin irritation. Used in formulars to dissolve other ingredients, create a thinner product consistency or for its antibacterial properties

0.4% - 0.6%

Creates an illusion of smoother and more radiant skin tone. Adds shimmer to the skin by reflecting light

0.45% - 0.65%

Can work as an exfoliant but is typically used to adjust the product pH

0.3% - 0.6%

Used to improve stability of the formulation

0.3% - 0.55%

A fragrance with a lemon scent. A likely irritant

0.25% - 0.45%

Used mostly for creating emulsions - helping oil and water mix together. Helps soften the upper layer of the skin

0.3% - 0.55%

The ingredient is not recognized

TBC

A great moisturising ingredient that softens the skin and reduces water loss from its upper layer. It also can be helpful in protecting skin from free radicals

0.3% - 0.55%

A plant extract that might have some anti-inflammatory properties, but solid evidence is lacking. It can be irritating

0.25% - 0.45%

A plant oil that contains limonoids. Might help neutralize free radicals in skin. Can be irritating

0.25% - 0.45%

An oil from a mixture of different vegetables. Helps soften the upper layer of the skin

0.25% - 0.5%

An oil from a mixture of different vegetables. Helps soften the upper layer of the skin

0.25% - 0.45%

Pure form of vitamin E. Can help moisturise and protect the skin from free radicals. Often used to help stabilise other ingredients or the formula itself

0.2% - 0.4%

0.2% - 0.4%

A vitamin C derivative. Studies show that is might be effective in reducing hyperpigmentation, but there are no studies confirming that it is effectively converted into the bioavailable form of Vitamin C in skin. It is not clear how this derivative compares in effectiveness to the topical application of bioavailable form of vitamin C (L-ascorbic acid)

0.25% - 0.45%

A type of sugar that is used to support delivery of active ingredients and can enhance their penetration into the skin without disrupting the skin's barrier

0.15% - 0.3%

Used to adjust the product's pH

0.15% - 0.3%

Helps soften the upper layer of the skin

0.15% - 0.3%

Works as a UV filter when used in high concentrations. It is photostable and is effective mostly against the UVB light, with some protection in the UVA range. In small concentrations, used for its ability to improve the color of cosmetic products. Is usually well tolerated by the skin

0.1% - 0.25%

A red colorant made of iron oxide. Typically is not irritating

0.05% - 0.15%

Show more