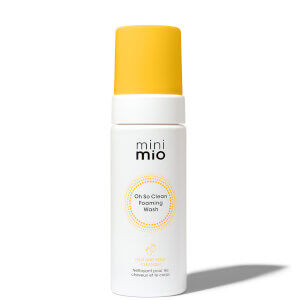 KEY INGREDIENTS
betaine

butyrospermum parkii butter

cocos nucifera oil

inulin

persea gratissima oil

tocopherol

+3 more
Where to buy?
Formula review
See a mistake?
Promise
What does the product description say?
"Oh So Clean Foaming Wash"
WIMJ
summary
This product works by removing dirt and oil from the surface of the skin. It uses a combination of mild cleansing agents (coco-glucoside, disodium cocoyl glutamate, disodium lauryl sulfosuccinate, glyceryl oleate, polyglyceryl-3 cocoate, polyglyceryl-4 caprate, polyglyceryl-6 caprylate, polyglyceryl-6 ricinoleate, sodium lauroyl sarcosinate) and should be able to cleanse the skin gently. Still keep in mind that any cleansing can disrupt the skin barrier, and most people do not need to cleanse their skin more than once per day.
Even though this formulation is mild, the following cleansing agents could trigger an irritation or allergy for some people: coco-glucoside, glyceryl oleate
| Ingredient | Effectiveness | Concentration | Irritancy |
| --- | --- | --- | --- |
| | | | |
| | | | |
| | | | |
Potential irritants
Ingredients by volume
Ingredient
Estimated concentration

Plain old water

45% - 55%

Helps water and oil mix together and works as a cleansing agent

9.1% - 11.2%

Used as a cleansing agent. Helps water and oil mix together

5.9% - 7.2%

Used to preserve products, dissolve other ingredients and create a nice product texture

3.2% - 3.9%

Helps oil and water mix together and works as a cleansing agent

3.2% - 3.9%

Helps oil and water mix together

2% - 2.4%

1.7% - 2%

Helps oil and water mix together

1.4% - 1.7%

Helps oil and water mix together

1.1% - 1.4%

Helps attract water to the upper layer of the skin and improves the product texture

0.9% - 1.1%

Helps attract water to the upper layer of the skin. Is claimed to support the growth of "good" bacteria in skin (as a "prebiotic"), but the research is lacking

0.65% - 1%

Used as a cleansing agent (surfactant) in cleansers. Helps water and oil mix together in lotions. Can be irritating

0.6% - 0.9%

Helps oil and water mix together. Can be irritating

0.55% - 0.8%

Can work as an exfoliant but is typically used to adjust the product pH

0.45% - 0.65%

Used to increase effectiveness of preservatives

0.3% - 0.6%

Used to thicken the product formulation and might help to add minerals to the surface of the skin. It is used in scrubs as a physical exfoliant. Can increase sensitivity to other ingredients if left on the skin or used in high concentration

0.3% - 0.5%

Helps oil and water mix together and can enhance the penetration of other ingredients into the skin

0.25% - 0.45%

An aromatic blend of unspecified and possibly irritating ingredients

0.15% - 0.3%

A great moisturising ingredient that softens the skin and reduces water loss from its upper layer. It also can be helpful in protecting skin from free radicals

0.25% - 0.4%

An emollient. Found to be as effective as a moisturizer for dry skin as mineral oil. Could be comedogenic

0.15% - 0.25%

An emollient that helps soften the skin and could be helpful in repairing its barrier function

0.15% - 0.3%

Helps soften the upper layer of the skin

0.1% - 0.2%

Pure form of vitamin E. Can help moisturise and protect the skin from free radicals. Often used to help stabilise other ingredients or the formula itself

0.05% - 0.15%

Show more