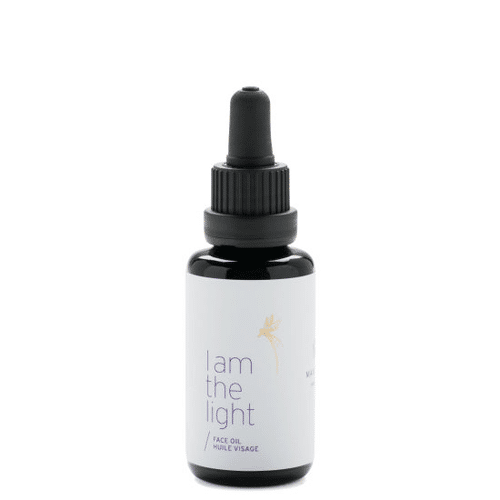 KEY INGREDIENTS
argania spinosa kernel oil

macadamia ternifolia seed oil

olea europaea fruit oil

punica granatum seed oil

sclerocarya birrea seed oil

tocopherol

+3 more

Where to buy?
Formula review
See a mistake?
Promise
What does the product description say?
"A golden-hued face oil brimming with highly vibrant powers that instantly illuminate and hydrate tired skin, releasing dullness and congestion and radiantly removing traces of time."
WIMJ
summary
This product can help soften the skin and reduce its moisture loss with emollients and occlusives: argania spinosa kernel oil, macadamia ternifolia seed oil.
Keep in mind that this product does not contain effective ingredients to attract water to the upper layer of the skin. This is why an additional product with humectants like glycerin or hyaluronic acid can be helpful (apply it before this product for the best results).
| Ingredient | Effectiveness | Concentration | Irritancy |
| --- | --- | --- | --- |
| | | | |
| | | | |
| | | | |
Potential irritants

Ingredients by volume
Ingredient
Estimated concentration

An emollient that helps soften the upper layer of the skin. Might have some weak anti-oxidant properties

23% - 34%

5.1% - 7.7%

An emollient that helps to soften the skin. It has a high contetn of oleic acid that might weaken the skin barrier. Might have some anti-oxidant properties. It might be somewhat helpful against hyperpigmentation.

5% - 7.4%

4.2% - 6.4%

An emollient that helps soften the skin but is not effective for restoring its barrier function. Might be helpful to calm down inflammation

3.2% - 4.9%

A flower extract that contains volatile compounds. Used to add fragrance and can be irritating

2.4% - 3.7%

Helps soften the upper layer of the skin

2.1% - 3.1%

Plant oil from nuts that helps soften the upper layer of the skin. Contains a high concentration of oleic acid that can weaken skin's barrier function and increase water-loss while enhancing penetration of other ingredients

1.7% - 2.5%

Used as a fragrance. Can be irritating

1.3% - 1.9%

1% - 1.45%

0.9% - 1.35%

0.55% - 1.3%

The ingredient is not recognized

TBC

0.5% - 1.2%

0.55% - 1.3%

A preservative. Can be used to mask unpleasant smell. Can be irritating

0.45% - 1%

Fragrance with sweet balsamic smell. Help to preserve products and dissolve other ingredients. Could trigger allergic reactions and be irritating

0.45% - 1.05%

A fragrance. Is a likely irritant

0.4% - 1%

A fragrance with a lemon scent. A likely irritant

0.35% - 0.85%

A fragrance. Can be irritating

0.3% - 0.75%

A fragrance. Is a likely irritant

0.2% - 0.8%

Added to create a nice product smell. Can be irritating

0.2% - 0.7%

A fragrance. Can be irritating

0.15% - 0.6%

A common frangrance that can easily irritate skin, especially if exposed to air, light or heat

0.1% - 0.5%

A fragrance. Can be irritating

0.1% - 0.4%

Pure form of vitamin E. Can help moisturise and protect the skin from free radicals. Often used to help stabilise other ingredients or the formula itself

0.1% - 0.45%

Show more