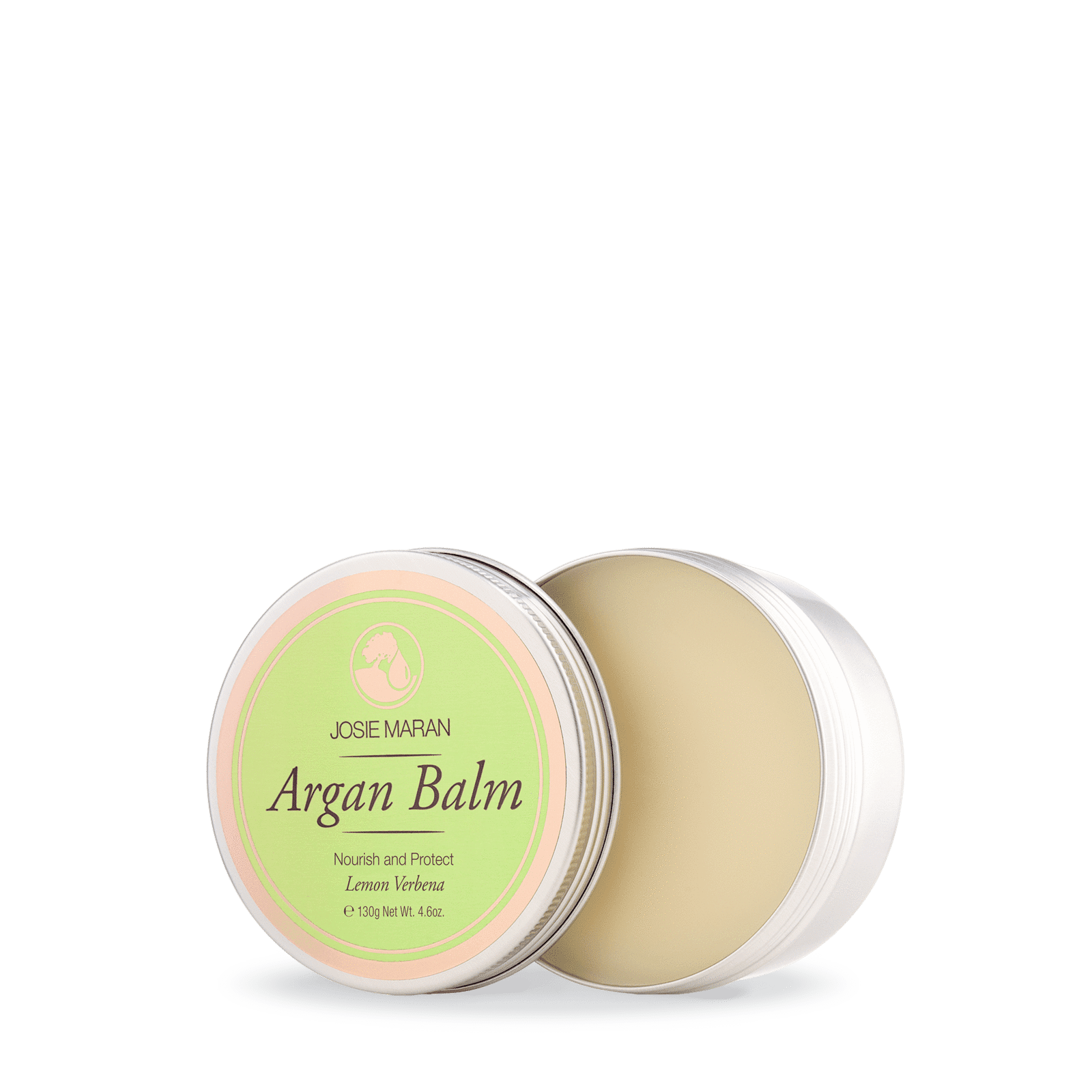 WORKS FOR
Anti-oxidation
Moisturizing
KEY INGREDIENTS
argania spinosa kernel oil

beeswax

butyrospermum parkii butter

cocos nucifera oil

copernicia cerifera cera

crambe abyssinica seed oil

euphorbia cerifera cera

glycerin

glycine soja oil

mangifera indica seed butter

olea europaea fruit oil

persea gratissima oil

simmondsia chinensis seed oil

tocopherol

vaccinium macrocarpon seed oil

+12 more

Where to buy?
Formula review
See a mistake?
Promise
What does the product description say?
"The healing and hydrating properties of argan oil are concentrated in solid, leak-proof form, perfect for an intense hit of moisture wherever it's needed most and forms a protective barrier that locks in moisture and throws away the key."
WIMJ
summary
This product can help improve hydration of the skin with the two types of ingredients.
The first type is called "humectants":
these ingredients help attract water. When humectants are on the surface of the skin, they "pull in" the moisture from the outside environment, or from within deeper layers of the skin. The following ingredients in this product do the job: glycerin.
This product also contains ingredients called "occlusives". They help reduce the speed with which our skin loses moisture to the outside environment. These ingredients also help soften the upper layer of the skin, so it feels less tight and nicer to the touch. The following ingredients in this product do the job: beeswax, butyrospermum parkii butter.
| Ingredient | Effectiveness | Concentration | Irritancy |
| --- | --- | --- | --- |
| | | | |
| | | | |
| | | | |
See a mistake?
WIMJ
summary
This product contains antioxidants (vaccinium macrocarpon seed oil) that might be able to help neutralize free radicals in skin to lessen the damage it gets from the UV light (sun). There is not enough evidence to confirm their effectiveness in skin though.
| Ingredient | Effectiveness | Concentration | Irritancy |
| --- | --- | --- | --- |
| | | | |
| | | | |
| | | | |
Potential irritants

Ingredients by volume
Ingredient
Estimated concentration

An emollient that helps soften the upper layer of the skin. Might have some weak anti-oxidant properties

22% - 34%

A great moisturising ingredient that softens the skin and reduces water loss from its upper layer. It also can be helpful in protecting skin from free radicals

5% - 7.4%

Forms a protective barrier that holds water and keeps dry skin hydrated. Keeps an emulsion from separating into its oil and liquid components, and increases the thickness of a product. Can be an allergen

4.9% - 7.4%

Helps soften the upper layer of the skin and thickens the product's texture

4% - 6%

Brazilian palm wax. Helps soften the upper layer of the skin

3.2% - 4.8%

Used to create a thicker product consistency and help soften the upper layer of the skin

2.2% - 3.3%

A very irritating fragrant ingredient

1.6% - 2.4%

1.4% - 2.1%

Pure form of vitamin E. Can help moisturise and protect the skin from free radicals. Often used to help stabilise other ingredients or the formula itself

1.2% - 1.8%

Helps soften the upper layer of the skin

1% - 1.6%

An essential oil. Used as a fragrance

0.9% - 1.35%

0.55% - 1.35%

0.4% - 0.9%

0.55% - 1.25%

A good emollient that helps soften the skin and helps repair its barrier function

0.5% - 1.2%

0.45% - 1.1%

Helps to soften the upper layer of the skin and might have some anti-oxidant effect

0.45% - 1.05%

An emollient that helps soften the skin but is not effective for restoring its barrier function. Might be helpful to calm down inflammation

0.45% - 1.1%

An emollient that helps soften the skin and could be helpful in repairing its barrier function

0.5% - 1.1%

Softens the upper layer of skin and helps restore the healthy skin barrier. Has shown to help calm down inflammation in skin. It is a stable oil, meaning that it retains its properties even when exposed to air.

0.45% - 1.1%

Contains an essential oil. Can be irritating

0.4% - 0.9%

A plant extract that is used as a fragrance. Can be irritating and lead to photosensitivity

0.4% - 0.9%

Used as a fragrance and can be irritating

0.4% - 0.9%

Used as a fragrance. Can be irritating

0.4% - 0.9%

0.35% - 0.8%

0.35% - 0.8%

An emollient. Found to be as effective as a moisturizer for dry skin as mineral oil. Could be comedogenic

0.35% - 0.85%

Used as a fragrance

0.3% - 0.75%

0.2% - 0.7%

One of the best moisturizing ingredients. Naturally present in skin. It attracts water to the upper layer of the skin working as a humectant

0.2% - 0.7%

Plain old water

0.15% - 0.6%

An emollient that helps to soften the skin and create a pleasant product texture and stabilize the formulation

0.2% - 0.7%

0.15% - 0.5%

A plant oil that can help neutralize free radicals, soften the upper layer of the skin, and support skin's barrier function

0.2% - 0.8%

Show more