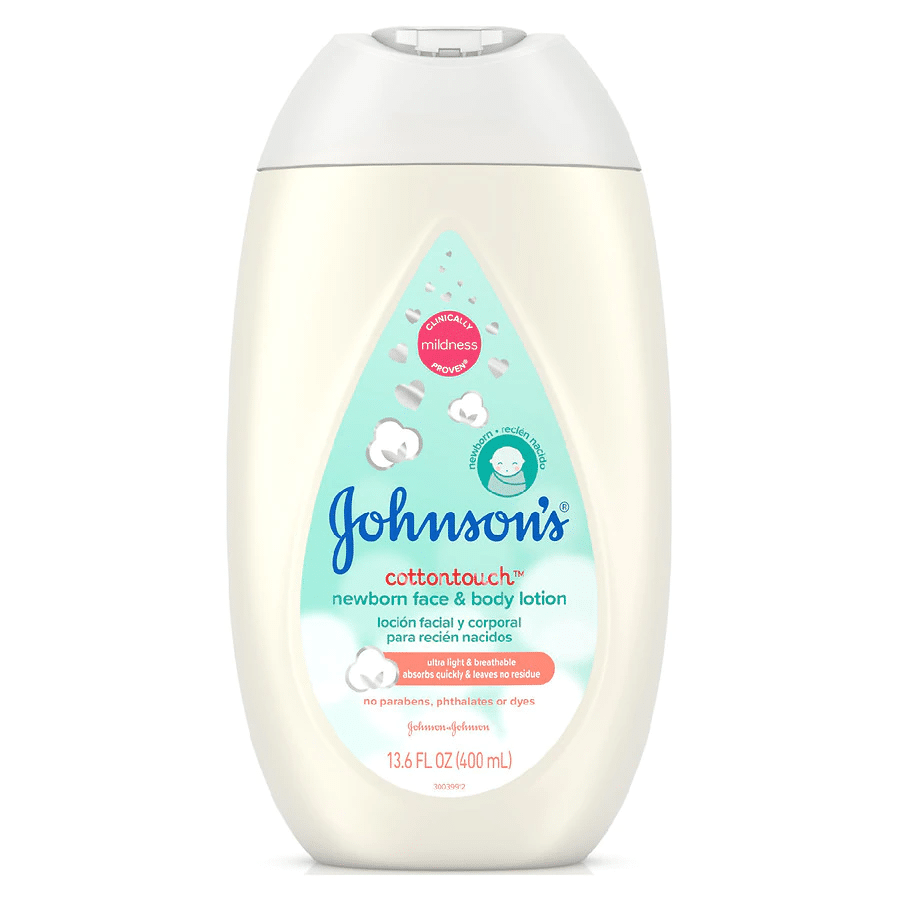 Where to buy?
Formula review
See a mistake?
Promise
What does the product description say?
"Bottle of Johnson's CottonTouch Newborn Baby Face and Body Lotion with a gentle formulaNourishing and gentle for newborns & designed to leave your their skin touchably softUltra-light, breathable moisturizing lotion formula absorbs quickly without leaving residueBlended with real cotton and provides light and silky moisturization that lasts up to 24 hoursClinically proven to be gentle and mild for newborn skincarepH-balanced to newborn skin, hypoallergenic, and free of parabens, phthalates, and dyesBaby face & body lotion is from Johnson's, the #1 choice of hospitalsAfter a warm bath with CottonTouch Wash and Shampoo, massage this daily lotion over face and bodyCare for your baby from with Johnson's CottonTouch Newborn Baby Face & Body Lotion."
WIMJ
summary
This product can help improve hydration of the skin with the two types of ingredients.
The first type is called "humectants":
these ingredients help attract water. When humectants are on the surface of the skin, they "pull in" the moisture from the outside environment, or from within deeper layers of the skin. The following ingredients in this product do the job: glycerin, caprylyl glycol.
This product also contains ingredients called "occlusives". They help reduce the speed with which our skin loses moisture to the outside environment. These ingredients also help soften the upper layer of the skin, so it feels less tight and nicer to the touch. The following ingredients in this product do the job: dimethicone, caprylyl glycol.
| Ingredient | Effectiveness | Concentration | Irritancy |
| --- | --- | --- | --- |
| | | | |
| | | | |
| | | | |
Potential irritants
Ingredients by volume
Ingredient
Estimated concentration

Plain old water

45% - 55%

The ingredient is not recognized

TBC

One of the best moisturizing ingredients. Naturally present in skin. It attracts water to the upper layer of the skin working as a humectant

7.4% - 9%

Helps soften the upper layer of the skin and create a thicker product consistency

5.8% - 7.1%

A silicone that helps to reduce water loss from the surface of the skin. Can temporarily "fill in" lines and wrinkles, absorb oil, and create a nice product finish

4.3% - 5.2%

A preservative. It helps prevent bacterial growth in cosmetic products

0.5% - 1%

Helps oil and water mix together

2.8% - 3.4%

An aromatic blend of unspecified and possibly irritating ingredients

2.4% - 2.9%

Helps oil and water mix together

2.1% - 2.6%

Helps create a gel-like product texture. Can be used in gentle cleansing formulations

1.6% - 2%

Maintains the texture of skincare products. Allows the product to spread evenly. Helps oil and water mix together

1.2% - 1.4%

Helps preserve products and creates a nice product texture

0.9% - 1.1%

A preservative

0.5% - 0.7%

Used to adjust the product's pH

0.4% - 0.6%

A preservative

0.3% - 0.55%

0.2% - 0.4%

Show more