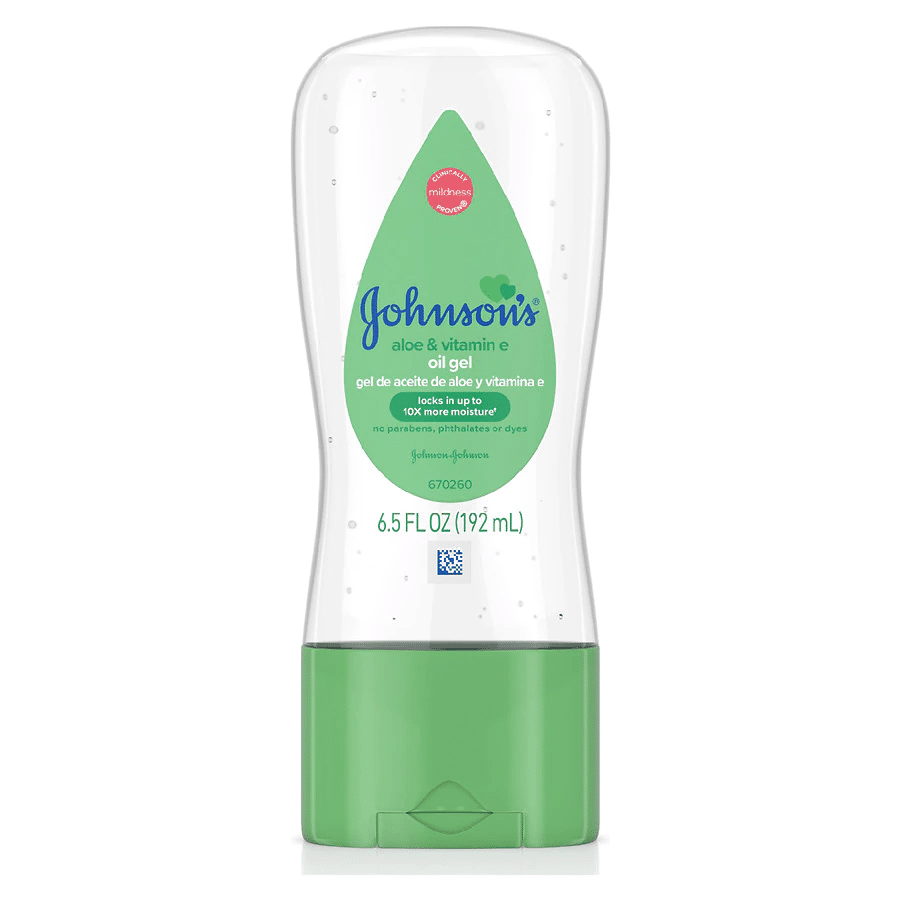 Appears in 1 user routines
Product summary
Based on the ingredient list, "Johnson's Baby - Baby Oil Gel With Aloe Vera & Vitamin E Unspecified" can work well for skin moisturization. As we expect from a proper moisturizer, the formula includes a combo of effective humectants and emollients. These are the two different types of ingredients that are essential for improving the skin hydration and supporting a healthy skin barrier. Humectants in this product (aloe barbadensis leaf extract) help to increase the water content in the upper layer of the skin. (These ingredients do so by "capturing" water molecules from the outside air or from within the deeper layers of the skin). Emollients in this formulation (paraffinum liquidum and aloe barbadensis leaf extract) help to reduce the moisture loss from the skin. They also soften the skin surface and relieve the feeling of dryness and tightness.
Irritation risk
This moisturizer contains some common irritants, including those without a benefit for the skin. We assess the overall irritancy of this moisturizer to be medium. For a detailed overview of all potential irritants: click here
You can see the detailed formula review with the breakdown of all actives in the product and the full ingredient list with estimated concentrations in the tables below.
Price
The product retails for 4.27CA$ in Canada and for 6.49$ in the United States.
For a detailed price comparison: click here.
Can the product deliver on its promises?
See a mistake?
Promise
What does the product description say?
"oz bottle of pure baby oil gel with Aloe Vera and Vitamin E to help moisturize skinBaby oil is enriched with natural Aloe Vera & Vitamin E, known for its dry skin-soothing qualitiesThis baby oil locks in up to 10x more moisture on wet skin than an ordinary lotion can on dry skinBaby oil gel forms a silky moisturizing barrier to prevent moisture loss and protect dry skinAloe Vera baby oil is clinically proven to be gentle and mild for your baby's skin careHelps moisturize and protect skin from dryness, great for relieving your dry skin or rough patchesBaby oil is specially formulated for babies' delicate skin,Allergy-tested and lightly scented, leaves baby's skin feeling soft and smoothJohnson's baby Oil is enriched with natural Aloe Vera, known for its dry skin-soothing qualities, as well as Vitamin E, a known skin conditioner."
WIMJ summary for moisturizing
This product can help soften the skin and reduce its moisture loss with emollients and occlusives: paraffinum liquidum, aloe barbadensis leaf extract.
Keep in mind that this product does not contain effective ingredients to attract water to the upper layer of the skin. This is why an additional product with humectants like glycerin or hyaluronic acid can be helpful (apply it before this product for the best results).
The following ingredients in this product are especially good for supporting the skin barrier and helping with the hydration level: paraffinum liquidum
| Ingredient | Effectiveness | Concentration | Irritancy |
| --- | --- | --- | --- |
| | | | |
| | | | |
How honest is this product?
| Promise | Can it deliver? |
| --- | --- |
| Moisturizing | |
Total Promises Fulfilled score:
100
/100.
Potential irritants
Ingredients by volume
Ingredient
Estimated concentration

Mineral oil. One of the most effective and well studied occlusive and emollient moisturizing ingredients. Helps reduce moisture loss in skin and repair skin barrier function

24% - 35%

Helps to create a thicker product consistency

8.9% - 13.4%

A more stable but less bio-available form of vitamin E compared to Tocopherol. Might help moisturize and protect the skin from free radicals, but mostly used in low concentrations to stabilize other ingredients.

4.8% - 7.2%

Show more