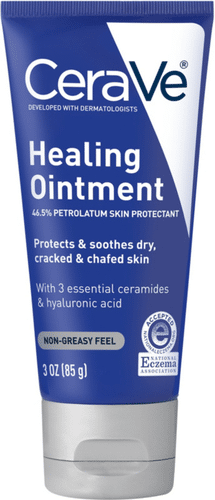 WORKS FOR
Moisturizing
Anti-oxidation
KEY INGREDIENTS
ceramide ap

ceramide eop

ceramide np

panthenol

paraffinum liquidum

petrolatum

phytosphingosine

cholesterol

dimethicone

hydrolyzed hyaluronic acid

pantolactone

proline

tocopherol

+10 more

Where to buy?
Formula review
See a mistake?
Promise
What does the product description say?
"Benefits A healing ointment formulated to temporarily protect, soothe and hydrate dry skin Suitable for cracked and chafed skin as well as eczema Gentle, non-irritating, vegan formula can be used on the face, body, hands and lips Lightweight yet intensely hydrating Helps restore the skin's protective barrier with ceramides Helps attract moisture to the skin with hyaluronic acid Suitable for all skin types Non-comedogenic Accepted by the National Eczema Association Developed with dermatologists Key Ingredients Ceramides help restore and maintain the skin's natural barrier Hyaluronic acid attracts hydration to the skin's surface and helps the skin retain moisture Petrolatum temporarily protects minor cuts, scrapes and burns; helps prevent and relieve chapped or cracked skin and lips; and protects skin from the drying effects of wind and cold weather Formulated Without Fragrance Dyes Lanolin"
WIMJ
summary
This product can help improve hydration of the skin with the two types of ingredients.
The first type is called "humectants":
these ingredients help attract water. When humectants are on the surface of the skin, they "pull in" the moisture from the outside environment, or from within deeper layers of the skin. The following ingredients in this product do the job: hydrolyzed hyaluronic acid, pantolactone.
This product also contains ingredients called "occlusives". They help reduce the speed with which our skin loses moisture to the outside environment. These ingredients also help soften the upper layer of the skin, so it feels less tight and nicer to the touch. The following ingredients in this product do the job: dimethicone, cholesterol.
The following ingredients in this product are especially good for supporting the skin barrier and helping with the hydration level: ceramide ap, ceramide eop, ceramide np, panthenol, paraffinum liquidum, petrolatum, phytosphingosine
| Ingredient | Effectiveness | Concentration | Irritancy |
| --- | --- | --- | --- |
| | | | |
| | | | |
| | | | |
See a mistake?
WIMJ
summary
Effective ingredients missing or their concentration is too low.
| Ingredient | Effectiveness | Concentration | Irritancy |
| --- | --- | --- | --- |
| | | | |
| | | | |
Potential irritants

Ingredients by volume
Ingredient
Estimated concentration

One of the most effective and the most studied occlusive ingredients that creates a protective layer on top of the skin preventing moisture loss

22% - 33%

One of the most effective and well studied occlusive and emollient moisturizing ingredients. Helps reduce moisture loss in skin and repair skin barrier function

6.3% - 9.5%

Prevents water loss from the skin surface and thickens the product consistency

4.8% - 7.2%

Used to thicken the product consistency

3.6% - 5.4%

A silicone that helps to reduce water loss from the surface of the skin. Can temporarily "fill in" lines and wrinkles, absorb oil, and create a nice product finish

3% - 4.4%

A type of lipid similar to ceramides naturally present in skin. Helps to soften the upper layer of the skin and supports the skin barrier function to keep it hydrated. Can help to prevent inflammation in skin

2.1% - 3.1%

A type of lipid similar to ceramides naturally present in skin. Helps to soften the upper layer of the skin and supports the skin barrier function to keep it hydrated. Can help to prevent inflammation in skin

1.5% - 2.3%

A type of lipid similar to ceramides naturally present in skin. Helps to soften the upper layer of the skin and supports the skin barrier function to keep it hydrated. Can help to prevent inflammation in skin

1.4% - 2%

Helps create a gel-like product texture. Can be used in gentle cleansing formulations

0.95% - 1.45%

Plain old water

0.85% - 1.25%

Helps water and oil mix together

0.5% - 1.2%

0.45% - 1.1%

An emollient that is naturally found in skin

0.45% - 1.05%

A preservative. It helps prevent bacterial growth in cosmetic products

0.2% - 0.75%

A more stable but less bio-available form of vitamin E compared to Tocopherol. Might help moisturize and protect the skin from free radicals, but mostly used in low concentrations to stabilize other ingredients.

0.2% - 0.75%

Pure form of vitamin E. Can help moisturise and protect the skin from free radicals. Often used to help stabilise other ingredients or the formula itself

0.15% - 0.6%

One of the best moisturizing ingredients. Attracts water into the upper layer of the skin. A version of it is naturally present in skin

0.1% - 0.5%

Helps attract water to the upper layer of the skin and can help improve skin barrier function

0.1% - 0.35%

Helps attract water to the upper layer of the skin

0.1% - 0.35%

A type of lipid that is naturally present in skin. It might help in repairing skin barrier function and has anti-bacterial effect

0.1% - 0.5%

Used to create a thicker product consistency

0.05% - 0.2%

A preservative

0.05% - 0.15%

Show more