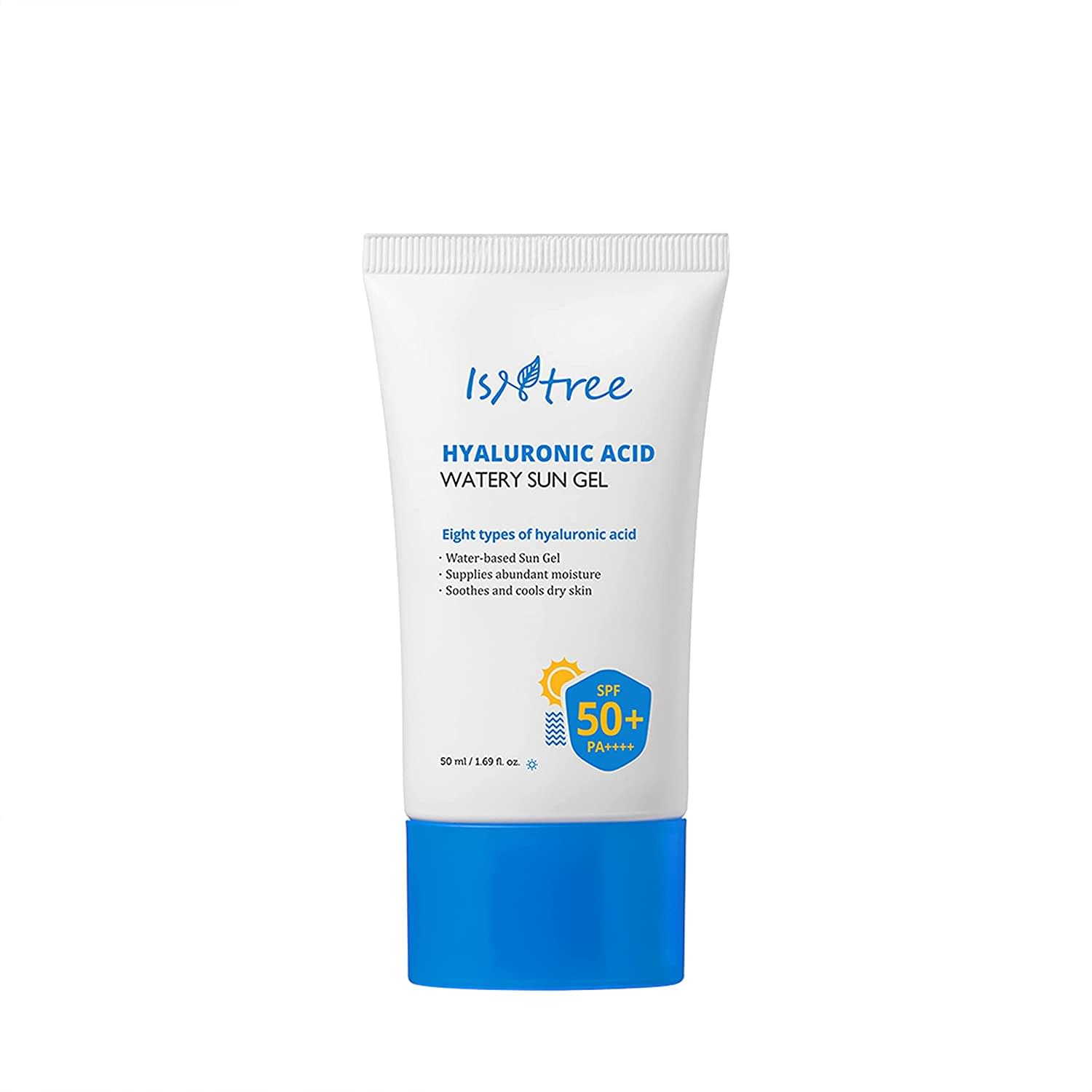 ISNTREE
Hyaluronic Acid Watery Sun Gel SPF50+ PA++++
SPF 50
WORKS FOR
Anti-aging
Moisturizing
Sun protection
Anti-oxidation

+2 more
KEY INGREDIENTS
niacinamide

adenosine

ceramide np

centella asiatica extract

+17 more

57% recommended by WIMJ
users
User reviews
How would you describe the finish? 7 reviews
How would you describe the texture? 1 review
How much white cast does it leave? 7 reviews
How much does it sting eyes? 7 reviews
How much does it pill under makeup? 4 reviews
How much does this product clog pores? 2 reviews
Definitely clogs pores
Doesn't clog pores
How would you describe the smell? 1 review
No smell
Light fragrance
Strong fragrance
Product summary
We believe that "ISNTREE - Hyaluronic Acid Watery Sun Gel SPF50+ PA++++" can provide reliable sun protection based on the ingredients listed. It can protect from both UVA and UVB rays. This is great news because not all sunscreens with SPF ratings give UVA protection. (UVA rays do not cause sunburn, but still damage our skin and lead to early aging).
As a plus, this sunscreen uses some of the new generation UV filters (Tinosorb M). These filters are more stable and more gentle on the skin.
It contains good moisturizing ingredients and can double as a hydrating day cream. Like all broad-spectrum sunscreens, this product helps prevent early signs of aging.
Sunscreen filters
This sunscreen uses so-called "chemical", or organic UV filters (organic simply means that their molecules contain atoms of carbon). These filters typically give good sun protection and rarely leave a white cast, but they can be irritating for sensitive skin. Here are the exact UV filters in this sunscreen: tinosorb s 2.00% - 2.40%, uvinul a plus 0.95% - 1.15%, octisalate 4.60% - 5.60%, homosalate 3.60% - 4.40%, tinosorb m 1.50% - 1.80% and polysilicone-15 1.20% - 1.50%.
Irritation risk
It contains some common irritants, including those without a benefit for the skin. We assess the overall irritancy of this product to be low. For a detailed overview of all potential irritants: click here
You can see the detailed formula review with the breakdown of all actives in the product and the full ingredient list with estimated concentrations in the tables below.
What our users say
Based on 7 reviews 57% recommend this product
As for the white cast, all of the reviewers (7) say that it does not leave a white cast.
When it comes to using this sunscreen under makeup, all of the reviewers (4) say that it does not pill under makeup.
When it comes to comedogenicity, two out of two reviewers say that the product does not clog pores.
As for using this sunscreen in the eye area, the majority of the reviewers (100%) find that it stings eyes.
Our users describe the finish of this sunscreen as dewy, They find the product's texture to be light and In terms of the smell, our users report that no smell.
Price
The product retails for 26.50$ in the United States and for 14.10£ in the United Kingdom.
For a detailed price comparison: click here.
Can the product deliver on its promises?
How honest is this product?
| Promise | Can it deliver? |
| --- | --- |
| Sun protection | |
| Anti-aging | |
| Moisturizing | |
Total Promises Fulfilled score:
100
/100.
Potential irritants

Ingredients by volume
Ingredient
Estimated concentration

Plain old water

45% - 55%

Used to create a nice product texture and help delivery of other ingredients. Might be somewhat helpful in attracting water to the upper layer of the skin

5.9% - 7.2%

Octisalate. A UV filter. It offers some protection against the sun rays that cause sunburn (UVB), but does not protect against the most aging sun rays (UVA). It loses its effectiveness quickly when exposed to sunlight. It is an organic, or so called "chemical" sunscreen

4.6% - 5.6%

Show more