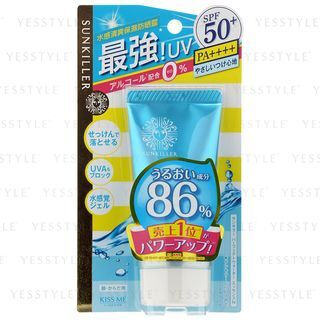 ISEHAN
Kiss Me Perfect Water Essence SPF 50+ PA++++
SPF 50
WORKS FOR
Sun protection
Evens skin tone
Moisturizing
KEY INGREDIENTS
bis-ethylhexyloxyphenol methoxyphenyl triazine

ethylhexyl methoxycinnamate

hyaluronic acid

hydrolyzed hyaluronic acid

lysine

royal jelly extract

sodium acetylated hyaluronate

titanium dioxide

+5 more
Where to buy?
Formula review
WIMJ
summary
This product offers a good level of protection against both UVB and UVA rays.
This sunscreen uses organic (so-called "chemical") sunscreen filters. Organic, or "chemical" filters usually provide reliable sun protection and rarely leave a white cast. Sunscreens with organic filters can sting eyes.
This product can be considered "reef safe" because it does not contain the UV filters (oxybenzone and octinoxate) that can be harmful to coral reefs when present in the water in high concentrations.
See a mistake?
WIMJ
summary
This product offers broad spectrum sun protection. It means that it can prevent hyperpigmentation and help keep the skin tone even (sun damage is the main factor causing age spots, darkening of post-acne marks and other discolorations).
| Ingredient | Effectiveness | Concentration | Irritancy |
| --- | --- | --- | --- |
| | | | |
See a mistake?
Promise
What does the product description say?
"Water-based formulation contains 86% moisturizing ingredients including three types of hyaluronic acids and three antioxidants that enhance skin's hydration levels."
WIMJ
summary
This product contains good ingredients to attract water to the upper layer of the skin. These ingredients are called "humectants": hyaluronic acid, hydrolyzed hyaluronic acid.
When humectants are on the surface of the skin, they "pull in" the moisture from the outside environment, or from within deeper layers of the skin. If the air is dry, humectants can speed up the moisture loss from the skin. This is why it is a good idea to use another product on top of this one to help "seal in" the moisture (look for ingredients like dimethicone, squalane, oils and butters).
| Ingredient | Effectiveness | Concentration | Irritancy |
| --- | --- | --- | --- |
| | | | |
| | | | |
| | | | |
Potential irritants
Ingredients by volume
Ingredient
Estimated concentration

Plain old water

45% - 55%

Octinoxate. When used in higher concentrations, works as a sunscreen protecting the skin from UVB rays. When used in lower concentration, helps to preserve the product formulation. Is shown to be harmful to coral reefs - consider avoiding bathing in coral reef areas when wearing a product with this ingredient. It can be irritating

6% - 7.4%

The ingredient is not recognized

TBC

Fragrance with sweet balsamic smell. Help to preserve products and dissolve other ingredients. Could trigger allergic reactions and be irritating

4.6% - 5.6%

Used to preserve products, dissolve other ingredients and create a nice product texture

3.4% - 4.1%

A type of hyaluronic acid that works as an excellent moisturizer by attracting water into the upper layer of the skin. Is typically feels less sticky on the skin compared to the usual hyaluronic acid

2.6% - 3.2%

One of the best moisturizing ingredients. Attracts water into the upper layer of the skin. Naturally present in skin. Typically has large molecule size unless advertised otherwise on the product label. Helps support skin's barrier function and may help to reduce inflammation

2% - 2.5%

One of the best moisturizing ingredients. Attracts water into the upper layer of the skin. A version of it is naturally present in skin

1.7% - 2.1%

The ingredient is not recognized

TBC

Traditionally used to treat sunburns, dermatitis and inflammation, but evidence for its effectiveness is lacking. The extract can contain humectants that help attract water into the skin

1.5% - 1.9%

A compound secreted by bees. Might be able to attract water to the top layer of the skin. Avoid if sensitive to honey and bee products

1.3% - 1.5%

Forms a protective film on the surface of the skin to prevent moisture loss. Gives a velvety feel to products while reducing tackiness

1.1% - 1.3%

Tinosorb S. One of the most effective broad spectrum sunscreen ingredients. Protects from both UVA and UVB rays. It is photostable. Unfortunately, not approved by FDA (US) yet.

1.2% - 1.5%

0.7% - 1.05%

The ingredient is not recognized

TBC

Works as a UV filter when used in high concentrations. It is photostable and is effective mostly against the UVB light, with some protection in the UVA range. In small concentrations, used for its ability to improve the color of cosmetic products. Is usually well tolerated by the skin

1% - 1.2%

Improves the texture of the product and helps soften the skin. Helps oil and water mix together and can be used as a cleansing agent

0.7% - 1.05%

Octisalate. A UV filter. It offers some protection against the sun rays that cause sunburn (UVB), but does not protect against the most aging sun rays (UVA). It loses its effectiveness quickly when exposed to sunlight. It is an organic, or so called "chemical" sunscreen

0.75% - 1.1%

0.55% - 0.85%

Used to create a nice product texture and help delivery of other ingredients. Might be somewhat helpful in attracting water to the upper layer of the skin

0.55% - 0.8%

A preservative

0.5% - 0.75%

Helps water and oil mix together

0.5% - 0.7%

Used as a cleansing agent. It creates foam

0.3% - 0.55%

An amino-acid that helps to attract water to the upper layer of the skin. In combination with other amino-acids, might help to reduce fine lines and wrinkles

0.25% - 0.5%

Is used to add opaque (non-transparent) appearance to formulations. Can be used to coat other ingredients for even dispersion. This is a different ingredient compared to the ones used in antipersperants (aluminium chloride and aluminium chlorohydrate)

0.3% - 0.6%

Helps oil and water mix together and works as an emollient

0.35% - 0.65%

Used to create a thicker product consistency

0.25% - 0.45%

Helps oil and water mix together

0.25% - 0.45%

A preservative. It helps prevent bacterial growth in cosmetic products

0.2% - 0.4%

An aromatic blend of unspecified and possibly irritating ingredients

0.15% - 0.3%

The ingredient is not recognized

TBC

A preservative

0.15% - 0.3%

Show more